Nick Saban is probably hungry after a long – but hopefully enjoyable – 59-0 win against Texas A&M this afternoon in Tuscaloosa, Ala.  Thankfully for the Alabama coach, Kenyan Drake is here to help. The injured Alabama running back has a box of Saban's favorite treat, Little Debbie's Oatmeal Cream Pies, in the basket of his scooter.  RT @SEConCBS: Kenyan Drake only...
It's been a rough couple of weeks for Alabama RB Kenyan Drake. The junior tailback suffered a broken leg during the Crimson Tide's loss to Ole Miss, and will miss the rest of the season after undergoing surgery. If there is one positive that has come from suffering the injury, it's that the outpour of support from Crimson Tide fans has been fantastic. Today, Drake posted a...
Ever wonder what it's like for an injured standout college football player to anxiously watch his team battle to keep its championship aspirations alive from the confides of his home? Alabama running back Kenyan Drake, who broke his leg on Oct. 4 against Ole Miss (see injury GIF below), provided his 52,000+ Twitter followers with some insight during the Tide's hard-fought 14...
Alabama running back Kenyan Drake went down with a terrible ankle injury in the first half against Ole Miss. As Drake was tumbling to the ground, Ole Miss defensive back Trae Elston, No. 7, made a curious leg motion. I have no way of knowing what his intentions were at the time, but it did not appear to be a common football maneuver. He could've perhaps been kicking at the...
When Alabama RB Kenyan Drake went down during Saturday's matchup with Ole Miss with a gruesome broken ankle that was bad enough. However, if you look closely at the video, you'll notice that Ole Miss DB Trae Elston appears to be kicking Drake when he's down. Trae Elston has now been suspended a half game versus Texas A&M because of this action. No one can know for sure...
One of the worst moments on Saturday came when Alabama running back Kenyan Drake suffered a nasty leg injury. The junior broke his left leg, and according to Crimson Tide coach Nick Saban, he's not expected to return this season. Of course, this was probably rough for Drake, but as he tweeted earlier today, he's thankful for all of the support that he's received ever since...
It's been a very tough day for Alabama and its fans. The No. 1-ranked Tide saw their national championship aspirations take a huge hit in a loss to Ole Miss on the road. They've also apparently lost one of their best players for the foreseeable future. Running back Kenyan Drake, a member of Alabama's three-headed monster at tailback, broke his leg during the game and is likely...
Alabama suffered its first loss of the day long before the game against Ole Miss ended when running back Kenyan Drake went down with what will be a season ending injury for sure. Somehow in the process of getting tackled his ankle appears to have become bent in such a way that you can't help but feel his pain when you see it.Fair warning--it's pretty harsh.Read more »
Alabama running back Kenyan Drake left Saturday's game against Ole Miss after suffering a gruesome ankle injury. The junior was carted off after it appeared he broke his ankle. Drake was screaming in pain, and you'll know why if you're brave enough to watch the video. Those with weak stomachs should probably stop here. That's...Read More
Alabama running back Kenyan Drake was arrested on early Saturday morning on charges of obstructing government operations.
MORE STORIES >>
College Football News

Delivered to your inbox

You'll also receive Yardbarker's daily Top 10, featuring the best sports stories from around the web. Customize your newsletter to get articles on your favorite sports and teams. And the best part? It's free!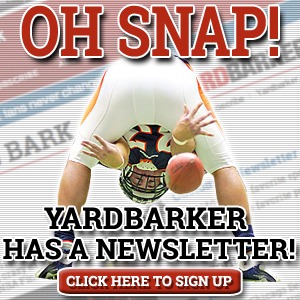 THE COLLEGE FOOTBALL HOT 10