It was a play for the ages for Michigan State and Kyler Elsworth. On fourth and one with under two minutes left in the 100th Rose Bowl, Stanford lined up to go for it. The Cardinal trailed the Spartans 24-20, and this was its final chance at a BCS Bowl victory. One yard separated them from a chance at glory. One yard, and as it turned out, a former walk-on linebacker – a back-up...
This is exactly why we love football, the way they played it in the Rose Bowl. Stanford smashed Michigan State, and Michigan State smashed Stanford back. No fancy spread offenses or geniuses or gurus. There is a little Neanderthal in all of us. Michigan State won 24-20 when linebacker Kyler Elsworth rammed into Stanford fullback Ryan Hewitt on fourth-and-1, stopping him short of...
All week, the talk about how the Spartans would fare in the Rose Bowl without All-American linebacker Max Bullough was not favorable. Bullough was the biggest asset in stopping the run, and Stanford's two-back offensive sets posed a huge running threat. But on Stanford's final offensive play of the game, it was a former walk-on making his first start that dropped Ryan Hewitt...
The 100th edition of the Rose Bowl lived up to all expectations. No. 4 Michigan State got past No. 5 Stanford after weathering the storm of a first quarter attack by the Cardinals. Many plays stand out from this game but none was bigger than Kyler Elsworth stuffing a Stanford running back on 4th and 1. Ironically Elsworth was playing in place of Max Bullough who had been suspended...
In a time when high school football prospects are ranked nationally, in order, as if by some mystical scientific formula, from 1 to 5,000, it's always refreshing when a Kyler Elsworth comes along and proves the so-called recruiting gurus wrong. Elsworth joined the Michigan State football team because he wanted to study zoology at MSU more than any other school, wanted to play...
Michigan State sophomore linebacker Kyler Elsworth was forced into duty Saturday against Nebraska, after earning Big Ten special-teams player of the week Monday. Elsworth finished with a career-high 10 tackles and forced a fumble in a 24-3 loss to the Cornhuskers at Memorial Stadium.
Kyler Elsworth the latest example for the Spartans; Blair White and D.J. Young were former walk-ons at Michigan State who made it to the NFL.
Kyler Elsworth is another example of a former walk-on having a positive impact for Michigan State.
In Tuesday's "Daily Edition", see the list of Spartans who garnered Big Ten honors this week including football's Kirk Cousins and Kyler Elsworth and volleyball's Kori Moster, and find out who ranks at number six in the fan's top-ten linebacker list.
MORE STORIES >>
College Football News

Delivered to your inbox

You'll also receive Yardbarker's daily Top 10, featuring the best sports stories from around the web. Customize your newsletter to get articles on your favorite sports and teams. And the best part? It's free!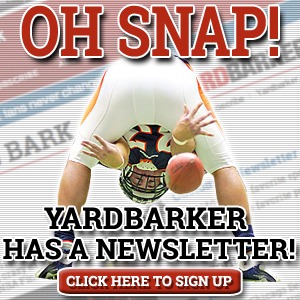 THE COLLEGE FOOTBALL HOT 10