LSU vs. Texas A&M Thursday at 6:30 p.m.
LSU had a rough night against Arkansas on Saturday. The Tigers lost 17-0 and allowed the Razorbacks to snap their 17-game SEC losing streak in the process. We know who the most frustrated guy in the stadium was. No, it was not LSU coach Les Miles. I'm sure he was pissed, but the guy who...Read More
Les Miles and topless assistant AD Sam Nader look like they had a ball at LSU's Thursday practice.
Auburn and LSU thought they were in good shape during their respective games late in the fourth quarter. Gus Malzhan's Tigers had the ball, good field position, and plenty of time to score a game-winning touchdown or at least kick a game-tying field goal. Les Miles' Tigers had just kicked a go-ahead field goal and were about to kick the ball off with less than a minute to...
Les Miles very much enjoys snacking on some blades of grass during games. His eating habits are being showcased tonight as LSU takes on Alabama.  During the third quarter of the Tigers game against the Crimson Tide, CBS' cameras panned to the LSU coach, who was casually chomping on some turf.  Check it out:  That grass is probably tasting pretty good this evening, as LSU is...
Earlier this week, Les Miles chastised media members at a presser for wearing red during Alabama week. Today on SEC Nation, SEC Network's version of College GameDay, Miles was happy with all of the purple he saw in the LSU crowd. He was also a fan of the show's set, but he didn't pass on taking a jab at Paul Finebaum while on set. We always appreciate a good Les Miles moment...
When a college football team is strongly associated with a particular color, it's common practice for opponents to avoid wearing the shade the week ahead of a contest. Apparently, Les Miles wasn't thrilled that a few reporters who were wearing Crimson at his Wednesday press conference didn't get the memo. LSU, of course, takes on Alabama this Saturday. Miles chastised a couple...
One of the odder story lines (and that's saying something) this season has been Katy Perry's College GameDay trolling of LSU fans for smelling like corn dogs and the subsequent reaction. Last week, we heard from head coach Les Miles regarding the matter – he doesn't think the campus smells like anything of the sort. Friday, out of nowhere, the LSU's official Twitter account...
Les Miles had fun with this reporter's stupid, silly question about LSU's quarterback position for next season.
Les Miles talks girls with recruits because he's a ladies man, according to Georgia freshman defensive end Lorenzo Carter.
MORE STORIES >>
College Football News

Delivered to your inbox

You'll also receive Yardbarker's daily Top 10, featuring the best sports stories from around the web. Customize your newsletter to get articles on your favorite sports and teams. And the best part? It's free!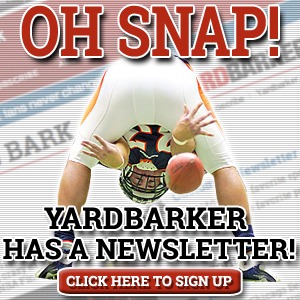 THE COLLEGE FOOTBALL HOT 10