(AP) - Statistics might not tell the whole story about how good Mississippi's defense has been. But it's certainly a good place to start. The third-ranked Rebels will face a stiff challenge Saturday night when they visit improved No. 24 LSU, which is coming off a dominant victory. Ole Miss (7-0, 4-0 SEC) is giving up 10.6 points per game to lead the FBS, and its 15 interceptions...
After LSU's dominant 41-3 win over Kentucky, Tigers head coach Les Miles was asked if he and offensive coordinator Cam Cameron had thought about who would start at quarterback next season. As most of you will know, coaches don't like to deal in the hypothetical. LSU still has four games this season to play with the current options at quarterback. While most coaches – Nick Saban...
LSU head coach Les Miles dropped some not mama-approved language during his post-game press conference on Saturday. The Mad Hatter was asked by a reporter at the conference if "Do you and (LSU offensive coordinator Cam Cameron)put any thought at all in to next year at (quarterback)?Miles response was legendary.Miles might have to sit down with the president of LSU over that...
LSU has won back-to-back games since being blown out by Auburn earlier this month, but its quarterback situation is no clearer now than it was then. Les Miles has used both freshman Brandon Harris and sophomore Anthony Jennings throughout the season and really hasn't named a starter. What will he do in 2015? As you...Read More
Les Miles had fun with this reporter's stupid, silly question about LSU's quarterback position for next season.
LSU head coach Les Miles is a funny guy. The Mad Hatter has a gigantic personality, and when he decides to joke around about something, he's absolutely hilarious. An example of that came on Saturday night after LSU's 41-3 win over Kentucky. A reporter asked Miles if he has put any thought into who will play quarterback for the Tigers in 2015. Miles responded by sarcastically...
I hadn't really talked about just how LSU is coming along as a team and x's and o's in a couple of weeks, so I thought I'd do that now. Miles tells reporters to "have a great day" before LSU beat Tennessee to win the SEC in 2007. This last game was Les Miles 100th win at LSU. Maybe it's appropriate that we didn't beat Mississippi St. in the last second. It just...
LSU football coach Les Miles promised on his radio show Wednesday night that one of his two quarterbacks will start Saturday at Florida. And that is about as much as he will reveal until Saturday. True freshman Brandon Harris started the 41-7 loss at Auburn last week, and struggled, completing 3 of 14 passes for 58 yards. Sophomore Anthony Jennings, who struggled the week before...
Translating Les Miles' grammar is part of an assignment at LSU, because college is the best.
Les Miles talks girls with recruits because he's a ladies man, according to Georgia freshman defensive end Lorenzo Carter.
MORE STORIES >>
College Football News

Delivered to your inbox

You'll also receive Yardbarker's daily Top 10, featuring the best sports stories from around the web. Customize your newsletter to get articles on your favorite sports and teams. And the best part? It's free!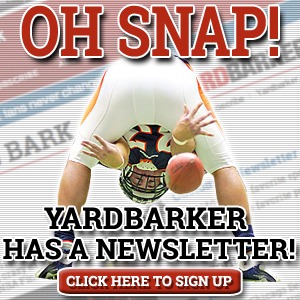 THE COLLEGE FOOTBALL HOT 10