Nobody's 100 percent sure about what LSU head football coach Les Miles thinks about star freshman running back Leonard Fournette. One week, Miles will compare him to NBA Hall of Famer Michael Jordan. A few weeks later, Miles will say that there's no reason for Fournette to think about winning the Heisman Trophy, and that people have "unrealistic expectations" about the freshman...
Tim Miles is the head basketball coach at the University of Nebraska. He is not Les Miles, and quite frankly, he's a bit tired of being mistaken as the LSU football coach. Why the mixup? Miles (Tim, not Les) has the distinction of owning the Twitter handle "@coachmiles," which apparently has been enough for LSU followers to flood his feed with tweets intended for the Mad...
Les Miles is the football coach at Louisiana State University. On Twitter, you can find him at @LSUCoachMiles. Tim Miles is the basketball coach at the University of Nebraska-Lincoln. On Twitter, you can find him at @CoachMiles. While both are great personalities and fine coaches, they are certainly not interchangeable. A few different LSU-focused Twitter accounts mixed up the two...
Credit LSU for following the script.The Tigers fell behind in the first half, rolled the dice successfully on a trick play and then let its plug-and...
Translating Les Miles' grammar is part of an assignment at LSU, because college is the best.
Tired of being asked about the team's starting quarterback, LSU head coach Les Miles told SiriusXM he plans to play both at the same time (Credit: The Advocate/Bill Feig) During this time of the summer, some college football coaches get tired of being asked who will be the team's starting quarterback. While some coaches, like Alabama's Nick Saban, get angry at the media about...
Les Miles penned the perfect love letter to Baton Rouge and LSU in Wednesday's Huffington Post.
Les Miles became the head football coach at LSU in 2005. Ever since then, the team has been wildly successful, as Miles has compiled a 95-24 record with the Tigers, including a 6-3 record in bowl games and a national championship in 2007. Long story short, the city of Baton Rouge has been good to Miles. In an attempt to show his appreciation to the city where Miles has established...
Les Miles is a great college football coach, an occasional eater of grass, and, apparently, a calming presence to one of nature's most dangerous animals.  This morning, the LSU football coach paid a visit to Mike the Tiger, the official living bengal tiger mascot of Miles' program.  Of course, the tiger swam right up to Miles when he saw him.  Mike had a visitor this morning...
Les Miles talks girls with recruits because he's a ladies man, according to Georgia freshman defensive end Lorenzo Carter.
MORE STORIES >>
College Football News

Delivered to your inbox

You'll also receive Yardbarker's daily Top 10, featuring the best sports stories from around the web. Customize your newsletter to get articles on your favorite sports and teams. And the best part? It's free!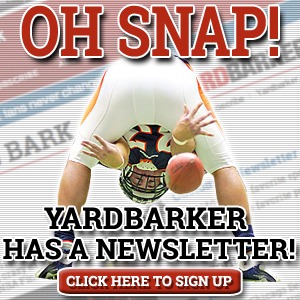 THE COLLEGE FOOTBALL HOT 10