The LSU football team is less than two weeks away from opening its 2014 season, but the Tigers' players are currently taking a couple hours out of their day to help their fellow students.  Today is move-in day on the Baton Rouge, La. campus. Les Miles has his players stationed at the dorms, helping freshmen move into their new homes. LSU's players are, of course, wearing their...
The college football world will be kept in the dark when it comes to LSU deciding on a starting quarterback.  Les Miles said Tuesday that he and his staff will most likely not publicly announce a starting quarterback before their Aug. 30 season opener. The Tigers' players won't be told of the decision until two days before the game.  Either Anthony Jennings or Brandon Harris...
We've reached the point where it's no longer just enough to accept the ALS Ice Bucket Challenge – you have to do something over the top to gain recognition. Yesterday, we saw Texas Tech head coach Kliff Kingsbury put his own personal spin on it. LSU's Les Miles appears to have done the same. Miles, who was famously caught on camera eating grass back during a 2010 game against...
You can never go wrong with LSU coach Les Miles. And, beginning this season, you can't go wrong with the College Football Playoff. Put them together in a new video getting fans pumped up for the new postseason? Oh, sweet baby Jesus. ESPN released a promo video for the playoff, and included is Miles pouring a grass smoothie at Tiger Stadium and savoring a long, delicious sip....
There's a little extra buzz around college football this season. 2014, of course, will mark the first year of the NCAA's new playoff format following the death of the BCS in 2013. As you might expect, players and coaches across the country are champing at the bit to begin their quest for playoff glory, and ESPN had a little fun with the anticipation by rolling out a pretty entertaining...
After two seasons of having a clear-cut starter, LSU has returned to a muddled situation at quarterback. But what is clear is Tigers head coach Les Miles is in no hurry to hand the job to anyone. The way he talked at LSU Media Day Sunday, the decision may not be known publicly until the season opener against Wisconsin on Aug. 30 - and maybe beyond. "I think the naming of a...
To promote his new book My Conference Can Beat Your Conference: Why the SEC Still Rules College Football, Paul Finebaum held a book signing at a Books-A-Million in Baton Rouge, Louisiana last night. During the book signing, Finebaum got a surprise visitor, LSU head football coach Les Miles, who picked up a copy of the book. Look who surprised @finebaum at his book signing tonight...
Everyone is releasing their hype videos for the 2014 season and now it's LSU's turn. This one features the standard highlight package and pump up music but it has one key component: lots of Les Miles yelling. For that alone, it makes this the best hype video of the offseason. LSU Tigers 
Les Miles juicing grass in a blender at Tiger Stadium makes for one special photo.
Vince was a damn good quarterback in season 5 of Friday Night Lights, so it's no surprise that LSU recruited the former star of the Dillion Panthers. Though, if I'm being perfectly honest, I would much rather watch Vince play in Oregon's explosive offense than LSU's field goal kicking offense. Yes, I know Vince Howard doesn't actually exist and that photo is actually...
MORE STORIES >>
College Football News

Delivered to your inbox

You'll also receive Yardbarker's daily Top 10, featuring the best sports stories from around the web. Customize your newsletter to get articles on your favorite sports and teams. And the best part? It's free!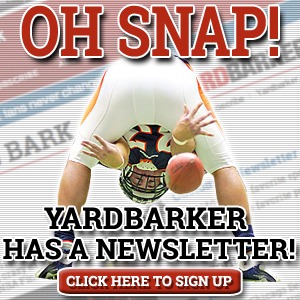 THE COLLEGE FOOTBALL HOT 10