TAMPA, Fla. When the new-look Tampa Bay Bucs finally don their pads in camp late next month, plenty of gazes will be fixed on jersey No. 24. That includes rookie NFL head coach Greg Schiano, who cant wait to see the hard-hitting style of strong safety and first-round draft pick Mark Barron in action. Marks a very explosive athlete, and I think hes got a very good feel as a football...
With the passing game in vogue in the NFL, there is a premium on finding a good safety -- but only if he is the right fit. Mark Barron of Alabama (Tampa Bay, No. 7 overall) and Notre Dame's Harrison Smith (Minnesota, 29th) proved there was quality available at that position. In fact, there was just one more first-round cornerback -- three -- than there were safeties on Thursday...
    Former Rutgers Head Coach Greg Schiano selects Safety Mark Barron out of Alabama with his inaugural pick.  At 6′ 2″ and 215 pounds, Barron has prototypical size and is likely the best safety in this draft. In his college career, Barron ahas amassed 237 tackles (149 solo), 13 for loss, 5 sacks and 12 interceptions for 145 yards.  He has good speed and hits hard.  He is...
Mark Barron was rated a five-star linebacker, from St. Paul's in Mobile, Ala., in the class of 2008. He was another member of the No. 1 recruiting class in the country. Barron is in New York City with several Tide teammates who are expected to go very high in the NFL Draft Thursday night. He also left Alabama with two national championship rings.
NFL.com analyst Charles Casserly contends that Alabama safety Mark Barron deserves to be a top ten pick in the 2012 NFL draft. To be more specific, Casserly places Barron in his seventh slot, behind Andrew Luck, Robert Griffin III, Matt Kalil, Trent Richardson, Morris Claiborne, and Justin Blackmon, Casserly cites Barron's intelligence, quickness, ability to play man-to-man coverage...
One of the Patriots' greatest needs in the draft is at safety, though the 2012 class only features one player with a legitimate first-round grade. Therefore, if the Patriots miss out on that player, Alabama's Mark Barron, they might shift their focus elsewhere. The second safety off the board projects to be Notre Dame's Harrison Smith, who will be there for the taking...
The following is the 7th in a series of draft profiles for potential 1st and 2nd round picks for the Dallas Cowboys. These profiles are put together with the specific needs of the Cowboys in mind, and is an attempt to examine their resumes and game tape to get an idea of who might fit in best with Dallas come draft day. Mark Barron Alabama DEOLB 6'1, 213 40 time: 4.54 (pro day...
Scouting Report: Mark Barron Mark Barron is the leader of the Crimson Tide secondary. He has abundant experience starting 38 games for Alabama. Barron did not participate in the Combine and Alabama's Pro Day due to surgery for a double sports hernia. This may cause his stock to dive out of the top fifteen. The Vitals Position: Safety College: Alabama Height: 6'3" Weight:...
The last player who spoke to media members at the NFL Combine was Alabama safety Mark Barron. He was worth the wait. Barron starred for Crimson Tide coach Nick Saban, but he won't get the chance to impress on the field. Barron had double hernia surgery after the season, and he's still recovering. Still he impressed at the podium. I asked him if he got a sense for him being NFL...
Mark Barron S Alabama #4 Ht: 6'1″ Wt: 220 Strengths: Impressive size and strength. Plays a hybrid position for Alabama, lining up all over the field. Used in a variety of roles and has shown the ability to be an incredibly versatile player. Experienced lining up as a free and strong safety, and also lining up closer to the line of scrimmage, essentially acting as an...
MORE STORIES >>
College Football News

Delivered to your inbox

You'll also receive Yardbarker's daily Top 10, featuring the best sports stories from around the web. Customize your newsletter to get articles on your favorite sports and teams. And the best part? It's free!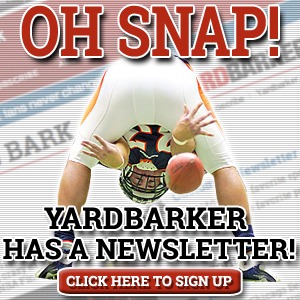 THE COLLEGE FOOTBALL HOT 10