Michigan State's Mark Dantonio is doing his best to deflect the importance of Saturday's showdown with No. 3 Oregon as it relates to the first College Football Playoff that is still an entire season down the road. Sure, if his seventh-ranked Spartans were to fall in Eugene in the school's first regular-season top-10 matchup in more than 47 years, there's ample time...
Like Tom Izzo, like Mark Dantonio. Since Izzo was named head coach of the Michigan State basketball team in 1995, he's consistently pushed for his teams to play the most difficult non-conference schedules possible. Now, the football team is following suit. The Spartans, who leap-frogged Ohio State and UCLA to No. 7 in the latest AP Top 25 Poll, will travel to Eugene to face No...
Week One of the 2014 Big Ten football season is here. I've already given you my picks for the three early games this upcoming week, but what about the games that are being played when they're supposed to be, on Saturday? Click on, pilgrim; I've got some picks for you. The post Pickin' On the Big Ten, Week 1: Appalachian State and Other Disasters appeared first on Midwest Sports Fans.
There used to be a time when a smash-mouth style of football was the only way to play the game. The outcome of a game was usually determined by what happened at the line of scrimmage, "the battle in the trenches" it used to be called. Good college football teams could run the ball down the defense's throat. Elite programs could run it down the throat of any opponent. Speed...
The 2014 Big Ten football season is finally here, and like everyone else, I too am ready to pretend I actually know a thing or two about Rutgers and Maryland football now. There is room in my brain since I have already forgotten which teams were in the Leaders division and which were in the Legends. I may never forget that's what the two divisions were called. This will be the...
The Michigan State football program revealed its $24 million North End Zone Project at Spartan Stadium on Monday to both the project's donors and the media. The project, which took over a year to complete, includes two new locker rooms, a training room, a media center and a recruiting lounge. "We are a great university and we should never apologize for that," MSU Athletic Director...
In this week's Freep Column, I talk about the place that Michigan State is in this year as a football program, and how they're reaching points that the program hasn't seen since the '50s and '60s. —————- When evaluating Michigan State last season under Mark Dantonio, some will draw comparisons to George Perles' 1988 Rose Bowl team. Both teams were not expected...
Just in time for this year's football season, isportsweb's own Brad Coster (@FlyingDeerFilms) has worked with Matt Pietrangelo (@Pietrang5) to put together what could probably be considered the ultimate Michigan State football video mashup of all time. Below the video is a list of players and coaches included (feel free to send me edits and/or additions if you notice any). https...
It's funny what gets traction on Twitter, isn't it? Our isportsweb MSU correspondents can publish good stories from Michigan State Media Day (like this, this and this) and they get minimal traction. That's to be expected, I guess. But I tweet out a photo of the sign outside of MSU's locker room and it makes national news (ESPN, Bleacher Report, The Big Lead, Yahoo Sports...
Michigan State football coach Mark Dantonio believes the same as many of Spartan Nation do. He believes that had the NCAA implemented a playoff system prior to the 2013 season, that Michigan State would have come out on top as the National Champions. Here is what he had to say at the Big Ten Media Days session on Tuesday: "Do I ever think about that? Yeah, I've thought about...
MORE STORIES >>
College Football News

Delivered to your inbox

You'll also receive Yardbarker's daily Top 10, featuring the best sports stories from around the web. Customize your newsletter to get articles on your favorite sports and teams. And the best part? It's free!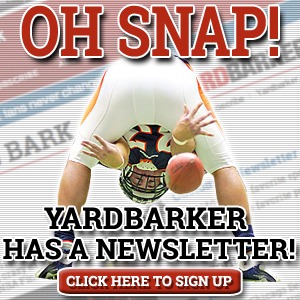 THE COLLEGE FOOTBALL HOT 10