Michigan State junior wide receiver Macgarrett Kings Jr. was arrested and charged with driving under the influence shortly before being suspended from the football team this spring, according to Ingham County court records. Kings was arrested April 6 for driving with a blood alcohol content of more than .17. He was sentenced on July 7 to 13 months probation and a $750 fine after...
Michigan State has spent the last few months basking in the glow of a Big Ten championship and a victory in the Rose Bowl. Or, at least, that's what it has done publicly. Behind closed doors, the Spartans insist the focus on 2014 began on the plane back from Pasadena. The Spartans are on a mission to prove they belong, that last season's success was simply the latest step...
Michigan State possessed one of the country's best defenses in 2013. The Spartans, who went 13-1, winning the Big Ten title and the Rose Bowl, were third in the nation in scoring defense, allowing only 13.2 points per game.  Mark Dantonio's squad is picked by many to build on the success it had a season ago. The reason for that, mostly, being how good the Spartans are expected...
There is no doubt that Michigan State's 2013 season wound up being one of the best runs in school history. The Spartans posted an 8-0 regular season record in the Big Ten, won the league title with a victory over Ohio State, and took home the Rose Bowl trophy with a win against Stanford in Pasadena. But Mark Dantonio has his sights set just a bit higher for 2014 – he thinks there...
Just in time for this year's football season, isportsweb's own Brad Coster (@FlyingDeerFilms) has worked with Matt Pietrangelo (@Pietrang5) to put together what could probably be considered the ultimate Michigan State football video mashup of all time. Below the video is a list of players and coaches included (feel free to send me edits and/or additions if you notice any). https...
It's funny what gets traction on Twitter, isn't it? Our isportsweb MSU correspondents can publish good stories from Michigan State Media Day (like this, this and this) and they get minimal traction. That's to be expected, I guess. But I tweet out a photo of the sign outside of MSU's locker room and it makes national news (ESPN, Bleacher Report, The Big Lead, Yahoo Sports...
Michigan State football coach Mark Dantonio believes the same as many of Spartan Nation do. He believes that had the NCAA implemented a playoff system prior to the 2013 season, that Michigan State would have come out on top as the National Champions. Here is what he had to say at the Big Ten Media Days session on Tuesday: "Do I ever think about that? Yeah, I've thought about...
(Gradys Kitchen via Flickr) Mark Dantonio isn't generally one for boisterous claims, though he has already gone on the record to say that he believes his Spartans would have won a national championship last season if there was a playoff in place. The Michigan State head coach still has his eye on the prize for this season, and looks for his program to take the next step. Still...
In my Detroit Free Press column this week, I take a look at how the Michigan State football team heads into this season with lots of swagger and high expectations following last year's Rose Bowl win.  My column starts here and ends at the Freep Website. What a difference a year makes. At this time last year the Michigan State football team began fall camp with lots of questions...
If you were to ask anyone who is involved with high school football recruiting if they have ever heard a story as bizarre as Malik McDowell's, the response would be a universal and resounding no. The reason? His mom played as big a role in his recruiting as he did. Malik McDowell chose to attend Michigan State despite his mother's opinion of the schoolMcDowell, a five-star defensive...
MORE STORIES >>
College Football News

Delivered to your inbox

You'll also receive Yardbarker's daily Top 10, featuring the best sports stories from around the web. Customize your newsletter to get articles on your favorite sports and teams. And the best part? It's free!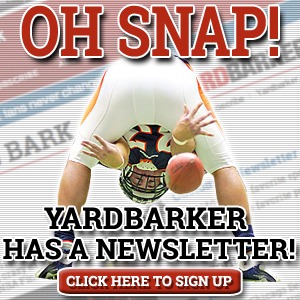 THE COLLEGE FOOTBALL HOT 10