And so the world turns with one of the planet's biggest sports icons ... and his mom. On Jan. 10, the New Jersey-based Goldin Auctions announced it would begin taking bids on a pair of authentic Michael Jordan recruiting letters, circa 1980, from North Carolina head coach Dean Smith and assistant Bill Guthridge. But Jordan's mother, Deloris, says the for-auction letters could...
It's been 30 years since Michael Jordan left North Carolina's campus for the NBA ranks, but his three-season-run in Chapel Hill remains a boon for the sports-memorabilia world. Citing an ESPN report, Goldin Auctions, a New Jersey-based auction house, has acquired two UNC recruiting letters to Jordan, circa 1980, shortly before the future Tar Heels star began his senior year...
When you think of Nike taking care of a college program by providing sick gear, the first school that comes to mind is the University of Oregon. Certainly Nike chairman Phil Knight hooks up the Ducks on a regular basis, but don't sleep on how much Michael Jordan gives back to his beloved North Carolina. We've seen some pretty sick kicks that the Tar Heels will wear at some point...
What's The Haps for November 13th? MJ plays beer pong, Space Jam gets the 30 for 30 treatment, Kentucky Wildcat fans' idea for the perfect URL is wrecked, and more. The Links - Here's a Picture of Michael Jordan Playing Beer Pong Do you think he yells "JORDAN" before each throw? Michigan State beats Kentucky, [&hellip(Visited 2 times, 2 visits today)The post The Haps...
Indiana was the NCAA's last undefeated men's team in 1976. North Carolina had Michael Jordan and James Worthy while winning the national championship in 1982, a decade before Duke won the tournament on the back of Christian Laettner's buzzer-beating basket. So which is the best team in NCAA tournament history? Or is it one of Kentucky's squads: the 34-win team in...
by Sandy Dover / @San_Dova The Air Jordan XIV…or as the Jordan Brand has literally re-branded it, the "Air Jordan 14 Retro." Great shoe, technically. It could be brand new today and still be top-of-the-line. The luxurious leather, the full herringbone tread (stop with the rubber snake stories, Kobe…errr, Zoom Kobe), and that wonderful, wonderful full-forefoot Zoom Air (not...
Ben Swanson of Rufus on Fire writes that, given all we know about Michael Jordan's competitiveness, it's not surprising he'd be leading a charge of hard-line owners to secure as much revenue as possible. Kate Fagan covers the Sixers for the Philadelphia Inquirer. She also played basketball at the University of Colorado while the school was confronting a recruiting...
MORE STORIES >>
College Football News

Delivered to your inbox

You'll also receive Yardbarker's daily Top 10, featuring the best sports stories from around the web. Customize your newsletter to get articles on your favorite sports and teams. And the best part? It's free!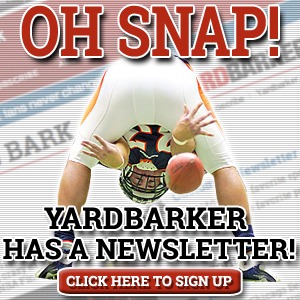 THE COLLEGE FOOTBALL HOT 10