BALLER MOVE: Add in Deep Leagues ANALYSIS: Michael Morse is having a solid year at the dish, and his power numbers should be enticing for fantasy owners in deeper leagues, especially given the flexibility offered by Morse's multi-position eligibility. Playing 1B and OF for the Giants this year, Morse is slashing .286/.341/.487 with 16 HR and […]
Michael Morse is the biggest off-season signing for the San Francisco Giants. The right-handed utitility man has only been a member of the Giants organization for a few weeks, but his presence in the 2014 line-up is already highly anticipated. "He's gonna be the guy that obviously can swing the bat pretty much anywhere in the park," starter Matt Cain said. "and that's...
We're not sure how we feel about this one: the San Francisco Giants have agreed to a one-year deal with outfielder Michael Morse. The deal is reportedly in the $5 million range, so it's not exactly a financial disaster if Morse doesn't pan out. Here are the problems with Morse: he's injury prone, he had an offensively disastrous 2013, and his defense in the outfield...
Sometimes the easiest posts to write turn out to be the most challenging. Earlier Thursday, the Giants signed Michael Morse for a year and a base salary around $6 million, and the plan is for Morse to be the team's regular left fielder. This is the kind of post I could write in three or four sentences if I wanted to, a classic bloggy kind of post where I imply that the Giants are...
The San Francisco Giants have signed Michael Morse to a one-year deal reports Andrew Baggarly of CSN Bay Area. Morse, 31, is coming off the worst year of his career. He hit .215/.270/.381 for a 78 wRC+ and -1.6 fWAR in 2013. His in-play batting average dropped precipitously from .339 to .254. From 2010-12 Morse was much more productive, at least at the plate. He produced a .296...
With the expected signing of 1B Adam LaRoche, the Washington Nationals are expected to be looking to move OF/1B Michael Morse. The team traded for CF Denard Span, which gives the team a crowded OF which includes Bryce Harper and Jayson Werth. There are several teams in the need of some power in their outfield with a couple teams looking for first basemen. With the Nationals trying...
Merry Christmorse? And so, while you're sitting around waiting for Adam LaRoche to sign a three year deal with some other team not named the Washington Nationals, enjoy the magical Beast Mode Christmas light display at Michael Morse's house in Florida. At least, we're assuming this light show is at Morse's house. This much we know: based on a series of Tweets Friday...
Michael Morse was hitting home runs once every 17 at-bats a year ago, so when he came off the disabled list June 2nd and still did not have a home run 57 at-bats into the season it was easy to write off last year as a career year. Now he has one home run after 61 at-bats. Probably not what Morse or his fantasy owners would want, but it could be a start. Let's keep in mind that...
Last year, the Washington Nationals got an unexpected boost at first base from Michael Morse.  The team expected Adam LaRoche to be at first base while earning $8 million, but he missed most of the season after rotator cuff surgery on his left shoulder.  Morse won't step in for LaRoche this spring, though. Nationals manager Davey Johnson clearly stated that Morse won't...
Sorry. Two or three years ago, Michael Morse looked like another marginal major-leaguer who once had a short hot-streak. After reportedly having his last two seasons of arbitration-eligibility bought out by the Washington Nationals this weekend, Morse is now a millionaire (the reported amount is $10.5 million). It has been a long path to relevance for Morse. Of more relevance at...
MORE STORIES >>
College Football News

Delivered to your inbox

You'll also receive Yardbarker's daily Top 10, featuring the best sports stories from around the web. Customize your newsletter to get articles on your favorite sports and teams. And the best part? It's free!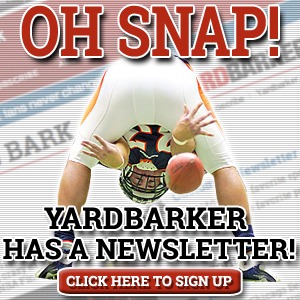 THE COLLEGE FOOTBALL HOT 10