There were a number of narratives that came out of Michigan State's 27-22, way too close, win over Nebraska last Saturday. Lost amid the talk about student sections and conservative play calling, was the poor performance from the MSU special teams unit. Coming into the season, special teams figured to be a strength for Michigan State. They were returning a pair of very good kickers...
If there were a college football award for sense of humor, Michigan State punter Mike Sadler would be in the mix. Sadler decided to have a little fun with his team's important Saturday night Big 10 matchup against the University of Nebraska. which included the Spartans' punter petting an imaginary cat. First, some vital background information. There's a very popular parody...
One of our favorite college football Twitter friendships is the one between Mike Sadler, Michigan State's excellent punter, and @FauxPelini, the amazing Bo Pelini parody account. The two had a long back-and-forth this week ahead of tonight's Michigan State-Nebraska game, and Sadler promised to give a shout-out to @FauxPelini after a punt. @FauxPelini I'm not. But after every...
The Montagues and the Capulets. Captain Ahab and Moby-Dick. Al Capone and Bugs Moran. Mike Sadler and Faux Pelini. Yes you read that right. Mike Sadler and Faux Pelini have reached the level of literature and history's most elite feuds. In the continuation of their now famous Twitter interactions, Sadler and Pelini were at it again on Monday in preparation for this Saturday nights...
Mike Sadler was one of the best punters in America last season. The fifth-year senior from Michigan State was an All-American and a semifinalist for the Ray Guy Award, which is given annually to the best punter in the country. Coming into 2014, Sadler has high expectations, as many believe that he is among the favorites to win the Ray Guy Award this year. However, according to a...
While some fans ignore the special teams aspect of the game, those who know football know just how important it is–especially at Michigan State. The Spartans pride themselves on their special teams units, and for good reason. MSU has solid coverage teams along with one of the top kicking duos in the entire country in punter Mike Sadler and place-kicker Michael Geiger. Michael...
College football coaches make a lot of promises when recruiting players to join their programs. The sell recruits on early playing time, tell them that they can send guys to the NFL with regularity, and promise that their team will play for conference and national titles. Obviously, not all of these promises come true, even if many are made with good intentions. Michigan State punter...
Mich. St. punter Mike Sadler running like a boss. Image via Cedar Rapids Gazette. What do Michigan State and  alleged comedian Andrew Dice Clay have in common? The apparently both like nursery rhymes maybe a bit too much. The Spartans' defeated Iowa in Iowa City on Saturday 26-14. A big part of that win was a fake punt by punter Mike Sadler at the beginning of the...
  On the fourth floor of Spartan Stadium sits Michigan State senior quarterback Andrew Maxwell. What's brought Maxwell and dozens of his teammates and coaches here today is the team's annual football media day, which took place on Monday, August 5. And on this day, Maxwell, the returning starter from a year ago, is surrounded by several members of the local media, as the starting...
msuspartans.com He is known as the jokester on the Michigan State football team. His Twitter bio reads, "I punt footballs and tell bad jokes." But Mike Sadler, who wears uniform number three as the starting punter for the Spartans, is also widely regarded as one of the smartest players on the squad – and possibly even a future Rhodes Scholar. Being a student athlete has its...
MORE STORIES >>
College Football News

Delivered to your inbox

You'll also receive Yardbarker's daily Top 10, featuring the best sports stories from around the web. Customize your newsletter to get articles on your favorite sports and teams. And the best part? It's free!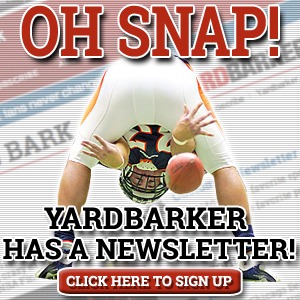 THE COLLEGE FOOTBALL HOT 10