The Stolen Identity of Mitch Mustain Set to DebutIn 2005, Mitchell Stewart Mustain led Springdale High School to a perfect 14-0 record and won the Arkansas Class 5A state title, defeating three nationally ranked opponents in the process.  In a magical senior campaign, Mustain threw for nearly 4,000 yards and set a state single season record with 47 touchdowns garnering him consensus...
Matt Snyder | CBS SPorts CHICAGO – The Chicago White Sox have signed Mitch Mustain to a minor-league contract as a pitcher (LA Times). In other words, the dude who started for USC against Notre Dame in football during the 2010 season is now in the White Sox organization. For More,  CBS Sports
A person familiar with the situation says former Arkansas and Southern California quarterback Mitch Mustain is closing in on a minor-league contract with the Chicago White Sox. The person spoke Friday on the condition of anonymity because the deal had not been finalized. That is expected to happen early next week. Mustain told the NBC affiliate in Northwest Arkansas that he had...
Via AP on Fox
Former USC quarterback Mitch Mustain dreamed of one day playing in the Super Bowl. But now Mustain, who has not pitched since his sophomore year in high school, is thinking about the World Series after signing a minor league contract with the Chicago White Sox. This is my one shot and I have nothing to lose, Mustain, 24, said in a phone interview. Mustain will report to the White...
Mitch Mustain, the former USC quarterback, has signed a Minor League deal with the White Sox.
The star quarterback from Arkansas who made the Razorbacks, along with Darren McFadden, Felix Jones and Peyton Hillis, into a foundated SEC college football team then transferred to the USC Trojans to never be heard again, has came out of hiding this year very strongly. Now signing with the Chicago White Sox, who have absolutely no ties to football. More Information
Former college quarterback Mitch Mustain reportedly has signed a minor league deal with the Chicago White Sox and is planning to attend spring training with the team in March. Mustain had a disappointing college football career that included one season at Arkansas and three at USC. He played baseball in high school but stopped after breaking his arm his junior season. He says he...
It's not quite the epic search for Bigfoot, but documentarians in Northwest Arkansas ventured into the woods anyway to find one of the local creatures of myth and legend alive and well…and firing off several rounds of ammunition into various inanimate objects.  A company called Incognito Mosquito Flicks is touting their documentary of former Arkansas and USC quarterback Mitch...
If you've been sitting around wondering what happened to former Arkansas/USC quarterback Mitch Mustain, Fayetteville, Ark., filmmaker Matthew Wolfe is here to help. Wolfe is making a documentary on Mustain called, "The Identity Theft of Mitch Mustain," and it picks up where the former top-rated recruit left off after his collegiate eligibility was exhausted. The trailer...
MORE STORIES >>
College Football News

Delivered to your inbox

You'll also receive Yardbarker's daily Top 10, featuring the best sports stories from around the web. Customize your newsletter to get articles on your favorite sports and teams. And the best part? It's free!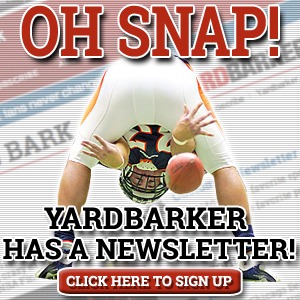 THE COLLEGE FOOTBALL HOT 10