Will the legacy of Joe Montana live again on the gridiron? Picture used courtesy of theadvocate.com. Tulane third-string quarterback Nick Montana entered the fourth-quarter of the Green Wave's 31-6 loss to Rutgers after freshman starter Tanner Lee suffered an apparent shoulder bruise and back-up Devin Powell proved ineffective. Montana went 5-for-5 for 18 yards in his short appearance...
Nick Montana has a chance to play his first bowl game in the same stadium where his famous father, Joe, won a Super Bowl. That is, if he's healthy enough to take the field for Tulane in Saturday night's New Orleans Bowl. If Montana can't go, the Green Wave (7-5) won't get any sympathy from Louisiana-Lafayette (8-4), which is in a similar predicament. Ragin'...
Nick Montana threw for 171 yards and three touchdowns to lead Tulane to a 45-3 win over University of Texas at El Paso Saturday. This was the final game for Tulane at the Mercedes-Benz Superdome, which had been home to Green Wave football since 1975. Tulane (7-4, 5-2 Conference USA) now has the most wins in a season since finishing 8-5 in the 2002 season. Tulane took an early...
Ross Metheny threw for 290 yards, ran for another 75 and accounted for four first-half touchdowns as South Alabama held on to beat Tulane 41-39 on Saturday. Tulane (1-1) had a chance to tie the game late after Nick Montana threw a touchdown pass to Ryan Grant with 1:19 remaining, but Montana threw an incomplete pass on the two-point conversion attempt. South Alabama (1-1) then ran...
Today Joe Montana's son, a former JUCO transfer won the starting quarterback spot for Tulane Green Wave. Coach Dennis Johnson announced it today via a news conference.  Nick Montana will not have an easy game, facing one of the FCS' most dominant shut down corners in the NCAA with Qua Cox.  This will be a […]
So long Nick The worst kept secret all season has finally come to fruition. Washington Huskies QB Nick Montana, the son of the Hall of Fame Joe Montana of course is leaving Montlake for greener pastures and a starting job. With current STUD QB Keith Price fresh off a successful season (in my opinion) and having two years of eligibility remaining, made Nick Montana have to stare at...
Washington Huskies QB Nick Montana is leaving Montlake for a starting job. The Seattle Times reports Montana, who just finished his redshirt freshman season at UW, will transfer to a junior college — reportedly either Blinn (Brenham, Texas) or El Camino (Calif.) Quote: "I've got three years (of eligibility left) and I want to spend those on the field,...
Washington has announced quarterback Nick Montana, son of Hall of Fame QB Joe Montana, has been released from his scholarship so that he can transfer. Montana just completed his redshirt freshman season with the Huskies. The school announced the decision on Monday night. Montana landed at Washington with much fanfare as one of the jewels in coach Steve Sarkisian's second recruiting...
Washington coach Steve Sarkisian says redshirt freshman Nick Montana will make his first career start on Saturday when the Huskies play at Oregon State.
SEATTLE (AP) -- Washington coach Steve Sarkisian says redshirt freshman Nick Montana will make his first career start on Saturday when the Huskies play at Oregon State.
MORE STORIES >>
College Football News

Delivered to your inbox

You'll also receive Yardbarker's daily Top 10, featuring the best sports stories from around the web. Customize your newsletter to get articles on your favorite sports and teams. And the best part? It's free!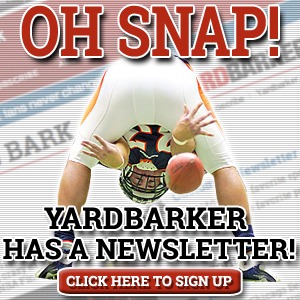 THE COLLEGE FOOTBALL HOT 10