Okay Alabama fans – we all know that you love Crimson Tide head coach Nick Saban. But how similar are any of you to the four-time national champion? Take our quiz and find out.
Alabama coach Nick Saban Alabama had a good week in the USA Today Coaches Poll by moving up to claim No. 1, but the Crimson Tide didn't even have to play to achieve the status. Alabama tallied four more No. 1 votes than in week five and 11 more points overall. Florida State lost 10 of the No. 1 votes, but the Seminoles still have the most top votes with 26 even though they're...
Through his first four games as Alabama's offensive coordinator, it looks like Lane Kiffin was a great hire. The Tide are throwing the ball more than they did in past seasons and look more rounded on offense. They rank 12th in the nation with 335.8 passing yards per game after finishing the 2013 season ranked […]
Hail Saban!  Photo via al.com.From the "How Do You Like Me Now?" comes Alabama head coach Nick Saban having his way with the media for the criticism he got from some its quarters for hiring Lane Kiffin as Crimson Tide offensive coordinator. "I mean, if I did what you all thought when I hired the guy, he wouldn't even be here," Saban said. "Maybe that...
Nick Saban's decision to hire Lane Kiffin this off-season certainly seemed questionable at the time, and was mocked by many, because after his ouster from USC, there were few easier targets in the sports world than Kiffin. To Kiffin and Saban's credit, through four weeks Alabama's offense looks very good. The Crimson Tide offense is averaging 42 points and 587 yards per game...
Nick Saban can come off as humorless, but the Alabama football head coach allows himself to laugh from time to time. In an ad for Alabama-based Regions Bank, Saban is brought in to serve as a voice of reason and prevent a banking client from falling into the pits of online shopping. He follows the process of playing one down at a time, one game at a time, but also thinks that dress...
Welcome to the Fallout - Week 4 edition.Y'all should be lucky that I resisted the urge to channeling Monty Python's "Spam Song" with three Blake Sims-related links today. The Outsiders. Kevin Scarbinsky discusses how Alabama offensive coordinator Lane Kiffin and starting quarterback Blake Sims have silenced their critics following Alabama's 42-21 win over Florida...
Alabama head coach Nick Saban is known to be one of the most serious and intense coaches in all of college football. However, as we've seen before, when Saban decides to be funny, he's absolutely hilarious. Saban's sense of humor is on display in this commercial for Regions Bank. In the advertisement, Saban gives money management advice to a young woman who is debating spending...
For the majority of his coaching career, Nick Saban has been an opponent of the spread, no-huddle offense.  "I just think there's got to be some sense of fairness in terms of asking is this what we want football to be?" the Alabama coach said in 2012 following a game against Ole Miss.  Saban's thoughts on the subject seem to have changed since then, as the Crimson Tide...
When Nick Saban was not in the office on May 2, he probably had no idea that his private room would be used for a marriage proposal. But that's exactly what happened. A young man named Drew Clayton pulled some strings and set up a marriage proposal from inside the Alabama coach's office for his […]
MORE STORIES >>
College Football News

Delivered to your inbox

You'll also receive Yardbarker's daily Top 10, featuring the best sports stories from around the web. Customize your newsletter to get articles on your favorite sports and teams. And the best part? It's free!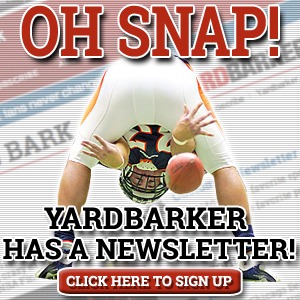 THE COLLEGE FOOTBALL HOT 10