Tuesday evening, we wrote about O.J. Howard's special eating habits. The Alabama tight end removed Snickers candy bars from his diet and replaced the chocolate treat with ice cream.  Today, in what has to be a master troll tweet, Howard posted a picture of a delicious-looking sundae he was about to eat following practice.  What Better Way To Enjoy Some Ice Cream After A Hard...
O.J. Howard is a 6-foot-6, 240-pound leviathan who plays tight end for Alabama. He's only a sophomore, but he already looks like an NFL star and runs with a grace and explosiveness men his size shouldn't possess. Heading into the new season, Howard wanted to become even more of a physical specimen, so he began examining the intricacies of his diet. "It's kind of hard, but...
O.J. Howard has nutrition figured out, at least to a point most Americans would agree with.  The Alabama tight end, responsibly, cut Snickers candy bars out of his diet so he would be healthier for the upcoming football season.  What replaced the chocolate treat in his eating habits? Ice cream, of course.  Alabama TE O.J. Howard says he gave up Snickers so he can eat healthier...
Alabama's OJ Howard had LSU and football on the brain when he confused Death Valleys in geography class.
Death Valley National Park is a national park that spreads throughout California and Nevada. It's a desert valley that is known as the lowest and driest area in North America.  Death Valley is also the nickname given to LSU's Tiger Stadium, perhaps the most intimidating environment in college football.  It is the latter of the two that Alabama tight end O.J. Howard had on his...
O.J. Howard came to Alabama as a receiving mismatch for most opposing defenses. He hopes to get even better in that area, but it could be that the most important thing he can do is become at least a match for opponents when he's a blocking tight end.
TUSCALOOSA, Ala. (AP) Alabama's Derrick Henry and O.J. Howard both produced flashy moments as much-hyped freshmen.
Even a team loaded with talent like No. 1 Alabama needs lesser-known players to step up big sometimes. Tana Patrick, Jalston Fowler and freshman tight end O.J. Howard delivered in a prime-time showdown with LSU, accounting for three touchdowns either prevented or scored in a victory decided by precisely that margin. Only Howard seems likely to become a star among that trio. Patrick...
A.J. McCarron hit tight end O.J. Howard to give the Alabama Crimson Tide a 10-3 second-quarter lead over LSU.
We've got a dandy going in Tuscaloosa tonight. After LSU took the lead, 7-3, on a 3-yard touchdown run by Jeremy Hill, Alabama struck back on a 52-yard touchdown pass from A.J. McCarron to O.J. Howard. It's 10-7 in the second quarter.
MORE STORIES >>
College Football News

Delivered to your inbox

You'll also receive Yardbarker's daily Top 10, featuring the best sports stories from around the web. Customize your newsletter to get articles on your favorite sports and teams. And the best part? It's free!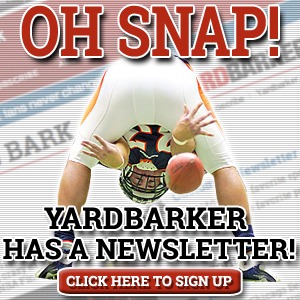 THE COLLEGE FOOTBALL HOT 10