Having a rough week? Excited it's Friday? Just remember, it could be worse...you could be anyone associated with USC Trojans football. Let's make a quick run through this week's headlines in Los Angeles...First, their AD Pat Haden was hospitalized. Twice. Showing the standard level of compassion we'd expect from the NCAA, College Football Playoff executive director...
USC athletic director Pat Haden was not at USC's annual "Salute To Troy" event on campus Saturday night, and the Los Angeles Times is reporting that Haden has been hospitalized twice in the last two days because he hasn't been feeling well. USC has not issued a comment on Haden's status.
USC athletic director Pat Haden missed an annual school event Saturday evening and has been hospitalized two times in the past two days, according to a report in the Los Angeles Times, citing "a person with knowledge of the situation." Haden, 61, was absent from the on-campus "Salute to Troy" football kickoff event, the Times says. A source told the paper that...
You might have seen the "Ice Bucket Challenge" in the news of late. Athletes, celebrities and common folks just us all have joined in on this great cause. New England Patriots wide receiver Julian Edelman took part in the challenge; Boston College head football coach Steve Addazio took the ice bath; a few New York Giants players also participated; along with a few members...
After 16 years of the BCS system, the long-awaited College Football Playoff is on its way. For better or worse, the entire landscape of FBS football has changed. Can it even be split as the Football Bowl Subdivision and the Football Championship Subdivision anymore? Maybe the NCAA should just switch their names back to Division I-A and I-AA. With all the change, it can be easy to...
LOS ANGELES -- Pat Haden knows all too well about rebuilding projects. Essentially he took over an athletic department with its flagship football team recently being struck with severe NCAA sanctions. At his personal home, he underwent a remodeling project that took close to 16 months. His working home needed a facelift as well. That project, however, only took just over a year to...
Ed Orgeron after the victory against Arizona (Photo credit: Stephen Dunn/Getty Images) Most people did not see this coming. Most people thought USC Football would phone in their season after a horrible loss to Arizona State and the subsequent firing of their coach. Now USC stands at 8-3 after starting 3-2. They are ranked for the first time since losing to Washington State back in...
Pat Haden (Photo credits: Kyle Terada/US Presswire)With USC's roster depth blasted and new sanctions out for Miami, USC's sanctions come to the forefront yet again. On Tuesday, October 22, 2013, the NCAA finally handed down the University of Miami's punishment after many years of investigation. USC Athletic Director Pat Haden responded by reiterating that the penalties received...
USC athletic director Pat Haden has been encouraging his student-athletes over the years to venture out aor the full college experience. To accomplish that, Haden told them to do something on campus that was out of their comfort zone. And what better way to do that than to lead by example? Haden, the former USC and NFL quarterback and Rhodes Scholar, walked the walk and made his...
Over at the college football website I run, CrystalBallRun.com, I brought up what I thought to be a very interesting talking point yesterday afternoon: Has USC's Pat Haden evolved into the best Athletic Director in college sports? Well, after thinking about it some more last night, doing some research, and talking to a few folks who've spent time around USC's athletic department...
MORE STORIES >>
College Football News

Delivered to your inbox

You'll also receive Yardbarker's daily Top 10, featuring the best sports stories from around the web. Customize your newsletter to get articles on your favorite sports and teams. And the best part? It's free!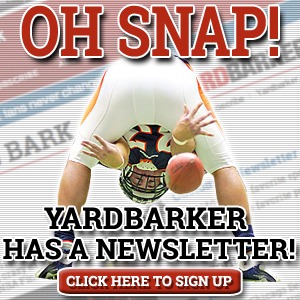 THE COLLEGE FOOTBALL HOT 10