One of the best USC Trojans in history was furious after being escorted out of the Coliseum last night by AD Pat Haden. @THEREAL_LENDALE: I can't believe @ADHadenUSC kicked me out of #thecoli shook my hand then had me escorted out. I'm still at a loss for words!!! @THEREAL_LENDALE: I can't believe this Do you […] The post Former USC Trojan Lendale White was kicked out of...
Today should be a good one for USC fans and alumni. The Trojans had no issue running over Colorado, finishing with a 56-28 win against the Buffaloes. Of course, not everyone at The Coliseum is happy with how the game went. Former USC running back LenDale White spent much of last weekend trashing members of head coach Steve Sarkisian's coaching staff during a close 28-26 win over...
USC athletic director Pat Haden will not make an appearance on the sideline when the Trojans visit Boston College this Saturday, and he will be a little lighter in the wallet, too. Haden was fined $25,000 by the Pac-12 Conference on Monday, on top of his self-imposed two-game sideline ban, for leaving the press box to confront the officials during USC's 13-10 win over Stanford...
USC athletic director Pat Haden has been fined $25,000 by the Pac-12 Conference for coming down to the field and arguing with officials during Saturday's win vs Stanford. George Schroeder of USA Today Sports first reported the fine from the Pac-12. The Pac-12 has fined USC AD Pat Haden $25,000 for sideline antics. Sarkisian, Haden reprimanded. — […]
The Pac-12 has punished USC athletics director Pat Haden for his actions during the Trojans' game against Stanford this weekend. Haden, 61, rushed down to the field from his suite to discuss a penalty called on Steve Sarkisian.  Haden, a member of the College Football Playoff selection committee, has been fined $25K by the Pac-12. Sarkisian has been "reprimanded" for his inappropriate...
USC athletic director Pat Haden, who is also a member of the allegedly unbiased College Football Playoff selection committee, left the press box during USC's game against Stanford to voice his frustration with referees who gave coach Steve Sarkisian an unsportsmanlike conduct penalty. Check out the video:  
USC athletic director Pat Haden may be in a bit of trouble with the NCAA after admitting that he was texted by his football coaching staff to come down to the field to argue a penalty, but for the moment, it seems as if he's pretty happy with how his Saturday has turned out. After the Trojans clinched a road victory against conference rival Stanford, Haden was so excited that he...
USC Athletic Director Pat Haden left the press box during Saturday's Pac-12 rivalry game at Stanford to argue with the referee over a questionable targeting penalty which resulted in the ejection of linebacker Hayes Pullard.Pullard received the controversial penalty in the final minute of the third quarter on a late hit at the end of a kickoff return. Haden allegedly received...
Pat Haden is not the USC football head coach, in fact he is their athletic director. During the USC and Stanford game Lane Kiffin got very upset over a targeting call which led to the ejection of Hayes Pullard. He was so angry that he drew a 15-yard penalty and then took to texting his athletic director. Once Pat Haden received the text from Coach Kiffin, he immediately bolted...
USC athletic director Pat Haden was not at USC's annual "Salute To Troy" event on campus Saturday night, and the Los Angeles Times is reporting that Haden has been hospitalized twice in the last two days because he hasn't been feeling well. USC has not issued a comment on Haden's status.
MORE STORIES >>
College Football News

Delivered to your inbox

You'll also receive Yardbarker's daily Top 10, featuring the best sports stories from around the web. Customize your newsletter to get articles on your favorite sports and teams. And the best part? It's free!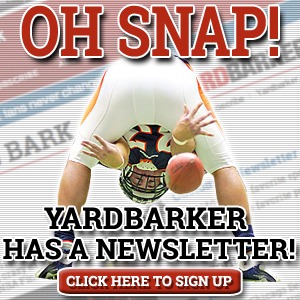 THE COLLEGE FOOTBALL HOT 10