Paul Jones threw three touchdowns to guide Robert Morris to a runaway 54-14 win over Central Connecticut State on Saturday. The win marks the third straight Northeast Conference win for the Colonials (5-4, 3-1), who also got another big game from the defense. Defensive back Eric Lowry returned an interception 38 yards for a second quarter TD, then linebacker Kimani Smith picked...
Duane Mitchell hauled in three touchdown passes from Paul Jones to lead Robert Morris to a 24-3 win over Bryant on Saturday. Jones and Mitchell connected for a 67-yard score on the game's third play from scrimmage to give Robert Morris (4-4, 2-1 Northeast) an early lead. Jones and Mitchell then hooked up for a 12-yard touchdown and a 13-yard touchdown on consecutive drives in...
Paul Jones tossed three touchdown passes and the defense put together a solid performance to lead Robert Morris to a 31-14 win over Morgan State on Saturday. The Colonials (1-1) shut out Morgan State for the first three quarters and allowed just 291 yards of total offense as the Bears struggled to get anything going until the fourth quarter. Morgan State (0-2) managed just 62 yards...
Kentucky Wildcats fans don't exactly have a cozy relationship with Robert Morris. In case you need a reminder, the Colonials upset the No. 1 seeded Wildcats in the NIT last season. So it may come as a bit of a surprise that today, the university allowed Robert Morris' football team to practice in Nutter Fieldhouse. Colonials' quarterback Paul Jones posted this photo on his...
Penn State is down another quarterback after coach Bill O'Brien said Wednesday that backup Paul Jones had left the team for personal reasons. The rocket-armed sophomore, once a highly touted recruit, had slipped behind true freshman Steven Bench to third string. Senior Matt McGloin is the entrenched starter. O'Brien still sought to keep Jones involved and had him practicing...
According to a report by StateCollege.com's Nate Mink this morning, quarterback-turned-tight end Paul Jones is no longer with the team. The offensive package Jones had been adapted to has been dropped as a possible result according to a source in the initial report. From StateCollege.com: This was at least the second time Jones questioned his role on the team. He said following...
Paul Jones walked into his apartment, headed to his room and fell lifelessly onto the bed. His bag, thrown on the floor surrounded by mangled laundry, crumpled papers and empty Gatorade bottles. Practice ran late and he knew he had to wake up for a 7 a.m. workout the next morning, but couldn't resist to get a few rounds of NBA 2K12 in on his Play Station 3 with his roommates. ...
MORE STORIES >>
College Football News

Delivered to your inbox

You'll also receive Yardbarker's daily Top 10, featuring the best sports stories from around the web. Customize your newsletter to get articles on your favorite sports and teams. And the best part? It's free!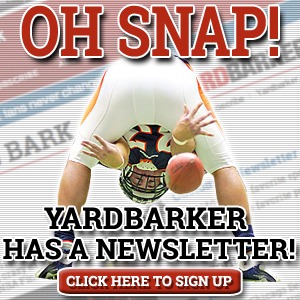 THE COLLEGE FOOTBALL HOT 10