Oregon hadn't even started thinking about their Alamo Bowl uniform combination before learning that starting tight end Pharaoh Brown would be skipping the team's trip to San Antonio. Brown was suspended by head coach Mark Helfrich for his role in......accepting gifts from boosters?...testing positive for a banned substance?...failing a class?..."violating team rules...
The University of Oregon issued a statement from tight end Pharaoh Brown on Monday afternoon regarding Brown's role in an incident involving a motorist on the campus of the University last Friday. Brown apologized for his actions. Brown has been suspended from participating in the Alamo Bowl which will be played on Dec. 30, in San Antonio.
On December 30th the Oregon Ducks will take on the Texas Longhorns in the Alamo Bowl, but they'll be without their starting tight end Pharaoh Brown. The 6'6″ sophomore will be standing on the sidelines after being suspended by head coach Mark Helfrich for his participation in an on-campus snowball fight that got a little out of hand. What began as nothing more than a harmless...
Tweet Oregon Ducks tight end Pharaoh Brown has been suspended by head coach Mark Helfrich from participating in the upcoming Alamo Bowl, according to a report from the Oregonian. Apparently, Brown and some other teammates and students organized a 100-person snowball prank last Friday that got a little out of hand when the players and students pelted...
Down South, players don't get suspended for rape charges or savage beatings, and Urban Meyer wouldn't discipline a player for ten minutes if he could find a way to keep it out of the media. Oregon wants to be different, win the right way and send the right message. After a season where maybe the team got too loose and a little self-involved, showed some chinks in both preparation...
Oregon Head Coach Mark Helfrich has suspended tight end Pharaoh Brown from participating in the Alamo Bowl because of Brown's involvement in a snow ball fight that got out of hand on the campus of the University of Oregon last week.
Oregon Ducks quarterback Marcus Mariota has a partial sprain of his left MCL, reports television station KVAL in Eugene, Ore. Mariota entered the Ducks Thursday night game against the Stanford Cardinal wearing a knee brace on his left knee because of the partial sprain of his MCL. Mariota, a Heisman Trophy contender, finished 20-of-34 for 250 yards and two fourth-quarter touchdown...
Oregon's players definitely have the right to be confident heading into any matchup, but they'd be wise to take a few of their opponents more seriously than others. The Ducks travel to Husky Stadium for a tilt with No. 16 Washington this Saturday in what's being billed as a "blackout" for fans, so the atmosphere is expected to be pretty rowdy. Still, Oregon sophomore tight...
With Oregon on a bye week, Erik and Robby discuss the latest in recruiting, what they saw on Friday night from the prep scene, and the situation at tight end with the return of Pharaoh Brown and Colt Lyerla to practice.
EUGENE- With the emergence of Oregon's Johnny Football and the "circumstances" surrounding star tight end Colt Lyerla, it's been easy for Pharaoh Brown to become the third wheel. Add in a bum wheel of his own, and Brown has seemingly disappeared off the face of the planet since the second week of fall camp when he suffered a leg injury.
MORE STORIES >>
College Football News

Delivered to your inbox

You'll also receive Yardbarker's daily Top 10, featuring the best sports stories from around the web. Customize your newsletter to get articles on your favorite sports and teams. And the best part? It's free!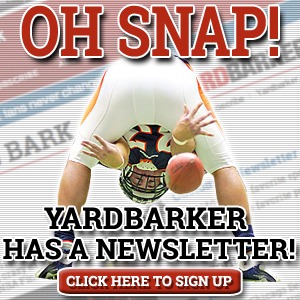 THE COLLEGE FOOTBALL HOT 10