The Texas A&M Aggies will be sporting a commemorative, Tongan-inspired No. 90 sticker on their helmets to celebrate the fallen Polo Manukainiu.
Several weeks ago, terrible news struck the college football world — Utah's Gaius Vaenuku, Texas A&M's Polo Manukainiu, and their high school friend Lolo Uhatafe were all killed in a tragic car accident. Of course, the teams are looking to honor their players this season — Utah recently released special stickers that will be worn on the Utes' helmets to honor Vaenuku...
Damontre Moore helped recruit Polo Manukainiu to Texas A&M and remembered the day the two met. Manukainiu was still in high school, even then a fearsome figure at 6-foot-5 and some 275 pounds. Beneath that mammoth frame, though, was a young man with sweet and caring personality, a huge smile and kind words for everyone fortunate enough to know him. "He was this huge kid...
Texas A&M said Tuesday that redshirt freshman Polo Manukainiu and a teenager joining the Utah football team this fall were among three people killed in a single-car rollover crash in the high desert of northern New Mexico, just days before fall practices begin. Manukainiu, a defensive lineman for the Aggies, and Gaius ''Keio'' Vaenuku were among three teens killed...
A Texas A&M freshman lineman and an incoming member of the Utah football team have died in a rollover crash in New Mexico, officials said Tuesday. Polo Manukainiu, a redshirt freshman at Texas A&M, and Gaius Vaenuku were among three teens killed in the crash, Texas A&M said in a statement. The wreck occurred Monday on U.S. 550 just north of Cuba. State Police said...
The college sports world got some terrible news early Tuesday morning. It's been reported by multiple publications that Texas A&M freshman Polo Manukainiu was involved in a fatal car crash last night on his drive home from Utah to Texas. The accident, which took place in New Mexico, also killed two other teenagers – Utah recruit Gaius Vaenuku and Trinity High School student...
Tragedy struck the college football world this morning as a Texas A&M player, Polo Manukainiu, and a Utah recruit were killed in a car accident in New Mexico on their way back to Texas from Utah. A third person also passed away and the fourth person in the vehicle is in critical condition. According to reports all three that were killed were from Trinity High School in Euless...
Tweet 6'5", 275-pound defensive lineman Polo Manukainiu was set to take the field for the Texas A&M Aggies for the first time in his career in 2013 after redshirting the 2012 season. The 33rd ranked defensive end in the country in his high school class, Manukainiu was looking to join a much-ballyhooed A&M team for [...]
TRAGIC
Three people lost their lives, including Texas A&M defensive end Polo Manukainiu (left) and Utah defensive end Gaius Vaenuku, in an overnight car crash.
The Texas A&M Football team returns six offensive and six defensive starters from their 2012 team that finished 11-2 and ranked No. 5 in the country. The most important player on the 2013 team may not be a returning starter at all, but the relatively obscure redshirt freshman defensive lineman Polo Manukainiu. Manukainiu spent the 2012 season redshirting while he added size...
MORE STORIES >>
College Football News

Delivered to your inbox

You'll also receive Yardbarker's daily Top 10, featuring the best sports stories from around the web. Customize your newsletter to get articles on your favorite sports and teams. And the best part? It's free!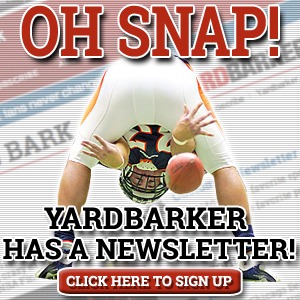 THE COLLEGE FOOTBALL HOT 10