Are observers overstating Ryan Tannehill's mastery of the Dolphins' offense just because Mike Sherman, his former head coach at Texas A&M, is the Dolphins' offensive coordinator? According to head coach Joe Philbin, the Dolphins' offense isn't a carbon copy of the Aggies offense. The offensive staff has spent months blending plays and language from the offense...
Today's hot chick is Lauren Tannehill.  Lauren is the wife of the newest Miami Dolphin Ryan Tannehill.  Ryan is sure to be the newest starting QB for the Dolphins as they used the 8th overall pick to get the former Texas A&M star.  Pictures of his #1 lady below.  Good job brother. Like this post? Check out our...
The first round of the 2012 NFL Draft came and went Thursday night, and as always, all eyes were on the quarterbacks. The only difference this year, was that when Texas A&M product Ryan Tannehill was drafted, all eyes turned to Twitter where Tannehill's wife Lauren Ulfer stole the show. Ulfer, a former Texas A&M cheerleaders and current model, is already drawing comparisons...
Get used to hearing these statements over the next few weeks: Ryan Tannehill started his college career as a wide receiver. Ryan Tannehill has only started 19 college football games as a quarterback. Ryan Tannehill's upside is superior to every quarterback in this year's NFL Draft not named Luck or RG3. But also prepare yourself to hear this: "With the (enter numbers 5-10th...
Tomorrow morning at 10:30, quarterback Ryan Tannehill will step out onto the field at Texas A&M and go through the paces of his personnel pro day. The audience is widely mixed on Tannehill. There are those that believe that he could end up surprisingly being the best out of the limited group of this year's draft class. There's a contingent that believes that he is firmly...
I spent a good deal of time last night evaluating Ryan Tannehill and debating his potential on twitter. Shortly after posting a detailed break down of Tannehill's performance against LSU in the 2011 Sugar Bowl, former quarterback and current Big Ten Network analyst Tony Banks chimed in. I had stated that Tannehill's accuracy was fine on simple routes, when his receivers aren't...
As we inch closer to the draft it's becoming increasingly clear that Ryan Tannehill is going to be a 1st-round pick. In January, when I finalized my report on Tannehill, I initially gave him a 3rd round grade and expected, due to the premium put on the position, that he would probably come off the board in the 2nd round. But since his consensus grade seems to be much higher, I...
Come April 26, Ryan Tannehill might be forever indebted to Matt Barkley and Landry Jones. Then again, it could be an NFL team down the line that feels fortunate it was lured into a gamble that paid big dividends. When Barkley announced he was returning to Southern California and Jones opted to remain at Oklahoma for another season, Tannehill became the consensus third-best quarterback...
According to a report from DraftInsider.net's Tony Pauline, Texas A&M quarterback Ryan Tannehill has suffered a "significant" foot injury and will miss the Senior Bowl. This is devestating news for Tannehill, who has an outside shot at sneaking into the 1st round of the draft. With Matt Barkley returning to school, we're guaranteed to have more teams in the market for...
Ryan Tannehill QB Texas A&M #17 Ht: 6'4″ Wt: 220   Strengths: Impressive overall size and strength. Decent mobility; can move around in the pocket to avoid pressure. Looks fairly athletic on roll outs. A threat to take off running when the play breaks down. NFL-caliber accuracy on short and intermediate routes. Took a more active role in offense in senior year, adjusting...
MORE STORIES >>
College Football News

Delivered to your inbox

You'll also receive Yardbarker's daily Top 10, featuring the best sports stories from around the web. Customize your newsletter to get articles on your favorite sports and teams. And the best part? It's free!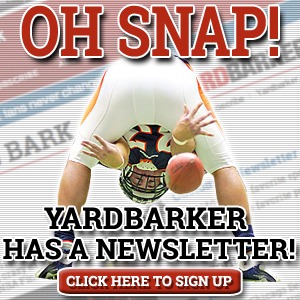 THE COLLEGE FOOTBALL HOT 10