The Pittsburgh Steelers have signed rookie safety Shamarko Thomas to a four-year contract. The Steelers selected Thomas with the 111th overall pick in last month's NFL draft, trading a third-round pick in 2014 to the Cleveland Browns to move up and take Thomas. Financial details were not disclosed. Thomas is expected to be the primary backup at safety after veterans Ryan Mundy...
The Pittsburgh Steelers have selected Syracuse safety Shamarko Thomas with their fourth round pick of the 2013 NFL draft. The Steelers traded their No. 3 pick in '14 for the 111st pick in this draft. SHAMARKO LANELL THOMAS Strong Safety Syracuse University Orange #21 5:08.7-217 Virginia Beach, Virginia Ocean Lakes High School OVERVIEW With his squat...
The Pittsburgh Steelers had Syracuse safety Shamarko in for a pre draft visit on Monday, and once again, our scouting buddy Dave-Te' Thomas was kind enough to give us his detailed scouting report profile on him, which you can read below. Make sure to listen to the Thursday episode of the podcast as we had Thomas on for nearly a full hour talking about the Steelers draft and...
Former Syracuse star safety Shamarko Thomas had a great 2013 NFL Combine performance, but he will be remembered for this tumble after the 40-yard dash.
Shamarko Thomas finished his college career with the Syracuse Orange last season. He started all 13 games at safety, led the team with 88 tackles, and earned First Team All-Big East honors as a senior.On Tuesday, Thomas tried his hand at impressing NFL scouts and coaches by participating in the 40-yard dash. The diminuitive Thomas clocked in at 4.38 in the forty before the turf monster...
LEGENDS OF THE FALL
Shamarko Thomas is a strong safety out of Syracuse who turned some heads with an impressive 4.38 40-yard dash time Tuesday at the NFL Combine in Indianapolis.  At 213 pounds, that's freakish. He turned even more heads after taking this nasty tumble (courtesy of SBNation).
Syracuse safety Shamarko Thomas only stands 5'9″ 213 lbs, so he needed to have a good combine in order to make an impression.  Thomas put up 28 reps on the bench and then got ready for his 40-yard-dash.  Thomas was extremely fast running a 4.38 forty, but caught his toe in the turf when he was leaning on to get to the finish line.  He was moving so quickly that he had no time...
247 Sports Three-star DB Simeon Thomas is scheduled to visit Syracuse this weekend, but only recently received an offer from the Orange. In fact, the Miami product first talked to Scott Shafer and the new staff just a few weeks ago… with one exception. Thomas has known an Orange coach throughout his whole collegiate career. You guessed it, "The Mailman" George McDonald. SU's...
Syracuse senior safety Shamarko Thomas is one of the defensive leaders. He says the Orange are ready to move on from the Rutgers loss, and are looking forward to the rest of the season.
Shamarko Thomas continues to be he face of the Orange secondary, but this will be his final go-round. The senior talks to CuseNation.com exclusively about what to expect in 2012.
MORE STORIES >>
College Football News

Delivered to your inbox

You'll also receive Yardbarker's daily Top 10, featuring the best sports stories from around the web. Customize your newsletter to get articles on your favorite sports and teams. And the best part? It's free!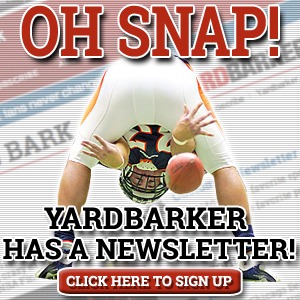 THE COLLEGE FOOTBALL HOT 10