It's the final time that we have a Michigan versus Notre Dame football game on the schedule. All the "chickening out" stories have been written. That narrative has been played out. Today at the press conference Brian Kelly simply said that having Michigan off the schedule now opens itself up to new opportunities, the chances to play Texas and Georgia. So we'll leave it at...
The thought that a team should ever overlook another team in sports couldn't be echoed louder for the Fighting Irish in their Week 1 opener against Rice.Recent memory reflects such a mistake.September 4,2011 saw a top ranked Irish team(#16) open their season with some high expectations.Several rain delays and a quarterback substitution changed the fate of Notre Dame football...
One of the most iconic stadium entrances in college football occurs at Notre Dame. The Fighting Irish make their way to the now-turf field from the locker room, while slapping a couple memorable Notre Dame signs along the way.  Today, the 2014 Notre Dame football team went through a game-day walkthrough. During the voyage to the field, freshman defensive end Jay Hayes had to ask...
With the completion of the game Saturday- one thing was made very clear: Greg Bryant will be a player who will see considerable action this season and could very well become the primary focus for the Irish offense.But along with his play Saturday, and the play of Malik Zaire and CJ Prosise - one tid bit overshadowed the actual players on the field and it was the field itself.In...
Blue-Gold Game Saturday 12:30 Eastern NBCSPWith the end of spring practices, Notre Dame takes to the field as a team for the first time in 2014 for the annual Blue-Gold practice game.The forecast looks promising with sunny skies and a mild 65 degrees for a high.Quarterbacks#5 Everett Golson#8 Malik ZaireThe obvious position to keep an eye on this Saturday will be that of the quarterbacks...
2014 looks to be a season for the Irish where new faces will emerge on defense along with a new coach.Every down players like Jaylon Smith are being tweeked to move inside which conjurs up thoughts VanGorder has designs on a 'moving parts' theory for his crop of players this season.One face that remains familiar with Irish faithful and will remain one of the non moving parts...
18 days remain before Notre Dame kicks off its season against Temple and Irisheyes.com has a list of 20 developments necessary for the program to bring home its first national title since 1988. Our first two segments covered a pair of defenders that must be "As Advertised" along with two left-siders that must rank among the nation's elite. Third in the series -- &quot...
With the negative publicity from the Manti Te'o hoax to the recent suspension of quarterback Everett Golson, Notre Dame players may want to watch what they do on Twitter. Current and former players appear to be following and tweeting adult film actress/model Emily Austin aka a porn star. Austin is a self proclaimed Notre Dame fan.  One Twitter handle looks as though it belongs...
Notre Dame's 2012 defensive front was the program's best unit last fall. After losing just one of its top eight contributors from a 12-1 campaign, it has a chance to be better in 2013, and a big reason for that is sophomore defensive end, Sheldon Day.
Primer: Saturday's Rapid Reaction Jameson at 4:30am! No sleep! Notre Dame Domination! Thank God Monday's a Holiday! Things we've seen in dreams and nightmares about the 2012 Fighting Irish finally played out in front of our awaiting Irish eyes on Saturday morning. Now let's spend all week talking about it! Welcome to the debut edition of The Man Cave...
MORE STORIES >>
College Football News

Delivered to your inbox

You'll also receive Yardbarker's daily Top 10, featuring the best sports stories from around the web. Customize your newsletter to get articles on your favorite sports and teams. And the best part? It's free!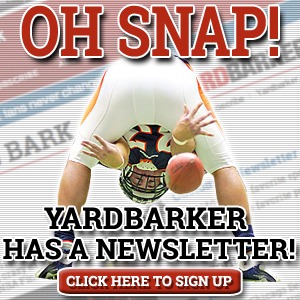 THE COLLEGE FOOTBALL HOT 10