MADISON, Wis. -- By nearly any measure, Sojourn Shelton's freshman season for the Wisconsin football team was a rousing success. He dazzled with his ball hawking skills at cornerback, created big plays in crucial situations and, quite often, was one of the Badgers' best and most consistent defensive players. In some respects, however, it proved to be the worst thing to happen...
Get used to an early week with the Wisconsin Badgers, as they open up fall camp with practice split between two even teams at two different times. Camp opened up at 6:20am on Monday, and reports are already filing in from those media members in attendance. The winner of the day? All those in attendance appear to be raving about freshman kicker Rafael Gaglainone, along with freshman...
  Wisconsin Badgers beat writer Jesse Temple will be analyzing the 25 most important players to the Badgers' success in the 2014 season. Check back each weekday to see the latest player on the list. You can find every report here. Note: This is not a list of the team's 25 best players or a series about past success, but rather which of them means the most to how Wisconsin...
In Gary Andersen's first class at UW he saved the commitment of Sojourn Shelton, and it proved to be a very good thing indeed as the freshman corner went on to become a bright spot in the Badgers secondary. Shelton went from early entrant to starting every game and leading the Badgers in interceptions and being named honorable mention All-Big Ten. Fast forward to Andersen's first...
As the 2014 NCAA Football season approaches, the Wisconsin Badgers' coaching staff will continue to evaluate their full roster as they begin to finish out their depth charts. Early indications for this team are pointing in the direction that coach Gary Andersen's first teams will consist of several underclassmen. While Badger fans will enjoy these faces for seasons to come, it...
MADISON, Wis. -- Maybe it was the fever. Maybe it was complacency. Or perhaps it was a mixture of both. Whatever the case, Wisconsin cornerback Sojourn Shelton wasn't producing at an acceptable level at the midway point of Badgers spring practices a few weeks ago. So head coach Gary Andersen and cornerbacks coach Ben Strickland decided to let him know about it. "They expressed...
MADISON, Wis. -- The two-deep depth chart for Wisconsin's football team features an unusual scenario at cornerback this season, one rarely seen across the major college football landscape: two freshmen listed side-by-side. Given the scrutiny that comes with playing corner -- and the difficulties of mastering such a complex spot -- few newcomers typically find themselves in position...
The Wisconsin Badgers (3-2) will be hosting the No.19 Northwestern Wildcats (4-1) this Saturday at 2:30 p.m. local time on ABC. This Saturday's Big Ten game of the week could ultimately determine which of these teams is second best behind the Ohio State Buckeyes. Northwestern lost it's Big Ten opener last Saturday in a disappointing 30-40 finish at home to the Buckeyes. The Badgers...
MADISON, Wis. -- Wisconsin coach Gary Andersen recalls his first game as a starting center at Ricks College with both fondness and a tinge of regret. "I couldn't talk for the first quarter at center, and that's not a good thing when you're like that," Andersen said. "I remember my first game playing a Division I football game, it was much of the same.&quot...
Monday before the opening game is always like Christmas for those of us covering college football teams, mainly because we sit in anticipation of the release of depth charts like kids waiting for their parents to get up to open presents under the tree.  Well, the first Badgers depth chart was released just a bit ago and there were a few surprises contained within it.  ...
MORE STORIES >>
College Football News

Delivered to your inbox

You'll also receive Yardbarker's daily Top 10, featuring the best sports stories from around the web. Customize your newsletter to get articles on your favorite sports and teams. And the best part? It's free!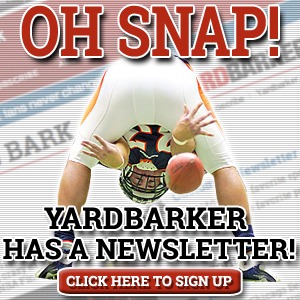 THE COLLEGE FOOTBALL HOT 10