Bret Bielema may not be a fan of the hurry-up-no-huddle offense, but he didn't waste a lot of time in offering an apology about recent comments he made, either. "It was brought to my attention that remarks I made yesterday evening while discussing a proposed rule change were unintentionally hurtful," said Bielema in a statement. "I am very passionate, as we all...
((HT: ESPN/Arkansas Razorbacks))Here's where it all started with Bret Bielema...And it finally got to the point where Coach Bielema apologized (finally) for dragging the name of deceased Cal football player Ted Agu into the discussion that said, in part:"In my press conference last night, I referenced information about the tragic loss of a life of a student-athlete. My comments...
California Athletic Director Sandy Barbour says it was ''beyond inappropriate'' for Arkansas coach Bret Bielema to reference the death of Golden Bears player Ted Agu while defending his position on the NCAA rule proposal to slow up-tempo offenses. Bielema brought up Agu while speaking to reporters Thursday night and in an interview Friday with SI.com. Bielema supports...
Via AP on Fox
Arkansas head football coach Bret Bielema, who has caught some serious heat after citing former Cal player Ted Agu's "death certificate" as reasoning for passing the proposed NCAA rule changes regarding hurry-up offenses, has now issued an apology to both the school and the player's family. His apology comes just minutes after Cal's AD, Sandy Barbour, called Bielema's...
We've got some terrible news coming out of Berkeley. Friday morning, it was announced that 21-year-old Cal defensive lineman Ted Agu, who has appeared in games for the Golden Bears in each of the past three years, had passed away at a local hospital following a conditioning run. While the school has yet to release any more specific information regarding the tragedy, Agu's coaches...
According to several reports, California junior defensive end Ted Agu died Friday after a conditioning workout, the school reported on its website. Agu, was just 21 years of age, and reportedly died at a local hospital near Berkeley, Calif., after collapsing during a conditioning workout. Agu was a very good student and a Bakersfield, CA […]The post Cal University football player...
California football player Ted Agu died Friday morning at age 21. The school announced Agu's death and said its thoughts and prayers were with Agu's family, friends and teammates. The school said it would give more information about the circumstances later. ''This is a very difficult time for our football family,'' coach Sonny Dykes said. ''Ted was...
Via AP on Fox
Photo Credit: Cal athletics Our thoughts, prayers and condolences go out to the friends, family, teammates and coaches of California Golden Bears defensive lineman Ted Agu, who passed away after a conditioning run at the age of 21 on Friday morning. The tragic news has been confirmed by the school's football program, per Jeff Faraudo of the Contra Costa Times. Cal football...
CBS Sports confirmed reports that University of California defensive end Ted Agu died Friday morning at the age of 21. Agu, was a bacup defensive end for the Cal Bears, who appeared in seven games during his 2013 junior season making six tackles. It was reported that Agu collapsed during a team conditioning run Friday morning. "At this time, we are deeply saddened to inform you...
A University of California football player tragically passed away on Friday morning. Ted Agu, 21, died after a team conditioning run. Agu passed out during the run and died at a local hospital, according to a San Jose Mercury News source. Agu was a 6-foot-1, 240-pound backup defensive end. He played in seven games in 2013, recording six tackles. Read Cal's statement on Agu's...
MORE STORIES >>
College Football News

Delivered to your inbox

You'll also receive Yardbarker's daily Top 10, featuring the best sports stories from around the web. Customize your newsletter to get articles on your favorite sports and teams. And the best part? It's free!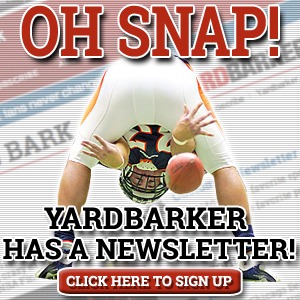 THE COLLEGE FOOTBALL HOT 10