With 4 Pac-12 teams, including Oregon, UCLA, Colorado and Washington State having byes last weekend, the conference slate was and felt a little on the weak side.  In addition to the lack of the aforementioned playing, USC and Cal's Thursday night game left us with just 3 conference games on a Saturday which seemed to revolve around that night's Alabama/Mississippi State contest...
Oregon beat Washington again.  Colorado got beat down again.  And UCLA won in a soft and unimpressive manner again.  Such is the way of the world in a Pac-12 Conference looking more similar than not regarding what was to be this season, opposed to what has always been. This conference isn't that good.  It isn't bad like the Big-10, but it's fairly mediocre in relation to...
by Mike Hayden Tony Washington, Derrick Malone and Cameron Hunt walk off Rich Brooks Field after the Ducks dropped the Huskies for the 11th straight time (Scott Olmos-USA TODAY Sports photo). "Walking the dog I'm just a walking the dog.  If you don't know how to do it I'll show you how to walk the dog". OK I'll admit I was a little nervous before the game and now I am...
More of this and less of that: Tony Washington and Rodney Hardrick combine to smother Brett Hundley in the Ducks 42-30 win over UCLA. Oregon needs improved run defense against the Huskies Saturday, who'll try to exploit a unit that allowed 366 yards on the ground in Pasadena. Fans are passionate and overreact to everything. It's an implied clause of the Constitution, an inalienable...
It seemed like Oregon had stopped Arizona when Tony Washington's sack forced a fourth down field goal attempt late in the fourth quarter of a tie game Thursday night. Not quite. Just when it seemed like the Ducks had a victory over Arizona in hand, Washington's celebratory bow drew a unsportsmanlike conduct penalty and an automatic first down. The call was controversial, to...
The second-ranked Oregon Ducks lost at home last night (this morning?) to Arizona 31-24, partially due to a ridiculous taunting penalty called at a crucial moment of the game.Oregon defensive lineman Tony Washington sacked Arizona quarterback Anu Solomon on third down, but after the fourth quarter play ended Washington bowed toward the sideline in celebration and was penalized for...
For the second year in a row, a loss to Arizona hurt Oregon's national championship hopes. This time a questionable unsportsmanlike conduct penalty called on the Ducks late in the game was one of the turning points. Oregon and Arizona were tied at 24 with just over four minutes left in the game when the […]
Washington State message boards nearly melted after the 38-31 loss to Oregon, and the outrage and conspiracy theories centered around a controversial noncall late in the fourth quarter. The Cougs had 3rd and 14 at the Oregon 38 with 3:48 to play, and Connor Halliday took a shotgun snap to pass for the 63nd time. The Ducks rushed five, and Arik Armstead pushed two blockers 7 yards...
Picking for points: Washington State shredded #2 Oregon's defense with the Air Raid, the fourth week in a row Don Pellum's unit has been leaky and inconsistent (James Snook-USA TODAY Sports photo.) After four games, the 4-0, #2-ranked Ducks rank 103rd in the country in total defense, giving up 443.5 yards per game and 5.72 yards per play. The Ducks face Arizona in 10 days, a...
MORE STORIES >>
College Football News

Delivered to your inbox

You'll also receive Yardbarker's daily Top 10, featuring the best sports stories from around the web. Customize your newsletter to get articles on your favorite sports and teams. And the best part? It's free!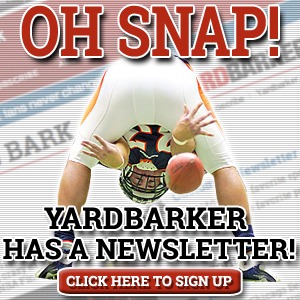 THE COLLEGE FOOTBALL HOT 10