The Cincinnati Bearcats had 4 players signed by NFL teams since the draft has ended. All 4 will participate in the rookie mini-camps or whatever the hell it is that NFL teams do to pretend to know what they are doing. The only Bearcat drafted during the NFL draft was Travis Kelce to Kansas City in the 3rd round. Speaking of Kelce, the Chiefs site Arrowhead Pride had a scouting...
The 2013 NFL draft has come and gone with 1 Cincinnati Bearcat selected. That man was Travis Kelce, who was the first selection of the 3rd round to the Kansas City Chiefs. Andy Reid loves those Cincinnati Bearcats. Kelce was the Bearcats leading receiver in 2012. He hauled in 45 passes for 722 and 8 TDs. He shattered every single season record for a tight end at Cincinnati.  ...
KANSAS CITY, Mo. (AP) The Kansas City Chiefs weren't deterred by off-the-field issues that cost tight end Travis Kelce an entire season at Cincinnati, or injury woes and fumbling problems that plagued running back Knile Davis at Arkansas. The Chiefs picked Kelce with the first choice in the third round Friday night, and then grabbed Davis with a compensatory choice as the second...
Chiefs select Travis Kelce in the 3rd round Overview In high school, Kelce was a three sport star, but his best sport was always football. He was a three-year letter winner at quarterback, and earned All-Lake Erie League honors after totaling 2,539 yards of total offense and 31 total touchdowns as a senior. Kelce's uncle Don Blalock played football at Purdue and grandfather Don...
Travis Kelce couldve easily not had the opportunity he had Wednesday. When Butch Jones came to the University of Cincinnati as its head football coach prior to the 2010 season he ended up suspending Kelce for violating team rules. Kelce was allowed to earn his way back into the good graces of Jones and the team by playing on the scout team, a role he performed so well he was named...
EAST HARTFORD, Conn. (AP) -- Brendon Kay threw two touchdown passes to Travis Kelce, and caught one from the big tight end on a trick play as Cincinnati beat Connecticut 34-17 on Saturday. The win gives the Bearcats (9-3) a share of the Big East championship, along with Louisville, Rutgers and Syracuse, all of which ended the season with 5-2 conference records. Cincinnati's...
Cincinnati Bearcats runningback George Winn channeled his inner Tim Tebow against Syracuse when he hit Travis Kelce for this 37-yard score, and on 4th down no less.  Certainly a Sportscenter Top 10 play.H/T: The Big Lead
MORE STORIES >>
College Football News

Delivered to your inbox

You'll also receive Yardbarker's daily Top 10, featuring the best sports stories from around the web. Customize your newsletter to get articles on your favorite sports and teams. And the best part? It's free!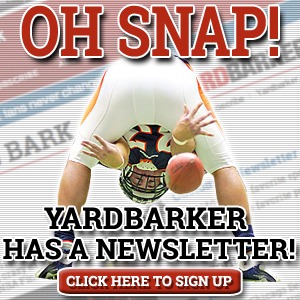 THE COLLEGE FOOTBALL HOT 10