The Alabama Crimson Tide continues to be an NFL pipeline under head coach Nick Saban. In the 2011 NFL Draft, the Crimson Tide had a school record four players drafted in the first round. Marcell Dareus was picked third by the Bills, Julio Jones was picked sixth by the Falcons, James Carpenter was picked 25th by the Seahawks, and then Heisman Trophy winner Mark Ingram was selected...
Alabama running back Trent Richardson donned a white tux, rented a limo and made a 17-year old girl's dream come true by taking her to her senior prom.  This was no ordinary date since Courtney Alvis is a cancer survivor and had never met the player before Saturday's date. Alvis' uncle took a chance that Alabama's biggest sports star would even consider escorting...
In a move that proves that not all football players are selfish and uncaring, former Alabama Running Back and future NFL draftee Trent Richardson attended  a prom with 17-year-old cancer survivor Courtney Alvis, as reported by WBRC news in Birmingham, Alabama. Richardson arriving with his date Richardson, 13 days before the NFL Draft, arrived at Hueytown High School's auditorium...
No matter your SEC allegiance you always like to hear stories of young men doing good things and the story of Trent Richardson taking a 17-year old cancer survivor to her senior prom is one of those stories. Alabama football star Trent Richardson attended Hueytown High School senior prom Saturday night, wrapping up a dream week for a 17-year-old cancer survivor. Richardson and...
Courntey Alvis had to a face a life-changing moment at the age of 16 when she was diagnosed with leukemia. Because of her weakened immune system, Alvis was told she basically couldn't leave her house — no driving, no going to the mall, no seeing a movie or taking part in anything that a healthy high schooler would be off enjoying. Alvis was told that she could attend her junior...
FAKE SNAP
A report says someone is posing as Alabama running back Trent Richardson on Twitter to stir up Cleveland fans into believing that the real Richardson wants the Browns to draft him later this month.
PUSH COMES TO SHOVE
He's still not 100% following knee surgery, but Trent Richardson still showcased his obscene amount of athletic ability at Alabama's Pro Day on Thursday. His forty times haven't been blazing, but he's certainly not in top form, either. One thing that does appear to be in top form, however, is his blocking (or at least [...]
Trent Richardson says running backs are undervalued, and he doesn't like it. Few have been drafted early in recent years as many NFL teams have shifted to a running back-by-committee approach. Richardson, considered the top back in this year's class, believes he's an every-down back worthy of a high pick. Last season, he ran for 1,679 yards and 21 touchdowns for Alabama...
UNDER THE KNIFE
NFL scouts hoping to catch a glimpse of the top RB on the board won't get that chance due to Richardson undergoing a recent knee surgery.
Alabama running back Trent Richardson will not take part in the on-field drills at the NFL Scouting Combine in Indianapolis after undergoing a minor knee surgery, according to an ESPN report. Richardson, who is likely to be the first player at his position drafted, had his representatives send a memo to all 32 NFL teams notifying them of this procedure. Alabama's pro day is...
MORE STORIES >>
College Football News

Delivered to your inbox

You'll also receive Yardbarker's daily Top 10, featuring the best sports stories from around the web. Customize your newsletter to get articles on your favorite sports and teams. And the best part? It's free!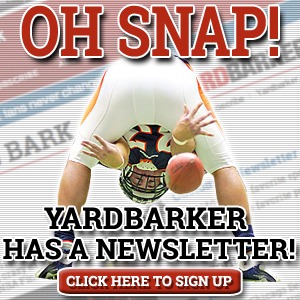 THE COLLEGE FOOTBALL HOT 10