Air Force football beat Boise State for the first time in school history on Saturday. The Falcons forced seven Broncos turnovers en route to a 28-14 win, which gave Air Force its first conference win since 2012. After Air Force coach Troy Calhoun addressed the squad, the players huddled up, did a Samoan chant called "O Alele," and dumped water and Gatorade all over each other...
It's not surprising that strength is the first thing Air Force football coach Troy Calhoun is asking for in the process of leaving behind the worst record in the academy's 57-year history. The Falcons finished 2-10 overall (0-7 Mountain West) last fall and began spring practice Wednesday trying to begin the road back to winning seasons. "We will be a stronger team...
Air Force football coach Troy Calhoun has added new assistants Ron Vanderlinden and Tim Cross to his staff. Titles and coaching assignments haven't been determined. Vanderlinden joins the Falcons after 13 years at Penn State, where he coached linebackers, and Cross joins Air Force after spending the last three years as strength and conditioning coach at Texas. Before that,...
The Notre Dame Fighting Irish may not currently be ranked, but that doesn't mean that Air Force is going to take them lightly. Today, Air Force head coach expressed that he thinks Notre Dame is currently being underrated by the pollsters: Air Force HC Calhoun on #NotreDame: "This is definitely a top-20 team." Calhoun says voters overlook who teams have played & focus on...
No. 75 Air Force Falcons (6-7) Coach Troy Calhoun (seventh season, 47-31 at Air Force and overall)Returning Starters: 10, 3 offense, 5 defense, 2 special teamsRecruiting Rank: 95Strength of Schedule: 82 Last year, coach Troy Calhoun had his first losing season at Air Force, but still took the Falcons to their sixth straight bowl game. The Falcons will have a bit of a rebuilding...
Wyoming Coach Dave Christensen had some issues with Air Force head coach Troy Calhoun (a USAFA grad who served his country from 1989-95 as an active duty officer in the Air Force) after the Falcons... Full story at Bob's Blitz ~ http://www.bobsblitz.com
Dave Christensen, head coach of the Wyoming Cowboys, went on a f-bomb-filled rant after a 28-27 loss the Air Force, last Saturday. Christensen was very unhappy with Air Force head coach Troy Calhoun, accusing him of not stopping his players from "faking" injuries to buy extra time at the end of the game. After the game, Calhoun was the first to stick out his hand in sportsmanship...
*Warning: Video clip includes profane language not suitable for children*Wyoming head football coach Dave Christensen had some choice words for Air Force coach Troy Calhoun following the Falcons' 28-27 win last Saturday. And as you can see, Christensen certainly didn't hold anything back during his 30-second tirade that was captured on video and uploaded to YouTube on Friday...
Warning: This video contains plenty of NSFW language (and that's what makes it so fun!): First things first: "Look at me, Mr. ******' Howdy Doody!" has to be one of the greatest things you've ever heard one coach yell at another coach, right? Anyway, that video took place after the Falcons' 28-27 victory over the Cowboys. The reason Wyoming head...
Air Force football coach Troy Calhoun says he cancelled all postgame interviews after the Falcons' tough loss at Michigan last weekend so he could get his players back to spend more time on academics. Calhoun said his decision to make himself and his players off-limits after the Falcons' 31-25 loss at Ann Arbor had nothing to do with anything that happened during the game...
MORE STORIES >>
College Football News

Delivered to your inbox

You'll also receive Yardbarker's daily Top 10, featuring the best sports stories from around the web. Customize your newsletter to get articles on your favorite sports and teams. And the best part? It's free!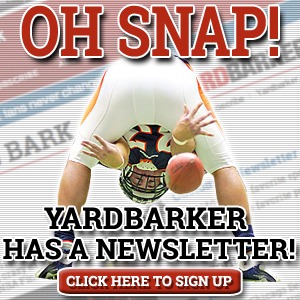 THE COLLEGE FOOTBALL HOT 10