About 24 hours into Whitney Mercilus' tenure with the Texans, two things are already clear: The 6-3, 261 pound pass rusher is motivated to prove that he was not a one-year wonder at Illinois and he has a sincere desire to be a benefactor to his family. Those two themes were prevalent during Mercilus' press conference at Reliant Stadium Friday afternoon, when he was formally...
Whitney Mercilus had one - and only one - spectacular season at Illinois. That was all Texans defensive coordinator Wade Phillips needed to see. Houston used the 26th pick in the first round on the 6-foot-3, 261-pound Mercilus, and the projected outside linebacker officially joined his new team Friday. Mercilus was an early entry junior. He led the nation in sacks with 16 and forced...
Via AP on Fox
The Fighting Illini continue to place football players in the first round of the NFL draft. Both defensive end Whitney Mercilus and wide receiver A.J. Jenkins were called with the good news Thursday evening. For Mercilus, it was a dream come true. He was not highly recruited out of high school, but his play on the field in 2011 got the attention of pro scouts.
The Houston Texans, despite trades all over the place, remained at spot no. 26. They surprised many when they selected defensive end Whitney Mercilus from Illinois.  Houston was home to the NFL's no. 2 defense in 2011, and hardly appeared to have holes that needed filling on the defensive side of the ball. This being said, it was even more shocking that the Texans chose a...
Illinois defensive end Whitney Mercilus improved his draft stock last season as much as any player in the country. After serving as a role player for two years, Mercilus ripped the pages out of the Illinois record books and replaced them with photos of himself, figuratively speaking anyway. Mercilus also holds down a position the Patriots need to address, and he's projected to...
#85 Whitney Mercilus DE, Illinois 6-4, 261 2011 Consensus All-American 2011 1st Team All-BIG 10   2011: 13 starts, 28 SOLO, 29 AST, 57 TOT, 22.5 TFL, 16.0 SCK, 9 FF 2010: 13 games, 2 starts, 16 TCK, 3.0 TFL, 1 SCK, 2 HURRIES, 2 FF, 2009: 11 games, 8 TCK, 3.5 TFL, 1 SCK   Want to see which teams have shown interest in Mercilus? Check out my list of prospects that each NFL team has...
Illinois DE Whitney Mercilus is one of a handful of pass rushers clocking very good 40 times at the NFL Combine. Mercilus unofficially ran a 4.65 and a 4.63 for his pair of 40 times. Nick Perry's unofficial 4.5 and Bruce Irvin's unofficial 4.43 are the fastest for the position thus far.
Whitney Mercilus DE Illinois #85 Ht: 6'4″ Wt: 265   Strengths: Prototypical size for a 4-3 end or 3-4 outside linebacker. Uses his speed to consistently get into the backfield. Does a nice job keeping his eyes on the quarterback and getting his hands up into passing lanes. Impressive motor; saw a lot of double teams, but continued to fight through the whistle. Experienced...
University of Illinois junior defensive end Whitney Mercilus was named the 2011 College Football Performance Awards National Defensive Performer of the Year Thursday.
Illinois junior Whitney Mercilus has won the Hendricks Award given to the nation's best defensive end. Mercilus leads the nation in sacks, sacks per game and forced fumbles. He's also ranked sixth nationally in tackles for loss per game. The Akron, Ohio, native has 52 tackles, 19.5 tackles for loss, 14.5 sacks and nine forced fumbles in 2011. Mercilus has had at least...
MORE STORIES >>
College Football News

Delivered to your inbox

You'll also receive Yardbarker's daily Top 10, featuring the best sports stories from around the web. Customize your newsletter to get articles on your favorite sports and teams. And the best part? It's free!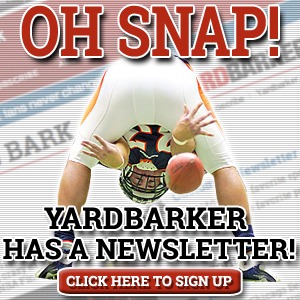 THE COLLEGE FOOTBALL HOT 10