This is part eight of our Michigan football 2014 season preview series. This edition will take an in depth look at the special teams unit, a group that will have to replace many of the starters from 2013. Part seven of our preview series focused on the quarterbacks and part six on the defensive backs. What we know Michigan punter Will Hagerup After sitting out the 2013 season for...
Michigan punter Will Hagerup has been reinstated to the team after a suspension for violating team rules. However, coach Brady Hoke said Tuesday that Hagerup will sit for the entire 2013 season. He will be eligible to play as a fifth-year senior in 2014. Hoke says he has been pleased with Hagerup's progress so far, adding he must continue to move forward. Matt Wile will likely...
As you know doubt have heard, Michigan punter Will Hagerup was reinstated to the Wolverines about an hour or so ago. He was suspended for the Outback Bowl, and he'll miss the entire 2013 college football season. The Michigan punter will have one season of eligibility remaining in 2014. Why so many games? "Violation of team rules." Ah yes, my old friend "violation of team...
MSU pregame. Via UM press release: Michigan Punter Will Hagerup Reinstated to Team, Will Sit Out 2013 SeasonANN ARBOR, MICH. –University of Michigan football senior punter Will Hagerup (Milwaukee, Wis./Whitefish Bay) has been reinstated as an active member of the team, but will sit out the 2013 season, Wolverines head coach Brady Hoke announced today (Tuesday, May 7).Hagerup...
Probably the last time we see Hags in a Michigan uniform. Via UM media relations: Michigan football senior cornerback J.T. Floyd (Greenville, S.C./J.L. Mann), senior linebacker Brandin Hawthorne (Pahokee, Fla. (Pahokee) and junior punter Will Hagerup (Milwaukee, Wis./Whitefish Bay) have been suspended for the Outback Bowl game against South Carolina for a violation of team...
Michigan's Taylor Lewan and Will Hagerup each picked up individual honors on the first night of Big Ten football awards Monday, while several Wolverines and Spartans were named to the All-Conference teams. Lewan won the Rimington-Pace Award for the conference's best offensive lineman and Hagerup picked up the Eddleman-Fields Award for the best punter. Lewan was also named...
The All-Big Ten teams were announced on Monday night and several Wolverines were among them. Taylor Lewan received the Rimington-Pace Offensive Lineman of the Year award and Will Hagerup got the Eddleman-Fields Punter of the Year award. No other school in the conference had more than two individual players win awards, though Ohio State, Penn State, and Wisconsin also had two each...
The look of sheer terror on Michigan Wolverines punter Will Hagerup's face after he muffed a snap in the second half of the Wolverines 40-34 victory over Ohio State is absolutely awesome. He looks like he just accidentally dropped his girlfriend's puppy into a wood chipper.Each week The Mac Bros. offer up free fantasy football picks. Find out who to start and who to bench from...
CHECK YOUR UNDIES
The look of terror on Michigan Wolverines punter Will Hagerup's face after muffing this snap in the second half of the Wolverines 40-34 vicotyr over The Ohio State is absolutely priceless. Poor Hagerup looks like an obstetrician who lost the handle on a baby during delivery and realizes the kid is about to land right on their soft spot, or a soldier who got confused and threw...
Michigan punter Will Hagerup's muffed attempt to receive a snap in the second half of the Wolverines' battle against rival Ohio State left him mortified—and it's even better when slowed down 20x and set to indie music, this time "Scared of Love" by Small Factory. [ABC] More »
MORE STORIES >>
College Football News

Delivered to your inbox

You'll also receive Yardbarker's daily Top 10, featuring the best sports stories from around the web. Customize your newsletter to get articles on your favorite sports and teams. And the best part? It's free!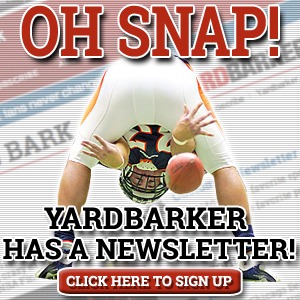 THE COLLEGE FOOTBALL HOT 10