After two schools and two long days of watching less-talented running backs picked above him, Isaiah Crowell finally knows his NFL destination. The former Alabama State and Georgia running back signed with the Cleveland Browns as an undrafted NFL Draft on Saturday.Crowell rushed for nearly 2,000 yards and scored 30 touchdowns in his two seasons at Alabama State after transferring...
Alabama might have all of the fancy National Championships, but it seems like Alabama State has just as much fun on the gridiron. The team's Black & Gold Spring Game featured an excellent dance-off, where the coaches called out specific players, ring drill-style, to have a dance-off. Eventually, the coaches themselves got into the action. Everyone seemed to have a great time...
Last week a couple of HBCU football stars showed off their dance moves in the barrage of "Happy" videos. Well the good folks at Alabama State did them one better and matched up its football players against each other in a dance-off before Saturday's spring game. Who won? Well DT Roderick Henderson gets our vote.
Daniel Duhart and Alabama State could be headed for the FCS playoffs. (The Advocate photo)Last year, Alabama State fans were shocked to find out that their team would not be playing Tuskegee in the Turkey Day Classic as they decided to pursue the Division II playoffs. This year, Alabama State has shaken up it's schedule as it relates to the classic, with an eye towards the FCS...
The Alabama State women's soccer team is mourning the loss of one of its players. Alexandria Ayers died on this past weekend after an extended battle with Lupus.  "Anytime a young person passes away so early in life is sad," Head Coach Jodie Smith said.  "But to have it be a member of our team brings home the idea of how important those lifelong friendships...
Alabama State's Isaiah Crowell is headed to the NFL Draft after three seasons. (AL.com photo)Four HBCU prospects are among a record 98 underclassmen who have declared eligibility for May's NFL Draft. Headlining the group is Isaiah Crowell, the former UGA running back who played his final two seasons at Alabama State.Check out the rest of the list here:DB-Nick Addison, Bethune...
Jahaad Coleman rushed for touchdowns of 9 and 78 yards and Daniel Duhart passed for two more as Alabama State scored the last 20 points in a 41-28 come-from-behind victory over Division II Stillman in the 90th annual Turkey Day Classic. Alabama State (8-4) cruised out 14-0 but a string of big plays helped Stillman put a scare into the Hornets. Stillman (6-5) scored on a kickoff...
Malcolm Cyrus rushed for a career-high 241 yards and two touchdowns as Alabama State defeated Prairie View 48-42 in overtime in a key Southwestern Athletic Conference matchup on Saturday. Cyrus's 7-yard touchdown run on the first possession in overtime for Alabama State (5-2, 5-1 SWAC) came after Prairie View's Christopher Barrick missed a 36-yard field goal to open the...
Malcolm Cyrus and Isaiah Crowell each ran for two touchdowns as Alabama State gained 667 total yards in a 52-21 win over Grambling State on Saturday. Cyrus began a string of 28 straight first-half points for Alabama State (2-2, 2-1 SWAC) with a 5-yard score. A 28-yard touchdown pass from Daniel Duhart to Everett Miles, a short touchdown run by Crowell and a 19-yard interception...
  Kejuan Riley FS, Alabama State I had the chance this week to Alabama State Free Safety Kejuan Riley. Riley declared for the 2013 NFL Draft after an outstanding career at Alabama State, where he set the FCS record in interceptions. Riley is one of the best FCS players coming into the draft and has impressed scouts with his ball-hawking skills. Here is our interview.  Q: First...
Alabama State notched touchdowns on a blocked punt, a forced fumble and an interception return en route to crushing Alcorn State 54-14 Saturday. Isaiah Crowell was the Alabama State (3-2, 3-1 Southwestern Athletic Conference) stalwart on offense, rushing for 127 yards and a score. Greg Jenkins, the Hornets quarterback that threw for just 26 yards, got 19 of them on a touchdown connection...
Greg Jenkins' late touchdown run helped Alabama state rally to beat the defending Southwestern Athletic Conference champion Grambling State 19-18 Saturday night. Alabama State (2-1, 1-1) trailed Grambling State late in the second quarter before Jenkins' 9-yard pass to T.C. McWilliams put the Hornets ahead at halftime 7-6. The Tigers (0-3, 0-2) scored on their last possession...
Report: Crowell Headed to Alabama Stateimage credit www.usatoday.com Just days after being booted from the Georgia football team, star running back Isiah Crowell seems to have found a landing spot according to UGAsports.com. It looks as if Crowell will play for Alabama State. The Hornets are an HBCU school that plays football in the Southwestern Athletic Conference.  Alabama State...
MORE STORIES >>
Alabama State News

Delivered to your inbox

You'll also receive Yardbarker's daily Top 10, featuring the best sports stories from around the web. Customize your newsletter to get articles on your favorite sports and teams. And the best part? It's free!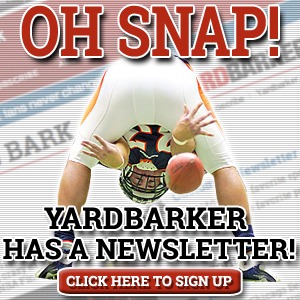 THE HOT 10: Who's Trending