The Bucknell Bison get very little national attention in the Patriot League and while they've been playing football for over 125 years, unfortunately there are few outside of Lewisburg that pay close attention to them. Thanks to a handful of unique and mustache-yielding players on their 2014 roster, the team is getting more attention this season. While their roster headshots might...
Cameron Ayers scored 21 points, making 8 of 14 from the field, and Ben Brackney scored 11 with eight rebounds in leading Bucknell to a 79-68 victory over Colgate on Saturday. Colgate jumped out to an 8-2 lead in the first half but the Bison quickly erased that deficit capped by a 3-pointer from Chris Haas in taking a 15-9 lead. Bucknell never trailed for the remainder of the game...
Send to Kindle  Kaspar scorched the nets for a career-high 25 in Bucknell's win over Penn State.   After three seasons at the summit, one could excuse the Patriot League coaches and SIDs for not knowing exactly how to forecast the 2013-14 edition of the Bucknell basketball squad. Having graduated three 1,000 point starters from a 28-6 NCAA qualifier, none of four players starting...
There may not be one single factor that influences his development, good and bad, during college as much as what school he decides to play for. It could be for many different reasons, but under the right circumstances, players could flourish well beyond expectations. Mike Muscala found the right fit for him at Bucknell, and now he is a few days away from hearing his name called at...
Bucknell coach Dave Paulsen has been rewarded for taking the program to its second NCAA tournament in three seasons with a five-year contract extension. The deal announced Thursday morning keeps Paulsen under contract in Lewisburg through the 2017-18 season. Financial terms were not disclosed. The Bison finished 28-6 this year to set school and Patriot League records for victories...
One of Bucknell center Mike Muscala's crowning achievements this season took place far from the basketball court. Never mind that the 6-foot-11 senior is the only player in Division I to average 18 points and 11 rebounds a game, or that he leads the NCAA with 22 double-doubles. Making the dean's list is pretty impressive, too. For now, the books can wait. The 11th-seeded...
March Madness is here. The tournament tips off this Thursday, March 21st. Click on this link to join our free Tourney Pick 'Em league run through Yahoo! I'm picking my alma mater, the Bucknell Bison, to go all the way. Don't forget to register for our Fantasy Baseball leagues too. Click on the Yahoo! image to the right and use the following information to join. Head-to...
Mike Muscala posted his 15th double-double of the season and hit the game-winning shot with .8 seconds left to power Bucknell to its 8th straight win over American University, 66-65 Wednesday night. Muscala, who leads the nation in double-doubles and is the only Division-I player averaging over 18 points and 11 rebounds, finished with 16 points, 14 rebounds, four assists and three...
  Photo: Getty Images   Name:   Mike Muscala   Age:   21   School: Bucknell Height: 6'11    Weight: 239  Projected Position:    PF/C      2012-13 Stats (As of  1/20/13): 20.1 ppg, 11.2 rpg, 2.9 apg, 2.7 bpg, 1.9 tpg (31.9 minutes per game) 54.3 FG%, 80.4 FT%, 61.0 TS%, 13.1 OREB%, 20.8 DREB%, 20.8 TREB%, 22.9 AST%   ...
GOOD! GOOD! GOOD! GOOD!
The above clip comes to us from an early season college basketball game between Dartmouth and Bucknell in late November.  Under normal circumstances, this wouldn't be of any significant note, but just listen to how the Bucknell announcer describes a routine lay in by former Patriot League player of the year Mike Muscala early in the second half.  Listen... then slowly back...
Mike Muscala scored 14 points and Cameron Ayers and Bryson Johnson got 11 each as unbeaten Bucknell coasted past West Alabama 69-52 Sunday. The Bison (5-0) led by 30 points, 61-31 with 10:06 remaining, before the Tigers, a Division II team that counted the 2K Sports Classic subregional game as an exhibition, scored 21 of the final 29 points. Ayers and Johnson each scored nine points...
Assuming a healthy senior season, Bucknell center Mike Muscala will leave the Lewisburg, Pa. school with his mark all over the Bison record book. (Credit: Marc Hagemeier) Entering the year with 1,399 points and 715 rebounds, he has a reasonable chance to finish as the program's all-time leading scorer (Al Leslie scored 1,973 points from 1977-1981) and an outside shot at finishing...
MORE STORIES >>
Bucknell News

Delivered to your inbox

You'll also receive Yardbarker's daily Top 10, featuring the best sports stories from around the web. Customize your newsletter to get articles on your favorite sports and teams. And the best part? It's free!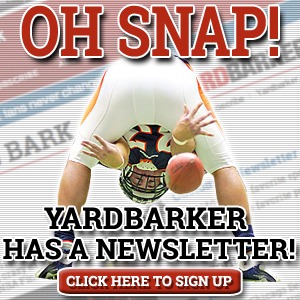 THE HOT 10: Who's Trending