This article is part of a series previewing the Terriers' 2014 football opponents. Wofford visits Chattanooga after the off week.The Terriers will get a break (which, considering Wofford's history of injury troubles, will most likely be a welcome one) after the first four SoCon games on the 2014 slate, which include The Citadel, Western Carolina, Samford, and VMI.  After...
Officially committed to the University of Cincinnati! #Bearcats — 100 (@faradcobb) May 9, 2014 Cobb averaged 15.1 points, 4.4 rebounds and 3.4 assists in 28 games last season. He hit 51% from the field, 46.3% from 3 and 82.5% from the free throw line. Cobb had 96 assists to 47 turnovers. He also had 60 steals, over 2 a game. He had 20 in 12 conference games. The shooting is what...
On November 19, 2011, Terrier fans endured a perilous matchup with the Chattanooga Mocs.  Wofford allowed the Mocs to gain a 21-7 lead going into halftime, only to stage a ferocious comeback that ultimately resulted in a 28-27 victory.  To many, Mark Hauser's voice still resounds: "The Terriers are going to the playoffs!"  On the first Saturday of December, the Terriers...
Chattanooga Mocs Jacolby Mobley | 5′-10″ | PG | East Mississippi CC (MS)| Brandon Maxwell | 6′-1″ | PG | Orlando Christian Prep (FL)| Shaquille Preston | 6′-3″ | SG | East Jefferson (LA)| Anthony Ethridge | 6′-5″ | SF | South Georgia Tech (GA)| The Mocs will have a new look for the 2014-2015 season, bringing in four ...
Tonight, there's a big battle in the Southern Conference as the University of Tennessee at Chattanooga Mocs are taking on the Elon Phoenix. The Mocs find themselves ahead by nine at the half thanks in part to a spectacular shot by guard Gee McGhee — right before the break he nailed a three-quarter-court buzzer beater that sent the crowd into a frenzy: Thankfully, fan Dillon Gann...
Z. Mason scored 16 points and grabbed 11 rebounds as Chattanooga defeated Grand Canyon 69-64 Sunday night in the Dr. Pepper Classic. Grand Canyon (5-7) cut an eight-point deficit to three with 38.9 seconds remaining, and had a chance to tie the game after the Mocs missed their shot attempt. But the Antelopes turned the ball over on their next possession and Ronrico White hit two...
Z. Mason scored a career-high 41 points and grabbed 12 rebounds as Chattanooga rolled over Hiwassee 86-68 on Tuesday night. Chattanooga (4-6) pulled away after leading 39-36 at the break, shooting 65.4 percent from the field in the second half. The Mocs opened the second half on a 16-5 run, making their first five field goal attempts of the half. Mason had 10 of his 19 second-half...
getty images The Alabama Crimson Tide will host the Chattanooga Mocs on Saturday in a classic mismatch. Entering Saturday's game ranked No. 1, Alabama will be looking to improve to 11-0 as they take on Chattanooga (8-3) of the Southern Conference. Coverage of the game between Alabama and Chattanooga will air on GamePlan/ESPN3 beginning at 2:00 pm ET from Bryant-Denny Stadium in...
Gee McGhee scored 19 points to lead seven in the double figures as Chattanooga rolled over Covenant 119-56 on Friday night. New head coach Will Wade had his first victory in hand early. Chattanooga scored the first 14 points before Colton McGriff's 3-pointer got the Scots on the board with 14:54 left in the first half. The Mocs led 56-29 at halftime. The Mocs have four starters...
Drazen Zlovaric and Martynas Bareika each scored 20 points to lead Chattanooga to a 108-78 rout over Reinhardt on Friday. Farad Cobb had 14 points and Alex Bran added 12 for the Mocs (3-8), who ended a four-game losing streak. Chattanooga used a strong first half to pull away early, going on an 8-0 run that was capped by Bareika's jumper to give the Mocs a 35-15 lead with 5...
Z. Mason scored 14 of his 16 points in the first half as Chattanooga opened a big early lead and coasted to an 88-53 victory over Tennessee Temple on Monday night. The Mocs, coming off an 11-21 season, scored 12 of the first 13 points in their opener against the Crusaders (2-2), an NAIA Division II squad, and went on to a 46-27 lead at the break. Chattanooga shot 41.4 percent,...
Kentucky looks to return to its winning ways Saturday, when it hosts the Chattanooga Mocs in the first of five consecutive games at Rupp Arena.
Game #8-025: Chattanooga Mocs at Indiana HoosiersNovember 13, 2011 5:00 pmAssembly HallBBState Stats/Recap BLOOMINGTON, Ind.
The Hoosiers return to the floor less than 48 hours after the season opener to host Chattanooga on Sunday evening. Here's a look at what to expect out of the Mocs, who are expected to contend for the top spot in the North division of the Southern Conference: FOUR STARTERS RETURN John Shulman returns four starters from a team that finished 16-16 a season ago, but managed to post...
MORE STORIES >>
Chattanooga News

Delivered to your inbox

You'll also receive Yardbarker's daily Top 10, featuring the best sports stories from around the web. Customize your newsletter to get articles on your favorite sports and teams. And the best part? It's free!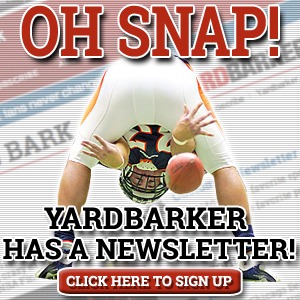 THE HOT 10: Who's Trending