This Sunday, the Chicago Public League basketball playoffs quarterfinals will be taking place at Chicago State University. The playoffs have already had one huge upset last week, when Bogan lost to Farragut 65-64.    Chicago Public League Basketball Playoffs Uplift vs. Orr @ TBA Orr's Louis Adams Jr will have his hands full vs Uplift and Jeremy Roscoe. Prediction: Orr 71 Uplift...
Quinton Pippen hit a one-handed, running jumper in the lane with 1.5 seconds on the clock, lifting Chicago State to a 68-66 victory over Missouri-Kansas City on Saturday. Pippen scored a career-high 23 points as the Cougars (7-9, 2-0 Western Athletic Conference) battled to the win in a game that saw eight lead changes and two ties down the last 9:32. Matt Ross scored 19 for Chicago...
Keifer Sykes and Alec Brown combined for 41 points as Green Bay overwhelmed Chicago State 98-62 Tuesday night. Sykes had 21 points and Brown 20. Greg Mays contributed 19 and Carrington Love added 10 for Green Bay (12-3). Chicago State (6-9) suffered its first loss at home this season. Green Bay shot 55.9 percent from the field and controlled the boards, pulling down 47 rebounds...
Game Time: 7 pm TV: None Internet: Watch ESPN Spread: None because it's Cincinnati vs Chicago State Series: Cincinnati 3-0 Cronin Vs: 2-0 Cincinnati is good Chicago State is bad. Chicago State may also be referred to as Clown Shoes. Clown Shoes aren't coming into Cincinnati and winning. They aren't coming close to winning...
Corey Gray scored 19 points and shot 5 for 5 from beyond the arc on Saturday and Chicago State dominated the inside game in a 90-81 win over Wisconsin Parkside. Wisconsin Parkside's Jimmy Gavin tied the game at 10 on a layup, but Gray hit a 3-pointer and Chicago State (4-5) pulled ahead by as many as 13 points to lead 47-40 at halftime. The Cougars got good penetration in the...
AllHoosiers.com is your one stop for everything you need to know about IU's regular season opener tonight with Chicago State. Here are the links to all of our stories previewing the game.
Forget the fact that Chicago State went 11-22 last season and started the year 1-12 against Division I competition. The Indiana Hoosiers believe they are in for a significant test tonight in their regular season opener to the 2013-2014 season. Though Chicago State has not necessarily had the on-court success that typically garners the respect of […]The post Chicago State pressure...
Freshman Noah Vonleh and sophomore Yogi Ferrell met with the media on Thursday evening to preview Friday's season opener at Assembly Hall against Chicago State. Watch the press conference in the media player below:The post HD Video: Ferrell, Vonleh preview Chicago State appeared first on Inside the Hall | Indiana Hoosiers Basketball News, Recruiting and Analysis.
WHAT ARE THE ODDS?
In what definitely has to be a first in baseball, Hannibal Caveman shortstop Mattingly Romanin, who plays collegiate ball at Chicago State University, was milling around the infield with the rest of his teammates as they waited for the start of  Saturday's Prospect League game against the Terre Haute Rex when he was accidentally smashed into by a skydiver dropping off the game...
Mattingly Romanin, a sophomore infielder/outfielder from Chicago State University, is playing summer ball for the Hannibal Cavemen. This weekend, he got KO'd by a skydiver. (The Hannibal Cavemen are a summer collegiate baseball team located in Hannibal, MO that compete in the Prospect League.) Mattingly was reportedly ok, later tweeting, "Still in disbelief that actually...
Mark Leiter Jr. had 20 strikeouts in a complete game in New Jersey Institute of Technology's 5-3 victory over Chicago State on Friday night. The senior right-hander, the son of former major league pitcher Mark Leiter and nephew of former major league pitcher Al Leiter, got his last eight outs on strikeouts. He gave up Dylan Sterrett's three-run homer in the seventh and allowed...
Derrick Rose made the trip to Chicago State University to watch his good friend and former HS teammate Tim Flowers, an assistant coach with the Simeon sophomore team ,win the city title. Derrick Rose and his elementary basketball coach Thomas Richard Green:
The ever-changing Western Athletic Conference is adding Chicago State University next July, meaning the league will keep its automatic qualifying berths for the NCAA men's and women's basketball tournaments for another year. Chicago State joins Cal State-Bakersfield, Grand Canyon, Idaho, New Mexico State, Seattle and Utah Valley in the WAC, which is losing the University...
MORE STORIES >>
Chicago State News

Delivered to your inbox

You'll also receive Yardbarker's daily Top 10, featuring the best sports stories from around the web. Customize your newsletter to get articles on your favorite sports and teams. And the best part? It's free!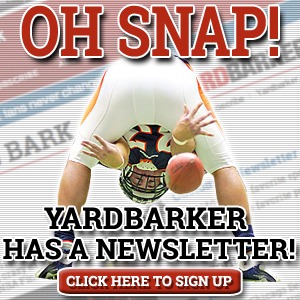 THE HOT 10: Who's Trending