OXFORD, Ohio (AP) Egidijus Mockevicius had 17 points and 12 rebounds, D.J. Balentine scored 19 and Evansville beat Miami of Ohio 69-50 on Wednesday night. Mockevicius was 7 of 8 from the field and the Aces (2-0) shot 57.1 percent overall while holding Miami (1-1) to 39.6 percent. Evansville led 44-37 with 10 minutes to go when Adam Wing and Mislav Brzoja made back-to-back 3-pointers...
EVANSVILLE, Ind. (AP) Mislav Brzoja had 21 points, 11 rebounds and four assists to lead Evansville to a 116-45 win over Earlham to open the season on Saturday. D.J. Balentine finished with 22 points, six rebounds and five assists, Egidijus Mockevicius had 16 points and five rebounds for Evansville. Adam Wing tallied 10 points, eight rebounds and five assists. Brzoja shot 10 of 12...
Photo: Loyola Athletics Loyola (Chicago) finished its regular season Saturday with a 75-72 loss at home to Evansville. Evansville (13-18, 6-12 MVC) cruised to an 18-point lead in the second half. The Aces were rolling behind their backcourt duo of sophomore D.J. Balentine and freshman Duane Gibson. Then Evansville let up a bit and Loyola (9-21, 4-14) took complete advantage. The...
Photo: Loyola Athletics Loyola Chicago (9-20, 4-13 MVC) wraps up its regular season at home Saturday against Evansville (12-18, 5-12). The Ramblers can finish as high as a tie for 8th place in the Missouri Valley Conference, but they are locked into the No. 10 seed for the conference tournament next week. In their first meeting, the Aces defeated the Ramblers in January, 53-48. Evansville...
Loyola Chicago (7-10, 2-3 MVC) will try for its first back-to-back wins since mid-December this weekend. Saturday afternoon, the Ramblers will play at Evansville (8-10, 1-4 MVC). The Aces started poorly in conference play but looked improved in their recent road trip. Last Saturday, they defeated Southern Illinois one game after the Salukis won at Loyola. The Aces then took Illinois...
Indiana moved to 6-1 with a comfortable 77-46 win over Evansville on Tuesday night in Assembly Hall. Here's a look at five takeaways from the rout of the Purple Aces: · Evansville's offense never gets going: Led by D.J. Balentine, who entered Tuesday's game with a scoring average of 29.6 points per game, the Evansville […]The post Five takeaways from Indiana's win over...
D.J. Balentine scored 29 points and had 9 assists to lead Evansville to an 87-69 win over NAIA opponent Martin Methodist Saturday. Balentine was 9-14 from the floor and 9 of 11 from the line. Evansville never trailed in the game, jumping out to a 9-0 lead on a Blake Simmons jump shot, a jumper and two free throws by Baletine, and Adam Wing's 3-pointer. The RedHawks came back...
Wednesday night my University of Evansville Purple Aces pulled out a three-point road victory against Wichita State. It was the Aces' first win in Wichita since 2001. The win gave the Aces a season sweep of the Shockers, a team that has spent a good part of the season ranked in the Top 25 and that will most likely be playing in the NCAA Tournament. My euphoria was short-lived....
Evansville coach Marty Simmons says backup swingman Jordan Jahr has been kicked off the basketball team. The move comes three days after Simmons suspended Jahr for a violation of team rules. Neither Simmons nor the school have said what rule or rules Jahr violated. Simmons issued a statement Friday saying that Jahr will no longer be on the team, though he will complete his spring...
Evansville has suspended swingman Jordan Jahr for Tuesday night's game against Northern Iowa. Coach Marty Simmons issued a statement less than 30 minutes before tip-off, saying that Jahr had violated team rules. The statement did not specify what rule or rules were violated, and Simmons said he would not take additional questions. The statement did not say when Jahr would return...
With additional research by Dennis Goodman The University of Evansville (UE) Purple Aces spent much of their afternoon and evening on Tuesday December 13, 1977 sitting in the Evansville Regional Airport waiting for a plane. The chartered DC-3 that was scheduled to take them to Nashville (en route to Murfreesboro, Tennessee for a game against Middle Tennessee State) was three hours...
Last year's Evansville Purple Aces finished third in a loaded Missouri Valley Conference thanks to strong outside shooting and good perimeter defense. But they were among the nation's worst in rebounding margin and blocked shots, and—in large part because of these deficiencies in the paint—the Aces once again ended the season with an early exit in a third-tier postseason...
EVANSVILLE, Ind. (AP) -- Kenny Harris' double-double paced Evansville to a 62-55 victory over Alabama State on Tuesday night. Harris had 16 points and 11 rebounds for the Purple Aces (3-2), who shot 45.7 percent (21 of 46). Colt Ryan added 14 points and Ned Cox 10. Ivory White scored 16 points, including four 3-pointers, to pace the defending Southwestern Athletic Conference...
MORE STORIES >>
Evansville News

Delivered to your inbox

You'll also receive Yardbarker's daily Top 10, featuring the best sports stories from around the web. Customize your newsletter to get articles on your favorite sports and teams. And the best part? It's free!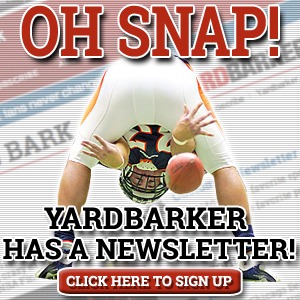 THE HOT 10: Who's Trending