JACKSONVILLE, Ala. (AP) Josh Barge had six receptions for 100 yards with three touchdowns and Jacksonville State defeated Division II West Alabama 45-34 on Saturday. The Gamecocks (2-1) had three different quarterbacks combine to go 17 of 29 for 294 yards and four touchdowns. Max Shortell threw two scores to Barge and Eli Jenkins had an 88-yard strike to Markis Merrill. Leading...
The Jacksonville State Gamecocks are not a prestigious name in college football but had the opportunity to play the defending Rose Bowl champions Michigan State Spartans on the Big Ten Network this weekend. Luckily for JSU defensive tackle Caleb Lawrence, it was just another another opportunity to show off his big, beautiful belly: Lawrence, listed at 6'0″, 300-pounds appears...
The Jacksonville State football program doesn't have nearly the same financial budget as say Alabama or Florida State, but at the very least, the school can make sure everyone has the right sized uniforms. JSU opened up their 2014 season last night against Michigan State, and offensive lineman Caleb Lawrence came out in a jersey that looked about two sizes two small. courtesy:...
Jacksonville State Football Player Caleb Lawrence...shopping at the three sizes too small store. And as Bleacher points out, based on his official Gamecocks' photo, he's OK with that.Follow us on Twitter for exclusive stories, Subscribe by Email, or Return Home
You would think that playing in college football would be enough to get you a jersey that fits correctly. Unfortunately that wasn't the case for this Jacksonville St. defender, whose jersey was a bit snug you could say. So Jacksonville State couldn't have gotten this guy a BIGGER uniform size? I mean I get that players are wearing more fitted jerseys, but this is a bit ridiculous.
MSU quarterback Connor Cook took a scary hit to the knees from Jacksonville State safety Folo Johnson.
  Ian Rapoport of the NFL Network reports that the Steelers are signing WR James Shaw to a contract on Tuesday. Shaw, 25, signed with the Panthers as an undrafted free agent out of Jacksonville State in 2013 and later ended up on their practice squad. He most recently played for the Pittsburgh Power of the AFL. During Shaw's senior season at Jacksonville State, he caught 25...
Jacksonville State defensive back Pierre Warren is skipping his senior season to enter the NFL draft. The All-Ohio Valley Conference selection helped lead the Gamecocks to the quarterfinals of the Football Championship Subdivision playoffs. Warren says the move ''is something that I've been considering since our playoff run.'' He finished second on the team...
Troymaine Pope rushed for three touchdowns and was one of four players to rush for more than 100 yards as Jacksonville State beat Jacksonville 48-13 on Saturday night. Pope had a game-leading 160 on 16 carries. Miles Jones ran 20 times for 138 yards, Eli Jenkins finished with 128 and DaMarcus James ran for 105. Jenkins and James each ran had touchdown runs as Jacksonville State...
This Jacksonville State wide receiver may go by the name of Kevyn Cooper, but folks may be referring to him as Houdini after the play he pulled off during Saturday's game against No. 6 Florida. It certainly can be related to a magician pulling a rabbit out of his hat.Watch as Cooper hauls in a pass from Gamecocks quarterback Marques Ivory and proceeds to emerge from an almost...
The Jacksonville State gamecocks roll into town and are the only Football Championship Subdivision school on the schedule for the 2012 season. The gamecocks are high powered on offense using a balanced attack and struggle mightily on defense. From a lower level of college football, physically, Florida should be able to do most of what it wants against the Gamecocks.
Washaun Ealey posted 190 all-purpose yards as Jacksonville State upset Tennessee State 31-28 Saturday. Jacksonville State held possession at its 39 with 6:07 left to play. Two plays later, however, Stephen Godbolt III intercepted Coty Blanchard, giving Tennessee State (7-1, 3-1 Ohio Valley Conference) the ball on its 25. From there, Trabis Ward and Michael German led the Tigers...
DaMarcus James ran for two touchdowns and Marques Ivory passed for two more as Jacksonville State ground out a 31-16 win over Southeast Missouri State Saturday in Ohio Valley Conference action. James' first score vaulted the Gamecocks (2-2, 1-1) to a 14-10 advantage in the second quarter that wouldn't be relinquished. The sophomore came into the contest averaging 6.5 yards...
MORE STORIES >>
Jacksonville St. News

Delivered to your inbox

You'll also receive Yardbarker's daily Top 10, featuring the best sports stories from around the web. Customize your newsletter to get articles on your favorite sports and teams. And the best part? It's free!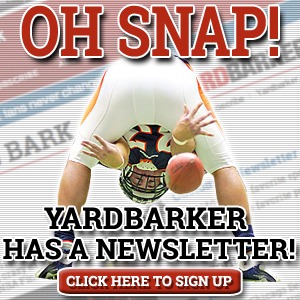 THE HOT 10: Who's Trending