DAVIDSON, N.C. (AP) Austin Gahafer threw for 276 yards and one touchdown and ran for 75 yards and another score as Morehead State beat Davidson, 40-32, in the Pioneer League opener for both schools on Saturday. Justin Cornwall returned a Davidson (1-3) punt 58 yards to the 22 and Gahafer scored on an 8-yard run four plays later, giving Morehead State a 34-25 lead with under 8 minutes...
Some poor kid put the "head" in Morehead State this past weekend during a failed dunk attempt, landing on his noggin in front of what appears to be a large chunk of the student body. Sucks to be that guy. [Uproxx] Article found on: Next Impulse Sports
He wanted to land on his feet, but he landed more on his head. (zing) – – – – – Also see …  PICTURE: I LOVE MOREHEAD girl is very popular at NCAA Tournament 10 Honest Fan Signs The post VIDEO: Morehead State Student Dunk Contest Goes Horribly Awry appeared first on SportsPickle.
Morehead State held a rally on campus recently and one student – who we can only assume is NOT on this year's basketball team – attempted to win over the crowd by taking off his shirt and slamming one home during a dunk contest. Unfortunately for that student, he won over the crowd for a completely different reason. His dunk failed epicly and he wound up completely eating it...
Austin Gahafer threw three touchdown passes on a career-high 458 yards passing as Morehead State erased a first-half deficit for a 42-28 win over Valparaiso Saturday. Morehead State (3-4, 3-1 Pioneer Football League) won its third consecutive conference game for the first time since 2007 while Valparaiso (1-6, 1-3) dropped its third straight game. Down 28-19 at halftime, the Eagles...
Austin Gahafer threw for a career-best 334 yards and three touchdowns to lead Morehead State to a 45-36 victory over Campbell on Saturday. He completed passes to nine different receivers, including touchdowns to Kitaro Lewis, Mason Rutherford and Brandon Bornhauser. After a scoreless first quarter, Bornhauser ran for two scores, including a 1-yarder after Steven Lester blocked...
Brandon Bornhauser ran for two touchdowns and Austin Gahafer passed for two and ran for another to lead Morehead State past Davidson 45-14 on Saturday and give Rob Tenyer his first victory as the Eagles' head coach. The Eagles (1-4, 1-1 Pioneer League) rushed for 253 yards. Gahafer completed 25 of 36 passes for another 238. Morehead, with 12 starters on offense and defense...
J.J. Jude rushed for four touchdowns and Eastern Kentucky cemented a 56-24 victory over Morehead State Saturday night. Jude put up the first 21 points for the Colonels (2-2), and ran for another touchdown in the fourth quarter, ending the night with 33 carries for 195 yards. Devin Borders caught a pair of touchdown passes in the third quarter to give Eastern Kentucky some breathing...
Morehead State has suspended coach Sean Woods for one game after he appeared to shove an Eagles player during Wednesday night's loss at No. 8 Kentucky. Woods will sit out Monday night's game against Norfolk State. The first-year Eagles coach appeared to shove Morehead State point guard Devon Atkinson in the back after the senior fouled out with 5:51 remaining. Athletic director...
No problem with Morehead State coach Sean Woods getting in senior guard Devon Atkinson's face but the push, the douchejuice assistant, and the length of time he verbally assaulted the kid? A bit... Full story at Bob's Blitz ~ http://www.bobsblitz.com
Morehead State coach Sean Woods absolutely lit into one of his players during Wednesday's 81-70 loss to Kentucky in a horrifying display. Woods, who played college ball at Kentucky, was so harsh on Devon Atkinson for fouling out of the game, that the senior point guard nearly began crying. Atkinson fouled out with his team down 69-61 and just under six minutes left in the game...
It's not everyday you see a grown man nearly succumb to tears because of a game. But on Wednesday night during the Morehead State-Kentucky bout, one senior nearly did.With about six minutes left in the contest, and the Wildcats up by eight, Eagles guard Devon Atkinson fouled out of the game after contributing just four points. Morehead State head coach Sean Woods clearly wasn...
MORE STORIES >>
Morehead State News

Delivered to your inbox

You'll also receive Yardbarker's daily Top 10, featuring the best sports stories from around the web. Customize your newsletter to get articles on your favorite sports and teams. And the best part? It's free!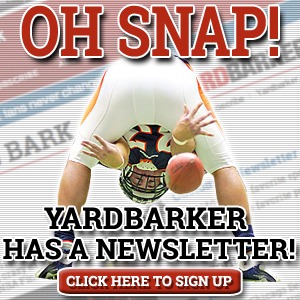 THE HOT 10: Who's Trending