The South Dakota State Jackrabbits beat the Northern Iowa Panthers 31-28 in a close one. South Dakota State receiver Jason Schneider had himself a game, catching 9 balls for 117 yards including this one that ended up on the Sportscenter Top 10….
CEDAR FALLS, Iowa (AP) Justin Syrovatka kicked a 44-yard field goal with 1:47 left, allowing South Dakota State to knock off Northern Iowa 31-28 on Saturday. The Jackrabbits held a 28-14 lead midway through the fourth quarter, but Northern Iowa scored two touchdowns in just over a minute to tie the game with 3:45 left. David Johnson scored from 2-yards out to make it 28-21. Just...
BROOKINGS, S.D. — Crowded around two medium-sized tables in South Dakota State football coach John Stiegelmeier's modest kitchen, the 16 seniors on his Jackrabbits team were discussing their most embarrassing sports memories over a pork loin feast on a rare Sunday reprieve from the team's training camp grind earlier this month. The annual senior dinner is a matter of tradition...
FLAGSTAFF, Ariz. -- Zach Zenner rushed for 249 yards and two touchdowns to lead South Dakota State to a 26-7 victory over Northern Arizona Saturday night. After a scoreless first quarter, Northern Arizona got on the board first at 9:56 in the second on a 6-yard Zach Bauman run. Zenner answered for the Jackrabbits (9-4) with an 87-yard touchdown run on first down to put the halftime...
FLAGSTAFF, Ariz. -- Northern Arizona plays its first postseason football game in 10 years Saturday, hosting the South Dakota State Jackrabbits at 6 p.m. at the Walkup Skydome. NAU enters the postseason with a six-game winning streak. The Lumberjacks are 9-2 overall and ranked No. 8 in The Sports Network FCS poll. South Dakota State, ranked No. 13, is 8-4 and playing in the postseason...
Austin Sumner threw for two scores and Zach Zenner ran for 137 yards and a TD as South Dakota State defeated South Dakota 27-12 on Saturday. Sumner completed 16 of 23 passes for 175 yards as the Jackrabbits (7-4, 4-3 Missouri Valley Football Conference) kept their playoff hopes alive with their third straight win. Sumner connected with Jason Schneider from 34 yards in the first...
Austin Sumner threw three touchdowns to help South Dakota State defeat Northern Iowa 37-34 in overtime in a Missouri Valley Conference game on Saturday. Sumner was 22-of-34 and 239 yards, hitting wide receiver Brandon Hubert for two touchdowns including one with a minute left in the fourth quarter to send the game into overtime and another in overtime to clinch the win for the Jackrabbits...
Austin Sumner passed for three touchdowns and Zach Zenner rushed for two more as South Dakota State rolled past Western Illinois, 38-14 in a Missouri Valley Conference battle Saturday. Sumner threw two touchdown passes less than three minutes apart in the first quarter to spark the Jackrabbits (4-3, 1-2 MVC) to a 17-0 first quarter lead. Zenner put the game away in the second half...
Zach Zenner ran for three touchdowns on 128 yards rushing and South Dakota State erased a first-half deficit to defeat Southeastern Louisiana 34-26 on Saturday night. The Jackrabbits (3-0) remain undefeated heading into a big game at Nebraska next week. Southeastern Louisiana (1-2) had the upper hand early, leading 19-7 after a Bryan Bennett touchdown run early in the third quarter...
So to begin, I should point out that the glorious statistical analysis which I've referenced heavily throughout this series is not available for South Dakota State, because they're an FCS team. So what you're getting today is less an evaluation of the state of SDSU's program heading into 2013 than a summary of what SDSU (Visited 1 times, 1 visits today)The post Cornhusker...
Watch Michigan and South Dakota State's press conferneces following Michigan's 15-point win at the Palace of Auburn Hills on Thursday evening. Read the full transcript of Michigan's press conference here or watch South Dakota State after the jump.
In his weekly appearance on Sports Talk 1050 WTKA the Wolverines headman discussed his team's Big 10 tournament performance, the persistent rebounding issues, the battle for defensive consistency with his youg players, defensive strategy, the upcoming match-up with South Dakota State, and more.
ANN ARBOR, Mich. -- The good news for Michigan is that they only have to travel to the Palace of Auburn Hills to start the NCAA tournament. The bad news is that Nate Wolters will be waiting for them. The 4th-seeded Wolverines will face 13th-seeded South Dakota State Thursday. The Jackrabbits, who play in the Summit League alongside Oakland University, are led by the high-scoring...
Cara Walls - courtesy UW Athletics Madison, Wis. - Friday's opener came down to the final minutes of the game, no such thing happened Sunday afternoon as Wisconsin routed the visiting South Dakota State Jackrabbits 5-0 in front of 444 fans in attendance at the McClimon Soccer Complex. With the victory the Badgers moved to 2-0 to start the season, something they haven...
MORE STORIES >>
South Dakota State News

Delivered to your inbox

You'll also receive Yardbarker's daily Top 10, featuring the best sports stories from around the web. Customize your newsletter to get articles on your favorite sports and teams. And the best part? It's free!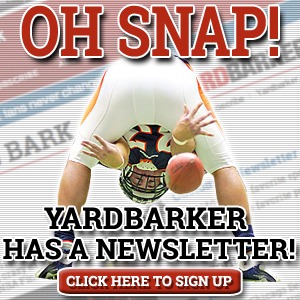 THE HOT 10: Who's Trending