TROY, Ala. (AP) Musa Abdul-Aleem scored 16 points and grabbed six rebounds as Troy beat Brewton Parker 85-71 on Friday in the season opener for both teams. Chris Bilbo had 15 points and five rebounds for the Trojans. Kevin Thomas and Wesley Person, Jr. each added 12 points. John Walton III scored 10 points and led the team with seven rebounds. Troy had a 36-34 lead at the break...
On Thursday night the Troy Trojans and Georgia Southern Eagles will face off against one another in a match-up of two Sun Belt schools. Troy (1-7) and Georgia Southern (6-2) will play against one another on ESPNU beginning at 7:30 pm ET from Allen E. Paulson Stadium in Statesboro, GA. The Odds: The Georgia Southern Eagles are 25.5 point favorites against the Troy Trojans. The over...
getty images On Saturday the Troy Trojans travel to take on the No. 13 Georgia Bulldogs. Georgia (1-1) is not going to be in a good mood following their upset loss to South Carolina and will be looking to pile on Troy. (0-3) Coverage of the game between Georgia and Troy will air on the SEC Network beginning at 12:00 pm ET from Sanford Stadium in Athens, GA. The Odds: The Georgia...
Jeff Mullahey scored 17 points and grabbed eight rebounds to lead Troy University to a 74-62 comeback win over Belhaven on Saturday. Troy (5-7) trailed 35-31 at the break but used a 24-14 second half rebounding advantage to take control of the game, seizing the lead on a Hunter Williams 3-pointer to hold off Belhaven down the stretch. Antoine Myers contributed 21 points for the...
getty images The Ole Miss Rebels will host the Troy Trojans on Saturday. Ole Miss (6-3) will be looking for their seventh win of the season against Troy. (5-5) Coverage of the game between Troy and Ole Miss will air on ESPNU beginning at 12:00 pm ET from Vaught-Hemingway Stadium in Oxford, MS. The odds: The Mississippi Rebels are 28 point favorites against the Troy Trojans. The over...
The Troy Trojans will travel to play against the Louisiana Lafayette Ragin Cajuns on Thursday night. Normally its games like this that get Sun Belt Conference teams noticed but on Thursday this game will be hidden away due to a Pac-12 game between Stanford and Oregon AND a Big-12 game that features Oklahoma and Baylor. Coverage of the game between Troy and LA-Lafayette will air...
The University of Louisiana-Monroe Warhawks will travel to take on the Troy Trojans on Halloween night. Both teams are members of the Sun Belt conference and will be looking for a win on Thursday. Entering Thursday's game ULM is 404 while Troy is 5-3 overall. Coverage of the game between ULM and Troy will air on ESPNU beginning at 7:30 pm ET from Veterans Memorial Stadium in Troy...
Troy coach Larry Blakeney turned to an old friend to revive the Trojans' ailing defense. He rehired former assistant Wayne Bolt as defensive coordinator after enduring two straight losing seasons for the first time in Blakeney's 22-year reign. The Trojans have won just eight games and gone 5-11 in the Sun Belt Conference in two seasons since winning a fifth consecutive league...
No. 94 Troy Trojans (5-7)Coach Larry Blakeney (23rd season, 169-98-1 at Troy and overall)Returning Starters: 9, 3 offense, 4 defense, 2 special teamsRecruiting Rank: 106Strength of Schedule: 101 Coach Larry Blakeney is a long time tenure coach, a rarity in modern day college football. Blakeney will need to use his experience and his quarterback Corey Robinson for the Troy Trojans...
A strong defensive performance and a balanced offensive attack helped Troy beat South Alabama 31-10 Saturday. Troy (3-2, 2-1) started off slow against Sun Belt rival South Alabama, as Corey Robinson threw an interception on the Trojans' first possession. But the Jaguars couldn't take advantage of the turnover, punting after three plays. After an early 21-yard field goal...
Corey Robinson threw for 274 yards and two touchdowns, and Troy spoiled North Texas' Sun Belt Conference opener Saturday night with a 14-7 victory. Robinson, who was 29 of 42 and threw one interception, hit Jaquon Robinson for a 15-yard score just before halftime, then found Chip Reeves on a 76-yarder in the third. Reeves led the Trojans (2-2, 1-1) with seven catches for 120...
2011 Record: (3-9, 2-6 in Sun Belt) Head Coach: Larry Blakeney (163-92-1 All-Time, 42-17 in Sun Belt) Last Bowl Game: 2010 New Mexico Bowl: beat Ohio 48-21 Four Year Coaching Trend: 7 wins and 5.75 losses per season overall, 5.5 wins and 2.25 losses per season in Sun Belt 2011 Preview   Schedule Glimpse: 2012 Schedule Link Big Name Opponents: 9/15 vs Mississippi State, 11...
MORE STORIES >>
Troy News

Delivered to your inbox

You'll also receive Yardbarker's daily Top 10, featuring the best sports stories from around the web. Customize your newsletter to get articles on your favorite sports and teams. And the best part? It's free!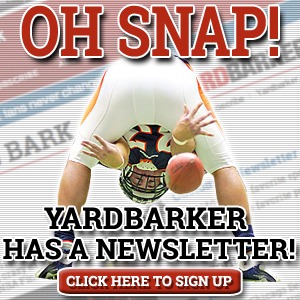 THE HOT 10: Who's Trending