Posted January 17, 2013 on AP on Fox
Thirteen years after he stood on the podium in Sydney, Lance Armstrong was stripped of his bronze medal from the 2000 Olympics because of doping. The International Olympic Committee sent a letter to Armstrong on Wednesday night asking him to return the medal, just as it said it planned to do last month. The decision was first reported Thursday by The Associated Press. The IOC executive board discussed revoking the medal in December, but delayed a decision until cycling's governing body notified Armstrong he had been stripped of his seven Tour de France titles and all results since 1998. He then had 21 days to appeal. Now that the deadline has expired, the IOC decided to take the medal away. The letter to Armstrong was also sent to the U.S. Olympic Committee, which would collect the medal. ''Having had confirmation from UCI that Armstrong has not appealed the decision to disqualify him from Sydney, we have written to him to ask for the return of the bronze medal,'' IOC spokesman Mark Adams told the AP. ''We have also written to USOC to inform them of the decision.'' The move was confirmed on the same day that Armstrong's admission of using performance-enhancing drugs - after years of denials - is to be broadcast in an interview with Oprah Winfrey. The timing of the IOC move, however, was not related to the TV interview. Two months after winning his second Tour de France title in 2000, Armstrong took the bronze in Sydney in the road time trial behind winner and U.S. Postal Service teammate Vyacheslav Ekimov of Russia and Jan Ullrich of Germany. The IOC opened a disciplinary case in November after a U.S. Anti-Doping Agency report detailed widespread doping by Armstrong and his teammates. The report called it the most sophisticated doping program in sports. The IOC will not reallocate Armstrong's bronze medal, just as cycling's ruling body decided not to declare any winners for the Tour titles once held by the American. Spanish rider Abraham Olano Manzano, who finished fourth in Sydney, will not be upgraded and the bronze medal will be left vacant in Olympic records. In August, the IOC stripped Tyler Hamilton, a former Armstrong teammate, of his time-trial gold medal from the 2004 Athens Olympics after he acknowledged doping. In that case, Ekimov was upgraded to gold. The IOC is also investigating Levi Leipheimer, a former Armstrong teammate who won the time-trial bronze at the 2008 Beijing Games. The American confessed to doping as part of his testimony against Armstrong in the USADA case. The IOC is looking into the details of Leipheimer's admitted doping, including when the cheating took place, before moving to strip his medal. Finishing fourth behind Leipheimer in 2008 was Alberto Contador, the Spaniard who was stripped of the 2010 Tour de France title after testing positive for clenbuterol.
Original Story:
http://msn.foxsports.com/olympics/cyc...
THE BACKYARD
BEST OF MAXIM
RELATED ARTICLES
CARPET BAGGING
Lance Armstrong is prepared to admit (we think) that he took performance enhancing drugs during his days of dominating the Tour de France. Then today Canada's CBC News reported the following bombshell which changes everything. Armstrong used… rugs? We know it is just the latest on tv typo but still it is funny to imagine Armstrong going to the local hardware store to pick up...
Like any true sportsman (nod Lance Armstrong) you're out there trying to get an edge on your competition. First it was training with those Vibram five-fingered toe shoes but as comfortable and useful as they are it is impossible to walk around in them and not look a bit odd.  Thankfully, Vibram's former CEO has come up with a solution for us: Camel-toe shoes.  At...
Lance Armstrong, former winner of seven Tour de France titles as well as the former owner of an Olympic bronze medal, finally admitted to using performance enhancing drugs in a televised interview with Oprah Winfrey on Thursday night. When asked if he doped he said, quite simply: "I am sitting here today to acknowledge that and to to say I'm sorry for that." Armstrong admitted...
An independent panel preparing to investigate the International Cycling Union's links to Lance Armstrong is fighting back against the governing body's resistance to offer amnesty to potential witnesses. The three-member panel says it will soon hold a public hearing in London to examine if ''truth and reconciliation'' should be offered to riders and officials...
Admitting he cheated was a start. Now, it's all about whether Lance Armstrong is ready to give details - lots of them - to clean up his sport. Armstrong's much-awaited confession to Oprah Winfrey made for riveting television, but if the disgraced cyclist wants to take things further, it will involve several long days in meetings with anti-doping officials who have very specific...
- Here are WWE's dates for their next UK tour in November: RAW: November 6: Belfast, Ireland November 7: Dublin, Ireland November 8: Brussels, Belgium November 9: Birmingham, England November 10: Cardiff, Wales November 11: Manchester, England TV November 12: Newcastle, England November 13: Zurich, Switzerland November 14: Roeun, France November 15: Marseille, France SmackDown...
Before his abrupt U-turn in an interview this week with Oprah Winfrey, Lance Armstrong had, many times and in many forums, consistently denied that he used performance-enhancing drugs. Here is a sample of some of the cyclist's choicest comments on the subject before he finally admitted to doping: --- ''Luke's name is Armstrong and people know that name, and when...
After years of speculation and rumors, and almost a week after news broke that Lance Armstrong was finally he going to confess to doping, he did so in an interview with Oprah Winfrey. Armstrong, who was stripped of his seven Tour de France titles, admitted that he had cheated for years and fooled so many he had inspired. Part 1 of the two-day interview took place Thursday night...
He did it. He finally admitted it. Lance Armstrong doped. He was light on the details and didn't name names. He mused that he might not have been caught if not for his comeback in 2009. And he was certain his ''fate was sealed'' when longtime friend, training partner and trusted lieutenant George Hincapie, who was along for the ride on all seven of Armstrong...
Time was better spent eating a homemade dinner* and watching the season premiere of Archer and college basketball than watching Lance Armstrong pathologically mouth the right words but show no remorse and engage in an absurd attempt at a semantics lesson. Apparently this interview needed a level-headed lawyer type like Nancy Grace. It looks like we're not going to hear from Manti...
Oprah Winfrey's interview with Lance Armstrong is more than an illustration of a hero athlete tumbling from the heights. It's also a pivotal moment for a famous media figure trying to climb the ladder back up. Winfrey's OWN network is showing signs of life after a rocky start, and the Armstrong interview offered a chance for many more viewers to check it out. The former...
Sporting Kansas City CEO Rob Heineman says the loss of trust led the Major League Soccer team to sever ties with the cancer charity founded by Lance Armstrong. Heineman also said Wednesday the ''tumultuous environment'' that developed before the cyclist admitted to using performance-enhancing drugs also played into the team's decision to change Livestrong Sporting...
Cycling News

Delivered to your inbox

You'll also receive Yardbarker's daily Top 10, featuring the best sports stories from around the web. Customize your newsletter to get articles on your favorite sports and teams. And the best part? It's free!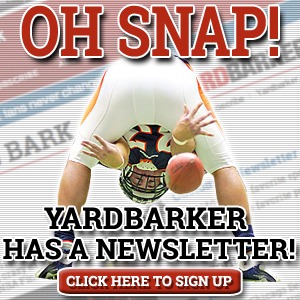 Latest Rumors
The Backyard

Today's Best Stuff

For Bloggers

Join the Yardbarker Network for more promotion, traffic, and money.

Company Info

Help

What is Yardbarker?

Yardbarker is the largest network of sports blogs and pro athlete blogs on the web. This site is the hub of the Yardbarker Network, where our editors and algorithms curate the best sports content from our network and beyond.