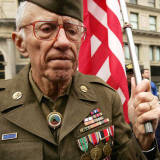 Hollywood and the military have always had a unique and sometimes complicated relationship. While numerous films depict feats of heroism on the battlefield, few films truly capture the difficulties in transitioning from combat to civilian life. That said, films like 2017's "Thank You For Your Service" show a commitment towards sharing the stories of returning vets, highlighting their...
Academy Award-winning actor Jon Voight will be portraying former Alabama head coach Paul "Bear" Bryant in a film entitled "Woodlawn." It opens in theaters on Oct. 16. The picture focuses on the high school football scene in Birmingham during the early 1970's. With racial tensions were running high, Woodlawn faced off against the Banks Jets in what would turn out to be the most-attended...
The first trailer for the upcoming football movie called Woodlawn has now been released online. Jon Voight stars as Bear Bryant with former Alabama player Caleb Castille portraying Tony Nathan, a Woodlawn High School star who went on to play running back at Alabama and in the NFL. Woodlawn was filmed in and around Birmingham, Alabama and […] The post Jon Voight Stars As Bear Bryant...
Entertainment Congrats to Andy Samberg, Jon Voight, Matthew McConaughey, and others.
Movies Plus: The iconic actor on playing Van Helsing in the new reboot of Dracula: The Dark Prince.
The show is all about Ray and his relationships. It does have good actors and an interesting premise, but I can't help but feel like we've seen a lot of these plot points before. Ray has a tough gangster-type job that he can't fully discuss with his wife (seen it).
MORE STORIES >>
Entertainment News

Delivered to your inbox

You'll also receive Yardbarker's daily Top 10, featuring the best sports stories from around the web. Customize your newsletter to get articles on your favorite sports and teams. And the best part? It's free!