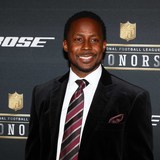 Desmond Howard recently delved in to the storied history of "College GameDay," an ESPN staple on which he's served as analyst since 2005. Perhaps the most interesting nugget gleaned from his reflections is how Erin Andrews may have been too "Hollywood" for her colleagues.Andrews served as a reporter/contributor on the long-running ESPN pregame show for two seasons (2010-11). She...
Who knew Paris Hilton was a fight fan? I had no idea she liked Manny Pacquiao but apparently she must because she spent all Saturday evening at the bout in Las Vegas, and then she was hanging out for the postfight press conference with Manny. We know the woman likes publicity, but this seemed to [...]
MORE STORIES >>
Entertainment News

Delivered to your inbox

You'll also receive Yardbarker's daily Top 10, featuring the best sports stories from around the web. Customize your newsletter to get articles on your favorite sports and teams. And the best part? It's free!