Found August 16, 2012 on Nationals Enquirer:
...but who's counting? Sounds like Davey Johnson is, for one. Here's Davey talking about Strasburg's sore back and trying to limit his innings as best he can with Shutdown Day looming during his postgame interview on Wednesday: "He's had that little bit of a stiff back. It looks like he kept trying to get his back loose. And he got in a jam, then he quite worrying about the back, and he went after 'em and  pitched out of it. And then got, really, in a good rhythm, and then was really cruising. And there's again a case where I normally would go another inning, except we're gonna hold his innings down." (Davey Johnson, via MASN, 8/15/2012) And here's Strasburg, after a reporter mentioned that Davey said his back might be bothering him. Is the Strasback a problem? "Uh, no. You know, it's tough because obviously you have some long innings sitting down there and it's a little chilly, so it took a little while to get goi...
Original Story:
http://feedproxy.google.com/~r/typepa...
THE BACKYARD
BEST OF MAXIM
RELATED ARTICLES
And so, Stephen Strasburg shut down (get it!?) the Giants on Wednesday afternoon (6.0 IP, 4 H, 2 R, 4 BB, 7 K, 100 pitches, 60 strikes), and the Nats capped off a 10 game road trip with a 6-4 win. 8-2 trip: not too shabby. Homeward bound! Huge games for Lombardozzi, Werth, and Espinosa. Later on, during Strasburg's postgame interview, a seemingly endless parade of Nats players...
The Washington Nationals are in first place in the National League East with 45 games remaining in the 2012 MLB season. Entering play today, the Nats have a 4.5 game lead over the Atlanta Braves in the division, and stand a great chance at earning their first postseason berth since moving to Washington, even if they cannot hold onto the division and have to settle for...
On Aug. 15, the Washington Nationals woke up with the best record in all of Major League Baseball. They have one of the best starting rotations in baseball. Their lineup scores enough runs. In short, they have a chance to do some real damage in this year's playoffs. However, as everyone knows by now, there seems to be a real good chance that the Nats are going to have to chase...
Perhaps you've heard, but there's been a bit of rumbling that the Washington Nationals might decide to limit the number of innings that Stephen Strasburg is allowed to pitch this year. As the brightest star in the Nationals rotation, Strasburg's health has been of utmost concern, especially since he returned to the roster post-Tommy John surgery. The Nationals have been...
...now seems as good a time as any to post up this amazing Three Aces piece of art: Jordan Zimmermann, Gio Gonzalez, and Stephen Strasburg. Pretty soon, the Nats will be down to just a pair of Aces. Not too shabby. But it seems we're now entering the preposterous "who needs Strasburg, anyway?" stage of the Great Strasburg Shutdown debate, or at least Thomas Boswell...
Over the last week or so, the talk about Stephen Strasburg's innings limit has been talked about ad nauseum. The newest tidbit states that Nationals GM Mike Rizzo has vowed that he *won't* continue to let Strasburg throw once his innings limit is reached, playoffs be damned. The limit has also revealed at 180 innings, more than the 160 innings that were rumored before the...
As the world treats the ace like a business commodity, the true debate is lost.   It's the backyard, baseball fantasy for every boy that falls in love with the ball and the mound. It's the bright lights, the cold sweats of October, the pressure, the packed house, and the promise of a ring. It's the World Series. Every boy that dreams of pitching dreams of pitching on baseball's...
Yikes! It hasn't been a good last couple of months form Major League Baseball umpire Greg Gibson. In July, Gibson gained a measure of fame by receiving a Stephen Strasburg fastball to the "Nuts". Yes, the catcher missed it. Now he's been cleated. During Wednesday nights L.A Angels vs. Cleveland Indians game, Gibson was involved in a close play at the...
Stephen Strasburg outpitched Tim Lincecum, Danny Espinosa hit a go-ahead two-run homer in the third inning and the Washington Nationals beat the San Francisco Giants 6-4 on Wednesday. One hitter Strasburg (14-5) didn't have to face: All-Star game MVP Melky Cabrera. He was suspended 50 games earlier in the day for a positive testosterone test. Jayson Werth drove in three runs...
MLB.com columnist Richard Justice joins Rob and Amy to discuss Stephen Strasburg's pitching count and the swirling rumors about Bobby Valentine's jobs security.
sodahead.com     I have taken the point of view of not agreeing with the so called "babying" of pitchers now a days. I feel whole heartedly that the Nationals are doing an injustice to the game by choosing to shutdown ace RHP Stephen Strasburg in a pennant race. Using examples such as Strasburg and Yankees RHP Joba Chamberlain, its not like that approach worked as both pitchers...
Nationals News

Delivered to your inbox

You'll also receive Yardbarker's daily Top 10, featuring the best sports stories from around the web. Customize your newsletter to get articles on your favorite sports and teams. And the best part? It's free!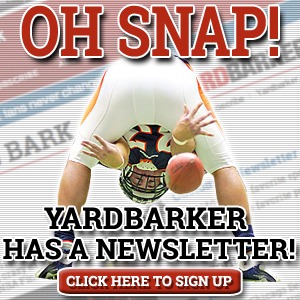 Latest Rumors
Best of Yardbarker

Today's Best Stuff

For Bloggers

Join the Yardbarker Network for more promotion, traffic, and money.

Company Info

Help

What is Yardbarker?

Yardbarker is the largest network of sports blogs and pro athlete blogs on the web. This site is the hub of the Yardbarker Network, where our editors and algorithms curate the best sports content from our network and beyond.