Found November 22, 2011 on Monkey with a Halo:
Next up on in our Top 30 prospect countdown, the anti-Conger catching prospect, Carlos Ramirez.  Unlike Conger, Ramirez carries a strong defensive reputation, but is dogged by questions about whether or not he can hit enough to be a big league catcher.  But now that he is coming off a terrific offensive campaign with the Inland Empire 66ers, is it safe to believe in Ramirez' potential as a well-rounded backstop?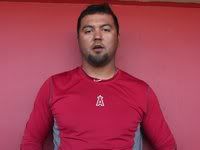 Carlos Ramirez
Position: Catcher  Level: High-A
Bats: Right Throws: Right  Height: 5'11" Weight: 210 lbs.
Age: 23  Born: March 19, 1988
2011 Season Stats (Low-A): 108 AB, .259 AVG, .367 OBP, .370 SLG, 3 2B, 0 3B, 3 HR, 12 RBI, 17 SO, 1 SB, 2 CS, .281 BABIP
2011 Season Stats (High-A): 181 AB, .348 AVG, .403 OBP, .530 SLG, 21 2B, 0 3B, 4 HR, 28 RBI, 33 SO, 1 SB, 0 CS, .404 BABIP
2011 Season Stats (AA): 9 AB, .222 AVG, .222 OBP, .444 SLG, 0 2B, 0 3B, 0 HR, 1 RBI, 1 SO, 1 SB, 0 CS, .250 BABIP
Bat – B.  Ramirez has gap power, hits for average and is a very disciplined at the plate.
Speed – C-. He's above average for a catcher, but by no means is Ramirez fast.
Arm – B+. He has a good arm but his CS% isn't great, though it may not be his fault.
Performance - A. A good defensive catcher that hits .348 in A ball isn't common.
Projection – B. Probably not Joe Mauer, but could be everyday MLB catcher.
Comp – Floor: Bobby Wilson.  Ceiling: Ramon Hernandez
Estimated MLB Arrival Date: 2014
(*As always, the above scouting report is provided by Scotty Allen of LA Angels Insider)
Season Summary: 2011 was a microcosm of Ramirez' career thus far.  In 2009, Ramirez mashed during his debut season in Rookie Ball only to not hit much at all in a full season at low-A Cedar Rapids in 2010.  That lack of hitting carried over to a certain extent in 2011 as he got off to another slow start with the Kernels.  However, with his strong defense, the Angels took a small leap of faith in his bat and moved Ramirez up to high-A ball where he suddenly started to pound the ball again, finishing the year with a .933 OPS for the 66ers.
So, the question has to be asked, can Ramirez hit or not?  The answer, of course, isn't simple.  A lot of players have had big offensive seasons in Orem and never been heard from again, but since Carlos regained his stroke with Inland Empire, it seems like his down year with the Kernels might have been a fluke... or maybe not.  The thing about both of Ramirez' big offensive campaigns is that they both featured Carlos posting a BABIP of over .400, which is quite simply ridiculous and unsustainable.  So, yeah, luck seems to have played a big role in all of Ramirez' big numbers.  What the Angels need to figure out is where his offensive performance will settle in at once his BABIP regresses to its normal level.
BABIP aside, there was one other interesting development in Ramirez' offensive season and that is his drop in walk rate.  Up until Ramirez arrived in high-A ball, he was able to maintain an OBP over 100 points greater than his batting average.  However, the difference between his average and OBP with the 66ers was merely 55 points.  Given that he also suddenly started crushing the ball at Inland Empire, one can't help but wonder if those two big performance shifts weren't a coincidence.  Maybe Carlos changed his approach, favoring aggressively attacking pitches instead of trying to endlessly milk the count.  Alas, once again we don't have a clear answer since 181 at-bats is such small sample size.
Despite al this focus on Ramirez' offense, his ticket to the majors will always be his defense.  Though he doesn't project to be an elite backstop, his defensive skill-set is sound and in this season alone it earned him Angels Minor League Defensive Player of the Month honors ins July.  Now, how much that award really means in the baseball world is one thing, but since it is chosen by the Angel organization we can at least conclude that the Halo brass seem to think pretty highly of his defense.  It isn't too hard to see why the Angels are high on him.  He allowed just two passed balls all season after allowing three each in his previous two seasons and his nine errors are on par with previous seasons as well.  If there is one flaw, it is that he only threw out 24% of would-be base stealers, which is a steep drop off from 42% the year before.  24% isn't terrible, but if he can't rebound somewhat going forward, it is definitely going to affect the evaluation on what his defensive potential really is.
What to Expect in 2012: A lot depends on how much faith the Angels have in his big numbers with Inland Empire and partly how much faith they have in Hank Conger, in my opinion.  If they really think Ramirez can hit, they can start him in Double-A Arkansas, which is a brutal hitters' environment that will put his bat to the test.  I'd bet though that they will want to see him get more than just one half season at high-A ball before giving him such an aggressive promotion that could be such a killer to his confidence.  One thing that might force their hand though is the underwhelming big league debut of Hank Conger this season.
After Conger, the Angels have no viable big league catchers in the system until Ramirez all the way in high-A ball.  We all know that Scioscia isn't a fan of Conger's present defense and if he doesn't get his act together on that end, the Angels will be in dire need of a catcher.  It is unlikely, but that fear of Conger flopping could force the Angels to push Ramirez to try and get him big league ready as soon as possible.
Original Story:
http://www.monkeywithahalo.com/2011-a...
THE BACKYARD
BEST OF MAXIM
AROUND THE WEB
RELATED ARTICLES
Interview Conducted by David Saltzer, AngelsWin.com Senior WriterAs we head into the holidays, there are many things for which we should all be thankful. Whether it's our health, our family, our friends, being Americans, our jobs, we all have things to appreciate.Baseball fans, though, have one more thing about which we should be thankful. We should be thankful for the hard work...
The November 21st, 2011 edition of daily news for the Los Angeles Angels of Anaheim including Angels set their 40-man roster, DiSarcina named field coordinator, the Angels full spring training schedule is set and much ...
The Los Angeles Angels of Anaheim have stepped up their pursuit in free agent pitcher C.J. Wilson. A couple members of the organization will be having dinner with their former foe tonight. The Angels' pursuit of free-agent pitcher C.J. Wilson will continue Monday night when Manager Mike Scioscia and General Manager Jerry Dipoto have dinner with the veteran left-hander in Los...
The Angels' pursuit of free-agent pitcher C.J. Wilson will continue Monday night when Manager Mike Scioscia and General Manager Jerry Dipoto have dinner with the veteran left-hander in Los Angeles. The meeting was confirmed by a source familiar with the situation but not authorized to speak publicly about it because of the sensitive nature of talks. It is not known whether Arte...
Angels manager, Mike Scioscia, and GM, Jerry Dipoto had dinner last night with lefty free agent C.J. Wilson according to a source familiar with the situation close to Mike DiGiovanna of the Los Angeles Times. Moreno "already established a relationship with the Texas Rangers star from bargaining sessions for baseball's new labor agreement," adds DiGiovanna. Dipoto already...
The November 23rd, 2011 edition of daily news for the Los Angeles Angels of Anaheim including Angels interested in trading for Reds catcher Ryan Hanigan, Scioscia shows off his softer side, MLB announces their new collective bargaining agreement and ...
86-76, 2nd place, 10 GBFragile Freddy's "Two A Days" series continues today with the Los Angeles Angels of Anaheim.  Each day (except Saturday) I will feature two clubs, one AL club, one NL club, and look back at their season.  For each club I will comment on a key position player and pitcher (generally in a positive tone), their #1 prospect according to Baseball America...
This grainy image reveals the secret to Peter Bourjos' defensive range. Table of Contents Here's the table of contents for today's edition of Offseason Notes. 1. Assorted Headlines 2. SCOUT Leaderboards: Venezuelan Winter League 3. Projecting: ZiPS for Los Angeles (AL) Assorted Headlines Baltimore Nearing Deal with Korean Reliever Chong The Orioles are closing in on signing...
The Angels appear focused on acquiring catching help, Buster Olney of ESPN reports. One name that has surfaced as a possible trade target is Ryan Hanigan of the Reds, Ken Rosenthal of FOXSports adds.
The Angels on Friday hired Matt Klentak as assistant general manager. The 31-year-old spent the previous four seasons as the Orioles' director of baseball operations.
Latest Rumors
The Backyard

Today's Best Stuff

For Bloggers

Join the Yardbarker Network for more promotion, traffic, and money.

Company Info

Help

What is Yardbarker?

Yardbarker is the largest network of sports blogs and pro athlete blogs on the web. This site is the hub of the Yardbarker Network, where our editors and algorithms curate the best sports content from our network and beyond.