Found January 25, 2013 on The Nats Blog:
  Throughout the offseason, The Nats Blog will look back at every player's 2012 season to summarize and analyze his performance, and we'll look ahead to his possible role in 2013. We'll go from #1 Steve Lombardozzi all the way to #63 Henry Rodriguez until Spring Training. Enjoy. Owner of both the best beard and the highlighting moment of the Washington Nationals' breakout season, Jayson Werth was among the Nationals' stars in 2012. His final at-bat in game four of the National League Division series will be recorded in the baseball annals as one of the most exciting moments of this young team's history. However, his contribution to the team last season stretched well beyond one thirteen-pitch at-bat. The difference between Werth's performance in 2011 and 2012 was stark. Werth finished his debut season in Washington with some of the worst stats of his career – a slash line of .232/.330/.389 and 160 strikeouts – leaving Nats fans frustrated with the new guy from their northern nemesis. But while it seemed he could never really find a rhythm in 2011, the only thing that could disrupt his consistent offensive production in 2012 for more than a few games was a broken wrist, which benched him for three months. Although his injury kept him from achieving "qualified" statistics, his slash line of  .300/.387/.440 was on pace to be one of the best on the team, even as he assumed the unfamiliar role of "Larry Leadoff." Werth was one of the team leaders by numbers, but his leadership was by no means limited to his offensive production. As one of the few Nationals who had previously played in the postseason, Werth was a mentor to the Nats' many young players. His most notable mentee was Bryce Harper, who consistently pointed out his gratitude for Werth's guidance throughout the season. Werth's even, outward disposition served to balance Harper's tendency to be hotheaded, as Cheryl Nichols of District Sports Page perfectly illustrates in the photo above. The photo shows Werth running out on the field within seconds of Harper's being hit with a pitch by Lendy Castillo of the Chicago Cubs, to keep Harper from letting his temper get the best of him during the twice-benches-clearing game in which emotions ran high. This moment is just one great example of the importance of Werth's role on the Nationals. He is a leader on and off the field, and his influence on Harper and obvious investment in his success is indicative of something very special about the Nats: they are not only a team because they wear the same jerseys, their chemistry and care for each other is a huge contributing factor to their success. Next Year: Werth figures to be a part of that success for the foreseeable future as the Nationals' right fielder. The 34 year old won't be a free agent until 2018, and is due to be paid more than $16 million this year, which will make him the highest-paid National in 2013. He will likely hit second in the batting order this season, keeping his high on-base percentage at the top of the order, but letting Denard Span take over the role of leadoff hitter. Up Next: #30 Zach Duke
Original Story:
http://www.thenatsblog.com/2013-artic...
THE BACKYARD
BEST OF MAXIM
RELATED ARTICLES
So what if it was below freezing all day in DC on Saturday? Up above, a photo of Bryce Harper standing in the cold on the corner of 7th and Mt. Vernon outside the Washington Convention Center after NatsFest. Jacket? No jacket. And yes, that's Jayson Werth and Danny Espinosa all snug and warm in their beards and winter coats in front of the kid to the left and right. This...
And so, after all the rumors, speculation, and passionate debate, the Nationals will name William Howard Taft as the next Racing President, as first reported by Dan Steinberg over at DC Sports Bog. Minutes later, the Nationals posted a follow on story, with additional details about "Bill", like,  he has his own Twitter account: @NatsBigChief27. There's Taft at a Washington...
NEW ADDITION
The Nationals have decided to make Williams Taft, the 27th president of the United States, the fifth member of their mascot race team.
The Washington Nationals' newest racing president may have to drop a few pounds to be competitive. The team said Saturday that William Howard Taft will join George Washington, Thomas Jefferson, Abraham Lincoln and Theodore Roosevelt this season for the fourth-inning race by 12-foot mascots. Taft was the portliest president at more than 300 pounds. He became the first president...
On Saturday, the Washington Nationals will officially introduce William Howard Taft, our country's 27th President, as the fifth member of their infamous Presidents' Race.He will join George Washington, Thomas Jefferson, Abraham Lincoln, and Theodore Roosevelt in the exclusive fleet-footed club.The Nationals considered many presidential options, but Taft made the most sense...
Only a few people in history have been able to give a quote a life of its own. Bryce Harper is one of those people. In addition to being the rookie of the year, Harper has now tackled a new milestone. Friday night Harper's famous quote "That's a clown question, bro" appeared on Jeopardy as a category. CATEGORY: THAT'S A CLOWN QUESTION, BRO. CLUE: Tim Curry described this...
If you're a fan of racing mascots...you're going to want to pay attention.Friday night, the Washington Nationals announced via Twitter that they have decided on which President to add to their lineup. The physical should prove to be an interesting one given "The Big Chief" once tipped the scales at a very Sabathia-like 332 pounds.And why William Howard Taft?On...
The 27th President of the United States of America, and the only President to also be a Supreme Court Justice, is on his way back to Washington, DC. The Washington Nationals have selected Taft to become the 5th president of the organization's mascot race. Unlike during his election in 1909, Taft was a long shot to grab the spot. The odds were 35-1 that he would be chosen to taken...
Danny Espinosa beard status: full, black, growing like a weed. [USAT Sports] Espinosa's beard and his GF were big hits on MLB Network. [Nats Enquirer] Also, Bryce Harper got a somewhat normal-looking haircut. [USAT Sports] Svrluga assesses the Caps' struggles after the first two games. [WaPo] Watch both of the Matt Hendricks fights from Tuesday night. [RMNB] Michael Jenkins,...
And so, with all the rumors and speculation swirling around who the 5th Racing President will be at Nationals Park this year, we're throwing our vote firmly behind Richard Nixon. Unfortunately, people who know stuff and are usually right are refusing to confirm or deny our pick for us. Guess we'll just have to wait for NatsFest: (Photoshop via the great @ambp77...
MLB News

Delivered to your inbox

You'll also receive Yardbarker's daily Top 10, featuring the best sports stories from around the web. Customize your newsletter to get articles on your favorite sports and teams. And the best part? It's free!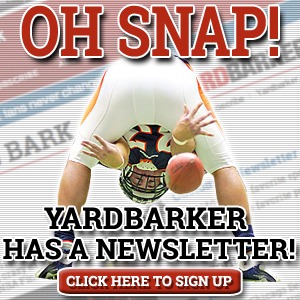 Latest Rumors
Best of Yardbarker

Today's Best Stuff

For Bloggers

Join the Yardbarker Network for more promotion, traffic, and money.

Company Info

Help

What is Yardbarker?

Yardbarker is the largest network of sports blogs and pro athlete blogs on the web. This site is the hub of the Yardbarker Network, where our editors and algorithms curate the best sports content from our network and beyond.