Found October 08, 2012 on 85% Sports:
PLAYERS:
Mike Trout
,
Todd Frazier
,
Bryce Harper
,
Will Middlebrooks
,
Yu Darvish
,
Scott Diamond
,
Trevor Cahill
,
Addison Reed
,
Anthony Rizzo
,
Josh Rutledge
,
Lucas Harrell
,
Ramon Hernandez
,
Joey Votto
,
Wilin Rosario
,
Wade Miley
TEAMS:
Los Angeles Angels
,
Cincinnati Reds
,
Boston Red Sox
,
Texas Rangers
,
Minnesota Twins
,
Arizona Diamondbacks
,
Chicago White Sox
,
Chicago Cubs
,
Colorado Rockies
,
Houston Astros
Next up in the BBA Awards is the Willie Mays Award for the top rookie in each league. We can nominate 5 players in each league and they will be thrown in with the rest of the Baseball Bloggers Alliance votes. Russ: I think any name but Mike Trout would be an insult to the award. No other American Leaguer should be considered. In the National League: The pitcher for the Diamondbacks, Miley was 16-11 with a good 3.33 ERA. Todd Frazier of the Reds batted. 274 with 19 HR and 67 rbi. Bryce Harper, after blowing kisses last year he batted. 270 with 22 HR and 59 rbi. Rosario, catcher for the Rockies batted .273 with 28 HR and 71 rbi. Eugene: Agreed on Trout. He's easily the winner in the AL. But we do need 2-5. Throwing some names out: Yoenis Cespedes – .292/.356/.505, 23 HR, 82 RBI, 16 SB…Key to Oakland's offense Will Middlebrooks – .288/.325/.509, 15 HR, 54 RBI…one of the few bright spots for Boston Wei-Chi Chen – 12-11, 4.02 ERA in 32 starts, 154 K…the Orioles most reliable starter Yu ...
Original Story:
http://www.85percentsports.com/2012/1...
THE BACKYARD
BEST OF MAXIM
RELATED ARTICLES
So the 2012 Angels season is over, so you know what time it is. It's that time again when our collection of writers and contributors get together and discuss what went right, wrong and more over the course of the completed season. It's also time that when we open up the gradebook to show you the fans how we at AngelsWin.com graded several categories of Angels Baseball.
Continuing with my Baseball Bloggers Alliance (BBA) voting, the Willie Mays Award is the award for top rookie in the league. Here is my ballot:1st Place: Mike Trout, Los Angeles Angels Of Anaheim2nd Place: Yoenis Cespedes, Oakland Athletics3rd Place: Chris Sale, Chicago White SoxThere is no need for an explanation. Congratulations Mr Trout.Next up: The Goose Gossage Award for top...
If there is one thing that you can't say about Tigers fans, it's that they support their players. Even when details like defensive ability and baserunning are presented in front of them.It's rather endearing that they show up to the game with crowns on carrying banners with sayings on them like the one in the picture above. It's also, well, slightly annoying to be...
Another season in the books.  The season couldn't end soon enough for our mixed league and NL-only teams as our success seemed to be limited to AL-only where – as late as September 15th – we had a shot at winning all 3 of our leagues.We learned a lot during the season.  Little to nothing that will help us for next year of course – unless all the 'perts we play against...
Here are the four rookie position players above 3.0 WAR in the 2012 season:NameTeamPABB%K%BABIPwOBAwRC+FldBsRWARMike TroutAngels63910.5%21.8%.383.42217513.36.810.4Bryce HarperNationals5979.4%20.1%.310.3531228.9-0.34.8Yoenis CespedesAthletics5408.0%18.9%.326.370138-9.60.13.1Norichika AokiBrewers5887.3%9.4%.304.3481180.1-1.43.1Two of these players are foreign imports — veterans of...
MLB News

Delivered to your inbox

You'll also receive Yardbarker's daily Top 10, featuring the best sports stories from around the web. Customize your newsletter to get articles on your favorite sports and teams. And the best part? It's free!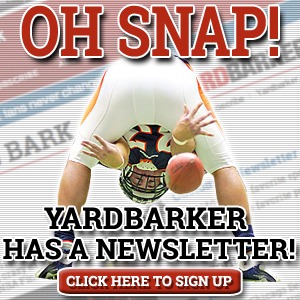 Latest Rumors
Best of Yardbarker

Today's Best Stuff

For Bloggers

Join the Yardbarker Network for more promotion, traffic, and money.

Company Info

Help

What is Yardbarker?

Yardbarker is the largest network of sports blogs and pro athlete blogs on the web. This site is the hub of the Yardbarker Network, where our editors and algorithms curate the best sports content from our network and beyond.