Found February 08, 2013 on Monkey with a Halo:
The MWAH prospect countdown marches on with a toolsy outfielder that somehow managed to turn in two polar opposite seasons in the same year. Travis Witherspoon Position: OF  Highest Level: Double-A Bats: Right Throws: Right  Height: 6'2" Weight: 190 lbs. Age: 23  Born: 4/16/89 2012 Season Stats High-A: 306 PA, .319 AVG, .399 OBP, .470 SLG, 10 2B, 5 3B, 7 HR, 27 RBI, 52 SO, 25 SB, 7 CS, .374 BABIP Double-A: 235 PA, .202 AVG, .286 OBP, .351 SLG, 9 2B, 2 3B, 6 HR, 21 RBI, 54 SO, 9 SB, 4 CS, .242 BABIP   Contact – D.  This is ultimately T-Spoon's shortcoming and what could prevent him from becoming a major league regular, or even a star.  Witherspoon swings and misses a lot. His swing is actually pretty good, but there's a lot of pre-swing movement and he really struggles with balls belt high or higher and on the outer half.  Despite striking out a lot, I really like the strides he's made in the last year and his two-strike approach reminds me a lot of Trout in that he shortens his swing considerably and focuses more on putting the ball on the ground somewhere and uses his speed to reach base. Power – B.  This is part of the equation that makes Witherspoon such an exciting prospect to many scouts.  He really wasn't scouted that hard coming out of South Carolina. Despite possessing 1st round tools, the Angels selected him in the 12th round.  His build and swing suggest he has serious 20+ HR potential.  Similar to Peter Bourjos, but stronger.  It would make sense that Spoon would hit for power in the Cal League, but surprisingly, he went to a VERY difficult hitting environment at Dickey Stephens Park in Arkansas and maintained his ability to hit for power.          Discipline – C-.  Yet another flaw in the exciting prospect package that is Travis Witherspoon.  He does have the ability to draw walks from time to time, but in terms of his approach and working the count, any smart pitcher just feeds Witherspoon a healthy diet of breaking pitches on the outer half.  Most specifically, Spoon struggled horribly in AA because of those pitchers' ability to throw their breaking pitches for strikes.  Speed – A.  Witherspoon has elite speed.  He isn't quite as fast as Trout from home to first, but has more closing speed than Trout in the OF.  He's faster than Peter Bourjos in the first 90 feet, but lacks Bourjos' range in the outfield.  He does share their athleticism though. Arm – A-.  Witherspoon has a strong and accurate arm in CF.  I'd rank it up there with Peter Bourjos', which I consider among the Top 5 in baseball at his position.    Performance – B.  Witherspoon experienced both the highs and the lows this season.  He was a Cal League all-star and appeared well on his way to beginning a successful steady climb up the minor league ladder.  However, once he was promoted to AA his BA plummeted over 100 points, as did his OBP.  However, I give him a B because it's clear he turned a corner this season.  Before this year he was a raw project prospect that had a greater chance of never leaving A-Ball than reaching the majors.  This season he proved he's a prospect to be taken seriously, that's as much substance as he is projection. Projection – A.  Witherspoon could eventually turn into a Peter Bourjos or Drew Stubbs type of player.  He'll probably never be a good contact hitter, but in fairness he still walks more than Bourjos did in A-Ball (Though Bourjos was two years younger).  He has 20 HR and 40 SB type of potential in the major leagues, which would legitimately make him a star.  But he may never make enough contact to reach such potential, which would force him into 4th OF duty given his great defense in the OF and his elite speed on the base paths. (*As always, the above scouting report is provided by Scotty Allen of LA Angels Insider) Season Summary: The word "preposterous" stuck with me when considering the season that Travis Witherspoon turned in for 2012.  The kid with preposterous athleticism but who never seemed to be able to get his preposterous physical tools together finally did so, at least for awhile this last year.  The results were, of course, preposterous.  His numbers in the Inland Empire were preposterous as he hit for a high average, saw a big spike in his walk rate, displayed the some of best power of his career and swiped a ton of bags.  Of course he did it with a preposterously high BABIP, even considering his preposterous speed, in a hitting environment that preposterously favors hitters.  Even with those factors in his favor, Witherspoon's big half-season in the IE put him firmly on the prospect radar. Then he got promoted to Arkansas and was, wait for it... preposterously bad. That high average from A-ball cratered to a preposterously low .202 in Arkansas and took much of the wind out of his prospect sails.  It wasn't all bad though as he did maintain his improvement in walk rate after the call up and his ISO was practically identical despite the superior competition and despite Dickey-Stephens Park being the stadium where players with middling power go to die.  There was also the mitigating factor that Spoon mustered a mere .242 BABIP, which is preposterously low for someone with his speed, even if he was struggling to make good contact, so he might not have been as bad as his batting average might indicate. Really though, it shouldn't be much of a shock that Witherspoon was slow to adapt in Little Rock.  That has been the trend throughout his career when he moves up a level and is not unusual for players like him who lack polish and thrive more on just being more athletic than everyone on the field. What to Expect in 2013: It is going to be back to Arkansas for Witherspoon in 2013 and "patience" will be the thematic word (don't worry, I'm mostly done with the word-repeating gimmick).  Patience will be important as the organization waits for Witherspoon to make the necessary adjustments to compete against the much improved competition.  Patience will also be important at the plate for Witherspoon because he needs to show he can maintain it.  Discipline and zone control were issues for him in the early stages of his career and threatening to hold him back but he conquered that in 2012, but he needs to prove that victory was a lasting one going forward. If he adapts quickly, Witherspoon could earn him a call up to Salt Lake and/or a September call-up and legitimate shot at making the 2014 roster as a reserve outfielder.  If he doesn't, no worries, not yet at least.  He's still young enough to keep down in the minors for more seasoning in 2014. [follow]
Original Story:
http://www.monkeywithahalo.com/prospe...
THE BACKYARD
BEST OF MAXIM
RELATED ARTICLES
The off-seasons is filled with the news of signings. As such, MLB Rumors never gets shut down on this computer. Some of those signings bring a stir of interest as a team will sign a budding star to a contract to avoid arbitration or an interesting free agent that might make the team out of Spring Training. But an awful lot of them are of the kind that leave you simply making a mental...
By Rob Goldman - AngelsWin.com Historical Writer   By 1977, Angels owner Gene Autry had committed to do whatever it took to produce a championship caliber club. In 1976 he had acquired Dan Baylor, Joe Rudi and Bobby Grich through free agency. Though weary of the process, Autry knew free agency was the fastest way to produce a winner and was prepared to take full advantage of it...
   By Brian Waller, AngelsWin.com Writer Although it's fun to see what former Angel greats like Tim Salmon, Jim Edmonds, or Chuck Finley are up to these days, I actually enjoy following up on the lesser known players that once wore an Angel's uniform; players who weren't mega stars but still made key contributions to the big club. I tend to think back to the championship...
The February 8th, 2013 edition of daily news for the Los Angeles Angels of Anaheim including optimizing the Angels' batting order, the Halos have the best defense in the league and much more... The Story: Optimizing the Angels' batting order. The Monkey Says: I'm pretty sick of this topic, but the point about Hamilton being such a free-swinger making him a poor...
By Ellen Bell - AngelsWin.com Columnist He was nine years old. Even though I'm only 5'3, I could rest my arm on his shoulder. His red hair was trimmed in a neat, military buzz cut and his eager face was covered with freckles.  We were on a quest. It was 2003. The Angels were World Series Champions and we couldn't wait for another season to start. So we boarded an airplane...
The February 7th, 2013 edition of daily news for the Los Angeles Angels of Anaheim including Keith Law's top ten Angels prospects, Mike Trout is now an answer on Jeopardy and much more... The Story: Keith Law unveiled his top ten Angels prospects. The Monkey Says: The most notable part is that he is so high on Taylor Lindsey. I like Lindsey a lot too, but rating him second...
The third baseman that every Angel fan fantasizes about replacing did nothing to help his cause last season, but could a bounceback season be in store for Alberto Callaspo in 2013? 2012 Stats: 520 PA, .252 AVG, .331 OBP, .361 SLG, 55 R, 10 HR, 53 RBI, 4 SB, 3 CS, 59 K, .308 wOBA, 98 OPS+, 2.7 fWAR 2013 ZiPS Projections: 553 PA, .265 AVG, .330 OBP, .376 SLG, 58 R, 10 HR, 55...
By Ellen Bell - AngelsWin.com Columnist For many years, I made the trip to Arizona via a quick, one hour plane ride from John Wayne to Sky Harbor. No fuss, no trouble. But a couple of years ago I decided to change things up a little and travel to Spring Training the old school way, on an All American, gas guzzling road trip. My companion and dashboard photographer was my 83-year...
He's no Dan Haren, heck he may not even by Ervin Santana (although that might be a good thing) but he is the first of three new starters in the Angels rotation. He even has extensive experience in the AL West as a bonus! Let's take a look at Jason Vargas has in store for us in his first and possibly last season in Anaheim. 2012 Stats: 217.1 IP, 15-11, 3.85 ERA. 4.69 FIP...
By Brian Waller - AngelsWin.com Columnist Brazil I know I know, there are some people that can't get excited or pumped up for the World Baseball Classic (WBC) no matter how much hype the tournament gets. It's definitely not for everyone and there are obvious flaws in the set-up, format, etc. but I still find it very intriguing. As fans of Major League Baseball (MLB), we all...
MLB News

Delivered to your inbox

You'll also receive Yardbarker's daily Top 10, featuring the best sports stories from around the web. Customize your newsletter to get articles on your favorite sports and teams. And the best part? It's free!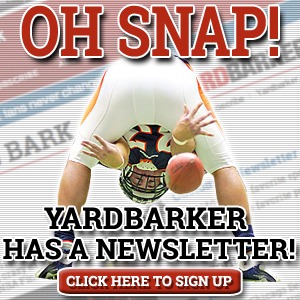 Latest Rumors
Best of Yardbarker

Today's Best Stuff

For Bloggers

Join the Yardbarker Network for more promotion, traffic, and money.

Company Info

Help

What is Yardbarker?

Yardbarker is the largest network of sports blogs and pro athlete blogs on the web. This site is the hub of the Yardbarker Network, where our editors and algorithms curate the best sports content from our network and beyond.