Found January 02, 2013 on Monkey with a Halo:
The MWAH prospect countdown begins!  Kicking things off this season is last year's #14 prospect.  How did he fall so far so fast?  SPOILER ALERT: He forgot how to hit. Carlos Ramirez Position: C  Highest Level: Double-A Bats: Both Throws: Right  Height: 5'11" Weight: 210 lbs. Age: 24  Born: 3/19/88 2012 Season Stats Double-A: 323 PA, .204 AVG, .312 OBP, .276 SLG, 12 2B, 1 3B, 2 HR, 23 RBI, 55 SO, 4 SB, 0 CS, .245 BABIP   Contact – B-.  Being a catcher, Carlos certainly has good hand-eye coordination.  This skill transfers not only from behind the plate but at the plate as well.  Ramirez's swing can be overly long at times, but he's seems adept at getting it through the zone and making contact with pitches, even the ones he's fooled on. Power – C.  Ramirez is mostly a line drive type of hitter when he makes good contact.  This may not result in the type of homerun totals that get attention from fans, but Ramirez is no stranger to driving the ball into the gaps with authority.    Discipline – B-.  Ramirez, like many college catchers, entered pro ball with what I would consider an "above average" eye at the plate.  He isn't an easy out, he works counts, and doesn't chase bad pitches.  He even collects a fair amount of walks.  I don't think he'll ever post an incredibly high OBP, but given how low his BA is, his OBP actually looks pretty good. Speed – C.  Carlos Ramirez is a catcher, and he's not a fast runner.  I haven't seen anything that suggests he's a dumb runner either, but I wouldn't consider this tool an asset. Arm – B.  Ramirez is pretty fair at gunning potential base thieves.  It truly is his defense that's going to carry him onto a major league roster someday, and as far as I can tell, his arm is better than both the catchers in front of him in the depth chart, Hank Conger and Chris Iannetta. Performance – D.  Ramirez simply hasn't performed offensively outside of a hitter's park.  But the good news is he continues to develop and perform defensively, which should land him in Scioscia's good graces soon enough.  Projection – C+. Ramirez has a chance to be a good major league defensive catcher that gets on base.  It remains doubtful that he will hit enough to be an everyday player though. Estimated MLB Arrival Date – Early 2015 (*As always, the above scouting report is provided by Scotty Allen of LA Angels Insider) Season Summary: Ramirez had a lot to prove in 2012 as he was coming off a 2011 season in which he flew up the ladder and posted some offensive numbers that, frankly, seemed beyond his abilities.  Well, you'll never guess what happened.  Ramirez left the friendly confines of the California League only to end up the brutal hitters' environment that is Dickey Stephens Park and it did not treat him well.  Any semblance of his offensive upside all but disappeared as he mustered a pathetic .588 OPS.  The only glimmer of hope in his line is that he drew a walk in 10.2% of his plate appearances.  His power though was totally nonexistent. While Ramirez' bat may have vanished, his glove still seems to be firmly intact as he did a fine job handling the staff while also gunning down 37% of would be base stealers..  Carlos' ticket to the majors was always going to be his defense behind the plate and he still rates as the best defensive backstop in the system. What to Expect in 2013: Despite his offensive struggles, the Angels still seem to have a fair amount of faith in Ramirez as they did tab him as one of the players they sent to the Arizona Fall League this year, though that might have been more of a selection by necessity than potential.  With Hank Conger expected to finally assume a full-time roster spot in the majors, Ramirez should have a clear path to playing time in Triple-A at some point in 2013 if not on Opening Day.  Naturally, Salt Lake is a hitters' haven, so anything he does there will be received with a great deal of skepticism.  However, if he can't get his groove back with the Bees, then that might be curtains for his already limited potential and thus any hope he ever had of someday earning the Angels' back-up catcher gig. [follow]
Original Story:
http://www.monkeywithahalo.com/prospe...
THE BACKYARD
BEST OF MAXIM
RELATED ARTICLES
It seems as if the ripple-effect made by the Kendrys Morales trade has stretched farther into the roster than many might think.  A lot of Angel fans were unhappy, or I could say outright pissed, that Kendrys was traded for some third-rate inning eating starter from the lowly Mariners. I mean, not only did the Angels trade away one of their biggest power bats for a mid-tier starter...
Organizational Talent Rankings via Baseball America 2012 (18) | 2011 (15) | 2010 (26) | 2009 (25) | 2008 (11) 2012 Affiliate Records MLB: [89-73] AL West AAA: [73-71] Pacific Coast League – Salt Lake AA: [62-78] Texas League — Arkansas A+: [66-74] California League – Inland Empire A: [53-86] Midwest League – Cedar Rapids (Burlington beginning 2013) Arizona Fall League Players...
Jason Vargas won 14 games last year for a Mariners club that finished 27th in runs scored. People say wins are bogus. For the most part that's true. But if you toss over 200 innings with an ERA under 4.00, chances are you're going to win a good amount of games no matter what offense is backing you. (That is, unless that offense is the historically pathetic Seattle Mariners from...
The January 3rd, 2013 edition of daily news for the Los Angeles Angels of Anaheim including uncertainty in the Angel rotation, battle of the AL West nicknames and much more... The Story: The Angels' rotation is their biggest question mark for the first time in years. The Monkey Says: There isn't that much uncertainty.  Vargas and Blanton are pretty much known quantities...
By David Saltzer, AngelsWin.com Senior Writer   Sometimes you read something and you just have to respond. The words are just too powerful to let go. Not saying anything gives approval of the statement.   Yes, I'm talking about Torii Hunter—just not in the way you think I am.   For those not familiar, at the end of December, Kevin Baxter, a reporter for the Los...
Angels News

Delivered to your inbox

You'll also receive Yardbarker's daily Top 10, featuring the best sports stories from around the web. Customize your newsletter to get articles on your favorite sports and teams. And the best part? It's free!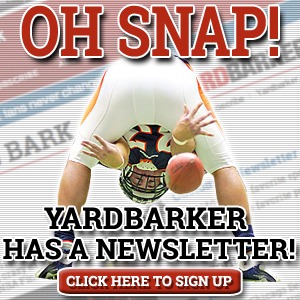 Latest Rumors
Best of Yardbarker

Today's Best Stuff

For Bloggers

Join the Yardbarker Network for more promotion, traffic, and money.

Company Info

Help

What is Yardbarker?

Yardbarker is the largest network of sports blogs and pro athlete blogs on the web. This site is the hub of the Yardbarker Network, where our editors and algorithms curate the best sports content from our network and beyond.