Found February 01, 2013 on Obstructed View OLD:
I know I said I probably wasn't going to do these this year, but I am going to change the format a little bit. I won't be combining 5, 6 or 7 projections to create an average. I will just stick to two: CAIRO and ZiPS. I doubt the average between these two will be that much different than they'd be if we added in several other other projection systems so it's really  just a waste of time to include them all. I intended to do these at each position only, but when I finished up Welington Castillo's projections, I realized it would be too long for one post. So we'll do them one at a time again. The Cubs have a new primary catcher this season in Welington Castillo. The backup job will be determined in spring training and is between Steve Clevenger and Dioner Navarro. Navarro has to have the edge at this point seeing as his contract was guaranteed and they'll unlikely carry three catchers on the active roster. A few years ago I was very excited about Castillo's future. He reached AA at the age of 21 back in 2008 and for a catcher, that's pretty good. He hit the bell very well that year in AA though he didn't perform that well at the plate in High A that same year. Still, I was excited that the Cubs a young catcher who had shown the ability to hit well at an advanced level for someone his age and position. The Cubs were set with Geovany Soto for the time being, but he'd be getting expensive before long and there was Castillo to take his place. Back at AA in 2009, he regressed. He didn't hit well and there were reports that he was having difficulty behind the plate. He was till quite young, but I was hoping to see him build on his strong finish in 2008. He did get promoted to AAA in 2009 and hit quite well, but I've learned to be a little distrustful of stats in the Pacific Coast League. He reached the big leagues for a few plate appearances in both 2010 and 2011, but the first meaningful playing time was last year and he took advantage of it. He hit .265/.337/.418, which was good for a .327 wOBA. That's a 101 wRC+. He was also slightly above average in fielding on both Fangraphs and Baseball Reference, but Baseball Prospectus had him slightly below average. Overall, in 190 plate appearances he was worth 1.2 fWAR, 1.2 rWAR and 0.5 WARP. His walk rate was a respectable 8.9%, but he did strikeout more than 26% of the time. He was also a bit lucky last season with his .348 BABIP. I know a lot of people are very excited about Castillo, but I'm mostly curious to see which Welington Castillo shows up. At times he's been very good and at other times very bad. If he can handle the pitching staff and play well enough defensively, he probably has the bat to play the position even if he's not much of a hitter. Below are Welington Castillo's 2013 projections. Castillo PA H 2B 3B HR SB avg obp slg wOBA CAIRO 364 83 17 0 14 1 .249 .316 .430 .326 ZiPS 375 81 17 0 12 0 .240 .309 .398 .307 Average 370 82 17 0 13 0 .245 .313 .414 .316 I used his CAIRO projections and a spreadsheet SG from RLWY sent me awhile back to get Castillo's percentile forecasts. Welington Castillo % PA AB R H 2B 3B HR RBI SB CS BB SO GDP HBP AVG OBP SLG wOBA 80% 437 397 56 111 25 0 21 65 2 0 41 94 6 7 .278 .364 .503 .379 65% 400 364 47 96 21 0 17 55 2 1 35 92 7 6 .265 .341 .466 .353 Baseline 364 331 40 83 17 0 14 47 1 1 29 88 8 4 .251 .319 .429 .326 35% 328 298 33 71 13 0 11 39 0 1 24 83 8 3 .237 .296 .392 .301 20% 291 265 27 59 10 0 8 32 0 2 19 78 9 2 .223 .273 .355 .275 The 80% forecast is always going to look nice, but it's more of a best case scenario. If Castillo reaches projections, he'll be a valuable player, but won't be an all-star or anything. There's nothing wrong with that. He makes league minimum so any value you get is a bonus. At a .326 wOBA and 370 plate appearances, he'd be worth 1.9 offensive WAR. Up the PA to 400 and you've got a 2 WAR player. I figure he's more than likely below average at running the bases so if he's only average on defense he'll be worth a little under 2 WAR in 2013. The post 2013 Cubs Projections: Welington Castillo appeared first on Obstructed View.
Original Story:
http://www.obstructedview.net/project...
THE BACKYARD
BEST OF MAXIM
RELATED ARTICLES
Bad news concerning Carlos Marmol: According to a report in the Domincan Republic, Cubs closer Carlos Marmol is being accused of Domestic Violence. — David Kaplan (@thekapman) January 31, 2013 More on this as it develops, but if true this could be a hairy situation. I've been debating whether or not to throw a control issues joke in here, but decided against it. I'm...
A woman in Carlos Marmal's native Dominican Republic has accused the Chicago Cubs' reliever of abusing her.  Marmol has denied the allegations and filed a counter claim against her.  Marmol has not yet been charged with a crime. The Chicago Tribune relayed the story from ListinDiario.com.  Marmol and his attorney, Nelson Pimentel say that the woman in question has...
Michael Bourn rumors have been flying around all offseason, but he is still sitting there without a job for 2013. We were told how he'd be one of the most highly sought after free agents this offseason, but perhaps those people who said that need to rethink it. Bourn has had plenty of suitors, but talks with him have not even progressed to the stages where we were hearing constant...
Mark Grace ((azfamily.com)) What is that saying about "When it rains is pours"? Former Chicago Cubs and Arizona Diamondbacks player Mark Grace was sentenced to 4-months in jail Thursday afternoon as part of a DUI arrest plea agreement. It was not his first DUI. Grace, who summarily lost his job as an analyst with the Diamondbacks broadcast team after his...
As most of you probably know, Tom Tango now exclusively consults with the Cubs. This is incredible news: Tom Tango, also knows as tangotiger, is one of the greatest baseball minds in the game today. Many of the foundational statistics that we have today come from The Book, the spiritual successor to The Hidden Game of Baseball. Mr. Tango has graciously agreed to answer some questions...
Jim Hendry was under strict orders. This was in August 1992, nearly 10 years before Hendry became general manager of the Chicago Cubs. Hendry, who had left his job coaching at Creighton University to join the Florida Marlins, an expansion team, was in Wichita, Kan., scouting amateurs at the National Baseball Congress World Series. "You've got $10,000 for the week,&quot...
The Chicago Cubs have invited 22 non-roster players to major league spring training, which begins Tuesday, February 12 when pitchers and catchers hold their first formal workout in Mesa, Ariz. Position players are invited to report to camp Saturday, February 16 with the team's first full squad workout Sunday, February 17. The following 11 pitchers have been invited to major league...
Former Arizona Diamondbacks television analyst Mark Grace has been sentenced to four months in jail under a work-release program. The 48-year-old former first baseman with the Diamondbacks and the Chicago Cubs pleaded guilty Thursday to felony endangerment and misdemeanor driving under the influence of alcohol. Grace was arrested last August in Scottsdale - his second drunken driving...
Former Arizona Diamondbacks color commentator and Chicago Cubs first baseman Mark Grace has been sentenced to four months in jail following his second DUI arrest in a year. Grace took a leave of absence from the Diamondbacks in August following his arrest, and the team officially dismissed him and play by play man Daron Sutton after the season.  Grace's sentence also includes...
    Throughout the offseason, The Nats Blog will look back at every player's 2012 season to summarize and analyze his performance, and we'll look ahead to his possible role in 2013. We'll go from #1 Steve Lombardozzi all the way to #63 Henry Rodriguez until Spring Training. Enjoy. Edwin Jackson was an interesting case for the Washington Nationals in 2012. Signed...
MLB News

Delivered to your inbox

You'll also receive Yardbarker's daily Top 10, featuring the best sports stories from around the web. Customize your newsletter to get articles on your favorite sports and teams. And the best part? It's free!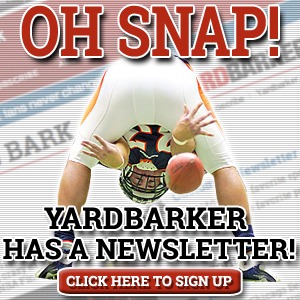 Latest Rumors
The Backyard

Today's Best Stuff

For Bloggers

Join the Yardbarker Network for more promotion, traffic, and money.

Company Info

Help

What is Yardbarker?

Yardbarker is the largest network of sports blogs and pro athlete blogs on the web. This site is the hub of the Yardbarker Network, where our editors and algorithms curate the best sports content from our network and beyond.