Found November 28, 2012 on Fox Sports:
The Ballot -- the one bearing the names of Barry Bonds and Roger Clemens as Hall of Fame candidates -- was unveiled Wednesday. Finally. This is the referendum we've waited for, the vote that some have said will provide judgment of the sport's steroid era. Let me save you the trouble: It won't. For one thing, there is fresh evidence that baseball's struggle with performance-enhancing drugs is far from over: Carlos Ruiz, the respected Philadelphia Phillies catcher, was hit with a 25-game suspension Tuesday after testing positive for an amphetamine. The Steroid Era is a moving, amorphous target, slipperier than an All-America kick returner in a monsoon. But the ballots are out just the same, and members of the Baseball Writers' Association of America will mark them according to their conscience over the coming days. In the absence of Nate Silver certified projections, we are left to use past voting results as a guide. Like Bonds and Clemens, Mark McGwire was linked to steroid use. Unlike Bonds and Clemens, he admitted to it. McGwire has received 19.8 and 19.5 percent of the vote, respectively, in the two ballots issued since he admitted his PED use in January 2010. Bonds and Clemens had better careers than McGwire, and I suppose some voters may truly believe they did so without steroids -- against overwhelming (but not legally convincing!) evidence to the contrary. So, we can expect Bonds and Clemens will receive more than the 5 percent necessary to remain on the next ballot but less than the 75 percent needed for election. Not a condemnation. Not a validation. Something in between. To the extent that the Hall of Fame is history's verdict of a baseball player, the 2013 adjudication will be, "Hmm ... We'll get back to you next year." In all likelihood, a similar fate awaits fellow first-timer Sammy Sosa, whose career profile and steroid taint puts him on comparable footing to McGwire: great home run hitter during a chemically enhanced epoch, but without the varied array of accomplishments held by Bonds and Clemens. I don't know who used steroids and who didn't. Neither do you. Neither does Sen. George Mitchell, for that matter, and he spent nearly two years investigating the subject. Conflicted voters would do themselves a great favor by coming to grips with their intrinsic ignorance of what occurred. I'm not a Hall of Fame voter. (I haven't been in the BBWAA long enough.) But I have said before -- and still believe -- that Bonds and Clemens belong in Cooperstown, largely because of the Hall's obligation to provide an account of the game's history. The Steroid Era is a complicated -- and ongoing -- chapter in the story of our national pastime. To ignore it is absurd. To admit only the players regarded as "good guys," or those who lack the bulked-up physique of the most obvious juicers, is similarly flawed. It requires profound hubris or naivete to believe we know how men behaved out of sight when undetected cheating meant millions of dollars. Those who played Major League Baseball during the heyday of PED use either benefited from steroids themselves or did not push their union hard enough to institute the sort of testing that has cleaned up (if not sterilized) the sport. If Bonds and Clemens are elected, their plaques should include mention of the court proceedings -- and apparent legal exonerations -- associated with their link to PEDs. Each visitor to Cooperstown will have the right to form their own opinions. This is, after all, the National Baseball Hall of Fame and Museum . But I don't expect that resolution in the near future -- if at all. All we know is that the BBWAA has begun its deliberation, with the results announced Jan. 9. Jack Morris, Jeff Bagwell and Lee Smith are back on the ballot and have a chance at election, along with newcomers Craig Biggio, Mike Piazza and Curt Schilling. Sadly, the story of this year's vote will be the two players who don't make it -- and by how much.
Original Story:
http://msn.foxsports.com/mlb/story/20...
THE BACKYARD
BEST OF MAXIM
RELATED ARTICLES
Roger Clemens never wavered over the past several years in defending himself against steroid accusations. His attorney, Rusty Hardin, insisted no reasonable jury would have enough evidence to convict Clemens of perjury, and Hardin wound up being right when The Rocket was acquitted over the summer. However, it would seem that there was a time when Clemens wasn't fully confident...
During his playing days, Barry Bonds never worried much about getting chummy with baseball writers. Now those scribes hold the key to a place he'd love to enter: the Hall of Fame. Bonds was announced Wednesday as one of the first-time candidates for the Hall, and baseball's all-time home run king said he hopes the Jan. 9 announcement will include news that he will be...
"I do really care," Bonds said. "I may say I don't, but I do really care. I've been through a lot in my life so not too many things bother me. Making the Hall of Fame, would it be something that's gratifying because of what I've sacrificed? Sure. Baseball has been a big part of [...]
Barry Bonds, Roger Clemens and Sammy Sosa are listed on the baseball Hall of Fame ballot for the first time, setting up an election sure to become a referendum on the steroid era. The 37-player ballot was announced Wednesday. More than 600 longtime members of the Baseball Writers' Association of America will vote through next month. Candidates need 75 percent for induction...
This year's Hall of Fame ballot has been released and its headlined by Barry Bonds and Roger Clemens. Both will be a true test to the steroid ear as Bonds and Clemens are arguably the best hitter and pitcher who ever lived (please note that I wrote arguably). But we here at TGR are less concerned about Bonds and Clemens and more concerned about first time ballot nominee...
NEW YORK — Barry Bonds, Roger Clemens and Sammy Sosa are listed on the baseball Hall of Fame ballot for the first time, setting up an election sure to become a referendum on the Steroids Era. The 37-player ballot was announced Wednesday. More than 600 longtime members of the Baseball Writers' Association of America will vote through next month. Candidates need 75 percent for...
The Baseball Hall of Fame has released the list of players on the 2013 Hall of Fame Ballot. The three most notable players on the ballot are Barry Bonds, Sammy Sosa, and Roger Clemens. This is the first time any of these players have entered the ballot. Regardless of whether or not any of these [...]
Barry Bonds, Roger Clemens and Sammy Sosa are set to show up on the Hall of Fame ballot for the first time, and fans will soon find out whether drug allegations block the former stars from reaching baseball's shrine.
(Eds: With AP Photos.) By TIM DAHLBERG AP Sports Columnist It could have been the greatest Hall of Fame class since Babe Ruth and Ty Cobb were installed in the very first vote back in 1936. It would have been if those eligible had allowed their natural ability to carry the day. Barry Bonds never needed steroids to be great. It was already in his genes, and the numbers he put up...
This January, as it does every year, the Baseball Writer's Association of America (BWAA) will be voting on the National Baseball Hall of Fame. What's far from typical is the attention this year's particular ballot will receive. Among those eligible for the first time will be Barry Bonds, Roger Clemens, Sammy Sosa, Craig Biggio, Curt Schilling and Mike Piazza. In the cases...
The BBWAA released the 2013 Hall of Fame ballots yesterday, and in a related story, writers from around the country made it clear that they weren't going to vote for players that have been implicated in PED usage. Some even find it an annual tradition to be celebrated. Oh, the joy I will have snubbing Sosa, Bonds and Clemens (plus McGwire and Palmeiro, natch) on my HoF ballot...
The 2013 Hall of Fame ballot is going to be released Wednesday and is sure to stir the pot of discussion of how performance enhancing drugs (PED) figure into electability. The eye of the hurricane is of course, first time candidate Barry Bonds, who was convicted of felony obstruction of justice associated with the BALCO investigation.  He of the most prestigious record in Major...
Phillies News

Delivered to your inbox

You'll also receive Yardbarker's daily Top 10, featuring the best sports stories from around the web. Customize your newsletter to get articles on your favorite sports and teams. And the best part? It's free!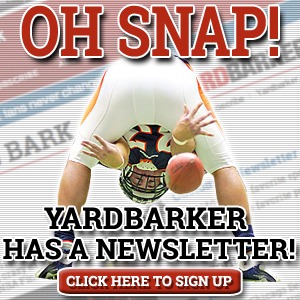 Latest Rumors
The Backyard

Today's Best Stuff

For Bloggers

Join the Yardbarker Network for more promotion, traffic, and money.

Company Info

Help

What is Yardbarker?

Yardbarker is the largest network of sports blogs and pro athlete blogs on the web. This site is the hub of the Yardbarker Network, where our editors and algorithms curate the best sports content from our network and beyond.