Found February 15, 2013 on SF Lunatic Fringe:
So, this should be a very unsurprising top 3.  The top 3 prospects of the Giants are all starting pitchers, and all three are expected to man the rotation in San Jose next season. If you get a chance this year, go see San Jose.  Chances are, you'll see a good pitcher. 3. Clayton Blackburn – When a 16th rounder our of high school has a solid year, it's a win.  When he has a prospect-cementing year, it's a huge win.  Blackburn slipped because no one thought he was signable, so the Giants got a bargain.  Blackburn did sign, and led the South Atlantic League in strikeouts (143) and WHIP (1.02).  With a 2.54 ERA, it's hard not to be excited. There are a few red flags; Blackburn doesn't have an overwhelming fastball, topping out in the low-90's, and most scouts feel that he won't have a body that projects further as he gets older.  If anything, his body is a worry, because at 19 he's got a body type that seems to be on its way to being Livan Hernandez.  If Blackburn can't keep getting strikeouts, he'll simply be a control pitcher, and control pitchers can be eaten up at the higher levels.  Still, he's an exciting pitcher to watch as he'll be in San Jose this season. 2. Chris Stratton – There wasn't a whole lot of controversy out of Giants fans and critics with this pick.  Most rankings had him in the late-teens, and the Giants got him at #20.  Everyone agrees that he's a hitter with a good fastball, a good feel for four pitches, but a pitcher who hasn't found his strikeout pitch quite yet.  That, and the fact he's a relatively recent convert to pitching, kept him below the top tier of draft prospects.  But everyone seems to agree that this was a perfect pick for the Giants, even the fans.  That's almost spooky. Right now, if anything, the biggest concern is his comeback from getting knocked in the skull by a hit ball in batting practice, but most seem to feel he'll make it back.  Stratton is expected to be the kind of pitcher who can move quickly through the system, and barring a setback in spring training, he'll be in San Jose for 2013. 1. Kyle Crick – Another high schooler making his fullseason debut in Augusta, Crick didn't dominate all season.  He had a 4.05 ERA by the end of May, but then really dominated from June on to end up with a 2.51 ERA.  Crick has a big-time fastball and a nearly big-time curve to pair it with, and that'll be his bread and butter on his trip to the majors.  He should have a good changeup to give him three pitches to go into 2013 with. The only downside to Crick at the moment is control.  He had 67 walks in 111 innings with Augusta, while giving up just 75 hits.  A lot of that came while he was learning to throw his curveball for strikes, so there's hope that he'll show better control this season.  He'll have to have better control, because walks will hurt him in San Jose.
Original Story:
http://www.sflunaticfringe.com/2013/0...
THE BACKYARD
BEST OF MAXIM
RELATED ARTICLES
  Picture courtesy of Marko Realmonte. Today is day two of Spring Training for the San Francisco Giants pitchers and catchers. Position players will check in Friday, and Saturday will be the first full squad workout. After Tim Lincecum had his first bullpen session yesterday, Lincecum said he's "definitely ahead of where I was last year" in how his body feels and his delivery...
Position players are reporting to camp today, and Andrew Baggarly of CSNBayArea.com tells us (via Twitter) Angel Pagan, Andres Torres and Ramon Ramirez all have their lockers in a row. Torres and Ramirez were traded to the Mets last offseason for Pagan. One year later the Giants have brought back Torres on a one-year deal, and Ramirez on a minor league deal. Pagan has also signed...
Spring Training for the San Francisco Giants is getting as predictable as Tommy Lasorda's favorite ethnic food. Or Alex Rodriguez ruining yet another very expensive lie-detector machine. Really, what would Spring in Scottsdale, Arizona be without Willie Mays and Will Clark roaming the clubhouse and batting cages, casually dispensing wisdom and humor? And once again San Francisco...
Citing statistics from FanGraphs, San Francisco Giants general manager Brian Sabean is certain faded ace Tim Lincecum has forever lost his blazing fastball. Lincecum (10-15, 5.18 ERA), who has gone 79-56 with a 3.31 ERA since debuting in "The City … Continue reading →
GLENDALE, Ariz. San Francisco Giants first baseman Brandon Belt's comments about the big-spending Dodgers hit Matt Kemp's radar. "All I can say is, you can't buy chemistry," Belt said at his team's FanFest earlier this month. Kemp was puzzled as to why Belt would say anything. "If I was a World Series champ, I wouldn't be saying anything about...
The following is an interview conducted by Jeremy Dorn, an Editorial Intern at San Francisco Magazine and an experienced sports blogger with a number of great credits (and several disturbing ones). Through no fault of his own, Jeremy was born in the Bay Area but was raised a Los Angeles Dodger fan. Perhaps it was due to an unhealthy mix of Cap'n Crunch cereal and that white...
MLB News

Delivered to your inbox

You'll also receive Yardbarker's daily Top 10, featuring the best sports stories from around the web. Customize your newsletter to get articles on your favorite sports and teams. And the best part? It's free!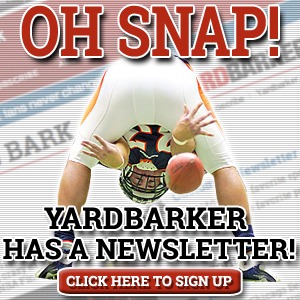 Latest Rumors
Best of Yardbarker

Today's Best Stuff

For Bloggers

Join the Yardbarker Network for more promotion, traffic, and money.

Company Info

Help

What is Yardbarker?

Yardbarker is the largest network of sports blogs and pro athlete blogs on the web. This site is the hub of the Yardbarker Network, where our editors and algorithms curate the best sports content from our network and beyond.