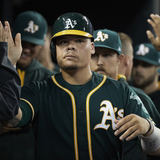 Former Athletics right-hander Jarrod Parker has officially decided to halt any comeback attempts and retire, he tells Susan Slusser of the San Francisco Chronicle. The now-29-year-old Parker was a promising building block for the A's in 2011-13, posting a 3.68 ERA through his first 384 big league innings at ages 22 through 24.Once the ninth overall pick in the MLB draft (Diamondbacks...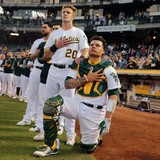 It was one thing when A's catcher Bruce Maxwell elected to take a knee in Oakland in front of the home fans, but it was up for debate as to how things were going to go if he did so on the road.Not well, apparently.The A's traveled to Texas for a series with the Rangers on Thursday, and fans were not appreciative of how Maxwell kneeled during the national anthem. They responded with...
Oakland scored all three of their runs on Chad Pinder homers. When Sean Manaea stepped onto the pitcher's mound in the first inning, he was bathed in sunlight, while the Tribe hitters were in shadow. But even when the sun dipped low enough to place both mound and plate in shadow, it didn't make much of a difference. The same lineup that handed Sonny Gray his worst outing of the...
After two starts and one week of baseball, Sean Manaea has the seventh-worst ERA among qualified pitchers at 7.15. That's a pretty useless sentence for about five different reasons, but I'm going to rely on it briefly because it's April and being a baseball writer is very difficult in April. In early April, we're on the hunt for indicators. Other than health and velocity, it's hard...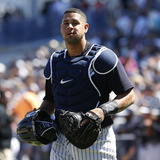 While the established stars such as Mike Trout, Bryce Harper and Clayton Kershaw need no introduction and the big-name prospects have their names made by the plethora of "top 100" lists that make minor league hype the machine that it is, there is a middle ground of young players spread around the game that provides the true building blocks of the game. Each team has them and the...
Oakland A's fans didn't have many reasons to be optimistic in 2016. The team's playoff odds peaked at 20%… on April 3rd. As the season wore on, Sonny Gray's ERA rose almost as high as the home runs against him flew. The team's 69-93 final record was the icing on the cake. Sean Manaea provided one bright spot. Acquired from Kansas City in 2015 in exchange for Ben Zobrist, Manaea is...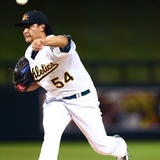 SEATTLE (AP) During the final few weeks of the season, Sean Manaea provided the Oakland Athletics a glimpse of what they hope to see over a longer haul starting next season. Manaea continued his solid close to 2016 by throwing six innings and allowing two runs as Oakland finished the year with a 3-2 win over the Seattle Mariners on Sunday. Since coming off the disabled list in...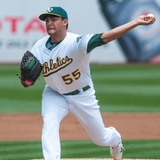 If you want to know the most insidious part of my job, it's deciding what to write about when. Some of the decisions aren't that crafty — sometimes I have to sit on a Kenta Maeda interview because August just wrote him up, for example. Other times, it's a small move, like publishing a piece about a pitcher on the day he pitches instead of the day before. But there are times that...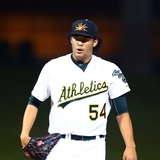 MILWAUKEE (AP) Sean Manaea made two big mistakes in an otherwise solid seven-inning outing. Unfortunately for the Oakland rookie, Milwaukee Brewers slugger Chris Carter pounced on each bad pitch. Manaea struck out six while allowing five runs and six hits, including two homers to Carter, and the Athletics' ninth-inning rally fell short in a 5-4 loss to Milwaukee on Tuesday night...
OAKLAND, Calif. (AP) Athletics rookie Sean Manaea is learning the hard way in his first season in the majors. This time, the left-hander's inability to keep his focus during a four-run fourth inning proved costly. Coming off his first big league win, Manaea pitched into the seventh inning and gave Oakland's bullpen a much-needed rest, but not much else went right for the A's in...
MORE STORIES >>
Athletics News

Delivered to your inbox

You'll also receive Yardbarker's daily Top 10, featuring the best sports stories from around the web. Customize your newsletter to get articles on your favorite sports and teams. And the best part? It's free!